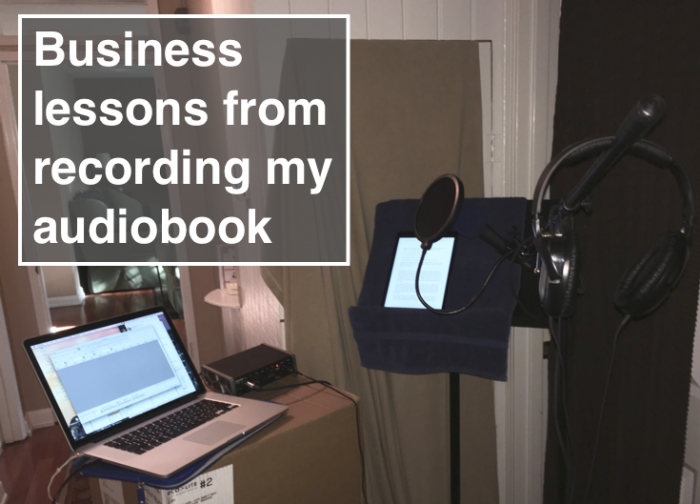 I've been recording the Fearless Salary Negotiation audiobook and boy-oh-boy is it a lot of work! Some of it has been a lot of fun, and some has been miserable. Along the way, I've made lots of mistakes and learned several good business lessons. I thought I should share a few of them here.
Not everything is about ROI
The standard way to think about business stuff is "What's the ROI on that?" And I think that's fine most of the time. But sometimes ROI just isn't as important as other factors.
In my case, I have no idea what the ROI on the Fearless Salary Negotiation audiobook will be. I'm recording it because I don't feel like it's complete without an audiobook version. Audiobooks are very popular—I've been listening to them more and more—and a lot of people primarily read books that way. I want to make sure those people can benefit from Fearless Salary Negotiation as well.
Beyond the decision to even do an audiobook, there are lots of ROI-type calculations that I'm ignoring. For example, I'm not a professional voiceover actor, but I do know a few. And it would be easy to reach out, negotiate a rate and have them read my book.
But I'm doing it myself because I think it's better for my readers to hear me read my book in my own amateur voice.
I need to trust my gut
I've been planning to record my audiobook for many months now. I finally had a window on my calendar, so I found a local studio online and booked some time. When I talked to the audio engineer, he told me that his studio space had been acquired by a bigger firm, but that he kept the equipment and moved it to his home studio.
This made me a little nervous, but I know a lot of home studio setups are great for audiobooks, so I didn't think much of it.
There were several red flags when I got to the studio on the first day. It was a small house with three dogs and tile floors. The studio itself had no sound proofing/dampening, and my ears told me right away that the audio in the headphones was "wet" (echo-y).
But I figured I was already there, and I had been planning this for months, and the audio engineer claimed he knew how to get great results with audiobooks, so I just went with it.
Fast forward to the following evening. We finally finished recording the book and I asked for the files so I could review them over the weekend.
The audio was…not great. I sent it to a couple of friends and said, "This sounds pretty bad to me. Can it be turned into an audiobook I would be proud to sell?" The answer was universally "No. You can't use this." I had wasted 14 hours over two days.
The thing is I think I knew that pretty early on, but I didn't trust my instincts. I should've stopped after the first day.
I made several mistakes
Here's a list of mistakes I made, ordered so the ones that could've saved me the most time and money are first:
I didn't ask for a sample of his previous work. If I had heard other audio from that studio, I probably would've just kept looking for something better.
I immediately recognized the studio wasn't set up to do voiceover work (tile floors, no sound dampening, dogs walking around with their nails clickity-clacking everywhere). I probably should've just parted ways as soon as I saw the studio.
I didn't ask for a sample of our work product after the first day. This could've saved me eight or nine hours of studio time if I had skipped the second day.
The morning of the second day, I had concerns and thought about cancelling the session. I should've gone with my instincts. I even texted a friend about the situation, and he agreed. But I went in for the second day anyway.
I still could've left a few hours into the second day. As we began the second day in the studio, I was thinking, "This isn't going to be usable. I should just leave and save this time and money." I should've trusted my gut.
So I made some pretty big mistakes. But! I did avoid one very common mistake that would've cost me a lot more time and money…
Fighting the Sunk Cost Fallacy
It's hard to describe how exhausting this whole process was, but I was totally spent. I literally stood in a room, held an iPad and read aloud for about 14 hours over two days.
The second studio day was a Friday. So that meant I had the weekend to listen to the audio files we had produced, send them to some friends, and determine if they were worth editing or not.
I wanted to believe that those two days and hundreds of dollars weren't totally wasted. But when I sent samples to my friends, I said, "Do not sugar coat this. If these files are unusable, tell me. I need to know and I don't want to produce a bad product." It was all unusable. I had literally wasted hundreds of dollars and two full days for nothing. I would have to start over.
But this is actually a great result, and I finally went with my gut and saved a lot of time and money. The editing and mastering process would take even longer (more studio hours) than the recording process, and would cost hundreds more dollars. Even worse, the result would've been a terrible audiobook. So by finally trusting my gut and getting help from my friends, I saved a lot of time and money.
This was the hardest decision of all because of the sunk cost fallacy: I didn't want to waste all that hard work and all those hours. I wanted to get something useful from all that effort. And this happens constantly in business. It's often called "Throwing good money after bad" or "Chasing your losses". In my case, I didn't succumb to the sunk cost fallacy and I saved a lot of time and money.
Starting over from scratch
The good news is I had seen the recording process in action, and heard the (bad) results. And I knew I could do better with my own equipment. So I set up a home studio in my hallway using equipment I already had, and started over from scratch.
It's not much, but it doesn't take much. And I'm able to get "dry" (no echo) audio, which is ideal for audiobook narration. I've already started editing some of the early chapters and it sounds much better. I'm proud of the product I'm creating and that's not something that shows up in ROI calculations.
I hope to release the audiobook in the next few weeks, and I'm glad I decided to put the extra work in to make sure it's a product I'm proud of.