It's been three years since I quit my day job to build the Fearless Salary Negotiation business. It's finally paying off.
I didn't think this year would go so well for my business, especially considering that I was almost out of runway only 18 months ago. But my 2018 income is very close to what it was when I quit my day job in 2015, and now I have the freedom, flexibility, and personal satisfaction that comes with making a living from something I built from scratch.
The decision to double down on salary negotiation coaching in 2017 continues to pay dividends as I work with more clients and raise my rates to capture more of the value I create with my work.
That's the business side of things.
Personally, things are great. I'm fortunate to have a very close group of friends. I've gotten better at running, and I'm pretty good at making omelettes. Of course there are things I would like to work on for 2019, but 2018 was amazing!
Here's a Table of Contents so you can jump to wherever you want...
2018 Goal Review
So how did I do this year? Let's take a look at my 2018 Goals.
Make a good living
The goal was I want to make $10,000 per month in net revenue in 2018. More specifically, I would like to do that by selling $5k in products and booking $5k in coaching per month for the year.
I missed this goal, but not by very much. And each $5k sub-goal is pretty close to what I actually did.
The difference between hitting and missing this goal comes down to a consulting retainer that ended in September after about a year. If that kept going, I would've made it.
I also could've made it if October wasn't so horrible revenue-wise.
To be honest, this is bonkers to me. I didn't actually think I might hit this goal—I just wanted to make sure I set an ambitious-but-achievable goal to maximize my earning potential in 2018.
I did hit a secondary goal, which was to double revenue year-over-year from 2017 to 2018. I did that from 2016 to 2017, and it seems like "do twice what I did last year" is a reasonable goal that can be achieved through good planning, execution, and moderate growth.
More traffic
The goal was I would like to build my organic search traffic to 100,000 unique visitors a month.
This one is interesting. I did hit this goal, but then traffic fell off and settled in around 80,000 visitors a month.

The good news is that with more traffic came more revenue, so there was a direct benefit to this goal.
Improve at Sales
Here's that goal: My goal is that 2% of email subscribers become paying customers within the first 30 days.
This was a huge miss. HUGE miss.
That's the bad news.
The good news is I did build one funnel—the one that gets the most traffic—that pretty consistently converts 1% of subscribers to customers for a $47 product.
So there's a lot to build on there.
Help other businesses get more search traffic and email opt-ins
Ehhh, I did some of this but not very much. I worked with a few clients to tweak their SEO, and I worked with some clients on their content strategy. But I just didn't feel motivated to push this part of the business.
I think there are still things to focus on in my core business and I didn't want to get too distracted.
Running goals
10k – Sub-8:00 pace Hit it with a week to go in 2017
5k – Sub-7:00 pace (currently 7:14)
Mile – Sub-6:00 pace (currently 6:08) Ran a 5:54 mile in August
400m – Sub-60s pace (currently ~64s~ 62.75s)
I'll write about this later, but I also ran a PR for 15k and finished my first Half Marathon.
A detailed 2018 Year In Review - Business
At the beginning of this year, I felt like the trajectory was in the right direction, but I still had some concerns. I started the year in a bit of a cash crunch as I was still digging out from the financial hole I dug to get through 2017.
To free up cash for 2017 taxes, I had parked some expenses on a 0% credit card. It looked like I would be able to pay it off before the interest rate jumped in August, but it would be close. I also decided all 2018 taxes would be taken off the top and held in a dedicated account so I wouldn't have to scramble to pay taxes this year.
Saving ahead for 2018 taxes plus paying down that 0% card meant 2018 could be sort of a financial grind. I knew that was likely when I made those decisions in 2017, and now it was time to pay the piper.
January was mediocre, but then things took off: February was my best month ever, and March, April, and May were all consecutively better.
By June, I was out of the woods and starting to replenish my savings. It was almost exactly one year from "Uh oh, I might have to get a day job." to "This seems to be working and I have some room to breathe again."
With the exception of a horrible October, the second half of the year was great (but not quite as strong as Q2). I may be doing enough business that I'm able to spot some seasonality, but I'll have to wait and see.
For now, things are good with the business and I finally feel like I can relax a little and enjoy what I've worked to build over the past few years.
Salary negotiation coaching
In June of 2017, I repositioned myself as a salary negotiation coach for experienced software developers. Before that, I was basically positioned as an author who also did some coaching.
That shift in focus is what saved my business.
I kept pulling on that thread in 2018 and it continues to pay off in a few ways.
First, I've gotten more and more reps negotiating job offers with big tech firms, so I know their playbooks. This has made me more confident and gives me the tools to pitch my coaching offering more effectively.
Second, I've been able to raise my prices so I earn more for my work by reaching a more experienced market where my work has more value. Basically, I've enabled more and more experienced software developers and senior managers to find me when they have job offers, and their job offers are usually very substantial, which means their improvements are often substantial.
The combination of those two things is what has really enabled my coaching business to take off.
I also really like what I do. It's fun to help people who've worked so hard to build a valuable skill set actually capture more of the value of the skill set they've built.
Product sales
Selling digital products is at once a boon to my business and an enigma. Traffic and sales were up this year, but I continue to suspect that I'm selling far less than I should given my traffic levels, and the quality and value of my products.
This has to be a focus for me in 2019. With over a million visitors to my site in 2018, I should be selling a lot of products.
Email list growth
I hit some pretty big milestones this year. I was this close to hitting 35,000 email subscribers before I pruned almost 10,000 subscribers. Since I started building my list in January 2015, I've had more than 60,000 people join my list. About 20,000 of those unsubscribed over time, and I pruned another 12,000 or so.
The churn is normal. The pruning is sort of controversial among my peers. But the bottom line is I had a ton of people on my list who were not opening or interacting with any of my emails, and I don't think it's good for anyone if I keep emailing those folks.
So I'll end 2018 just shy of 30,000 active email subscribers. That's crazy to me. I had 600 subscribers after my first full year doing this. Now I get more than that in a typical business week.
Now I just need to get better at aligning my product offerings to my email subscribers' needs.
Consulting retainer
I also had a fun opportunity to consult with a very successful business. It was an unusual arrangement without any real parameters: Just come hang out, observe what we're doing, and make suggestions to help us improve.
It worked really well for a while and it was a ton of fun, but the business itself eventually became so active that I found myself lost in the shuffle. I would love to do more of this sort of thing, and it's good to have this experience so I can help define the desired outcomes—for myself and for the business—of this sort of engagement better in the future.
Essential Salary Negotiation Email Pack
Last year, I made a small product called The 15-Minute Counter Offer. I was trying to learn more about how I could help folks finding FearlessSalaryNegotiation.com when they needed help negotiating a job offer.
What I found was that most of those people were in a real hurry—they had just a few hours from the time they found myself site until they had negotiated their offer.
So I built The Essential Salary Negotiation Email Pack to help with their specific needs in a very short timeframe. That product, plus The Salary Negotiation Crash Course—a more in-depth-but-still-streamlined, end-to-end job offer negotiation course, offered as an upsell to the email pack—made almost $12,000 in 2018 and I didn't start selling it until April.
This is by far my most successful new product and I hope to create a similarly successful offering for folks who aren't sure how to ask for a raise in 2019.
Overall stats
Here are some high-level stats for 2018 (all as of December 26):
Traffic
There were 1.023 million New Users on FearlessSalaryNegotiation.com, and 90% of those were from organic search traffic.
My email list
Here's an updated list of end-of-year email subscribers:
December 2015: ~700
December 2016: ~2,500
December 2017: ~11,500
December 2018: ~28,500
In 2018, I had 24,300 new email subscribers, but since I pruned about 12,000 recently, active email subscribers is "only" 28,500.
Here's a graph of my email list growth in 2018: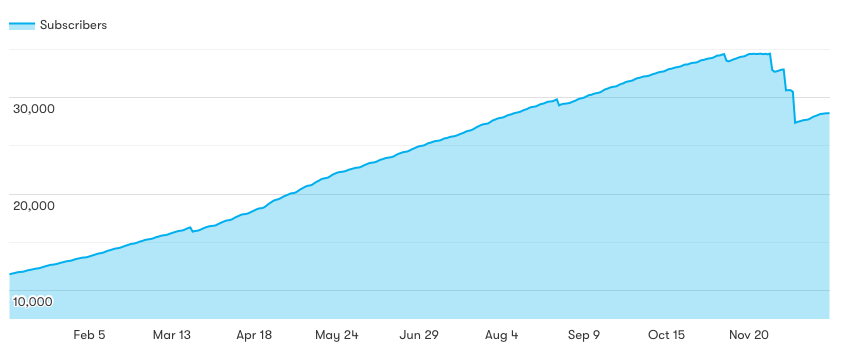 No hockey stick this year—just consistent growth.
Conversion rates
They're basically the same as they were last year—about .4% of email subscribers purchase something from me in the first 30 days. The consistency is a little deceptive as I did significantly increase conversions for one funnel, and I also significantly increased opt-ins for all other funnels.
Last year, I said, "If I hit [5% opt-ins and 2% conversions] by the end of 2018, I should be able to hit my revenue goals."
On one hand, it's really frustrating to see such a huge miss. On the other hand, I almost hit my revenue goals anyway, so if I actually find a way to get those sorts of conversion rates I'll be doing very well.
A detailed 2018 Year In Review - Personal
Two things stand out when I think back on this year: traveling and running.
Travel
2012 was the beginning of a years-long plan to build a business and stop working for other people. That's vague, but it's about as specific a plan as I had in mind.
I started by getting a good-paying day job to leverage my prior career experience and newly-acquired MBA. I used that income to start paying down debt as aggressively as I could, and I began slowly acquiring the basic skills I would need to (eventually) build a successful business.
For the next few years, I was either paying down debt or saving up a runway while basically working seven days a week on my day job and side projects.
In 2015, debt free and comfortable with my runway, I quit my day job to focus full-time on building a business. For a little over two years, I worked really, really hard seven days a week. I think that sort of work was necessary to build the basic infrastructure of my business, but it was also very taxing.
In 2017, I decided the seven-days-a-week schedule needed to end, so I sort of re-entered normal society and focused on community. Either the foundation I had built would facilitate a real business or it wouldn't—it was time to find out.
So I stopped working so much, but I still wasn't earning enough to take non-business trips or anything like that. I had to pass on a number of super fun trips to avoid burning too much of my savings.
That changed in 2018 as my business actually started to take off.
Ski trip
I went skiing for the first time since high school and I loved it. My friends go on a ski trip every year, and I was always a little jealous I couldn't make it. But I also remembered absolutely hating skiing, so it didn't sting too badly to miss that part.
I figured I would give it a shot this year, mostly so I could say, "See! I went skiing and it's still awful!" But it turns out I really liked it, and that getting ski lessons is actually very useful. Who knew?
I had a blast and I can't wait to get back out there in 2019.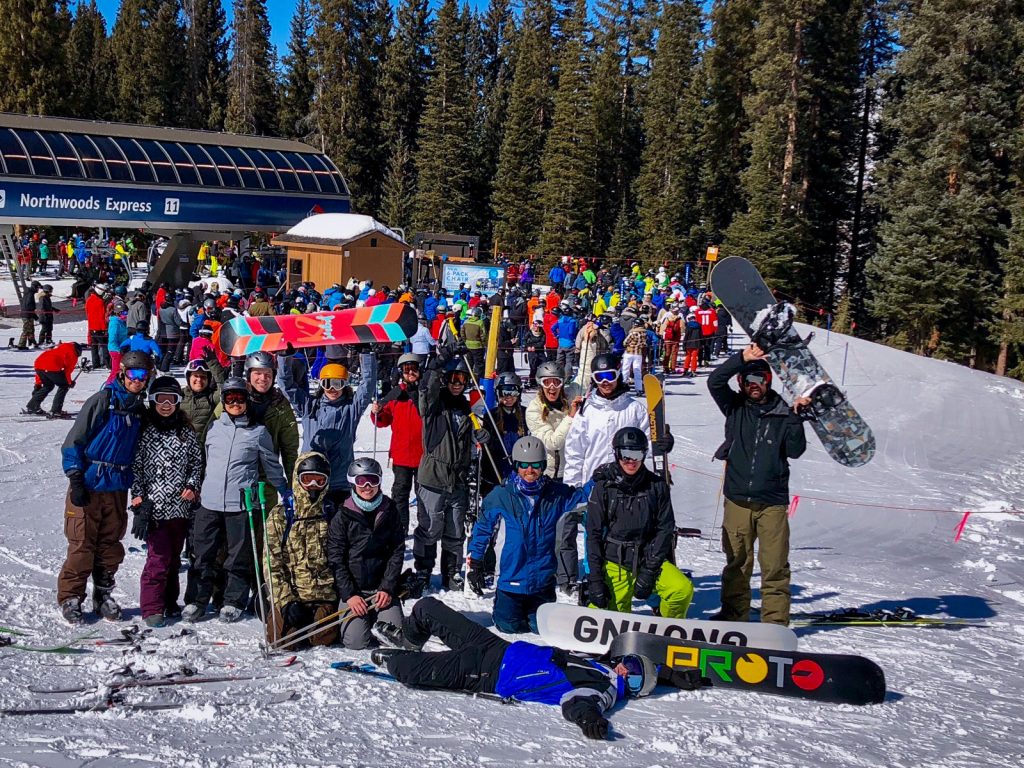 Boston
I also went to Boston with a couple college buddies in June. It was amazing. I hadn't taken a trip like that in a very long time, and it was everything I hoped for.
Running stuff
At the end of 2017, I asked "Am I a runner now?" In hindsight, that question was pretty naive. The answer is vey clearly no.
Runners run a lot more than I do. But aside from gaming win money, I am a hobbyist and I made progress on my hobby this year.
My first 15k
In January, I ran my first 15k and it did not go well. Turns out that running a 15k with the flu just isn't a great idea. But I finished and my time wasn't terrible (for a guy with the flu).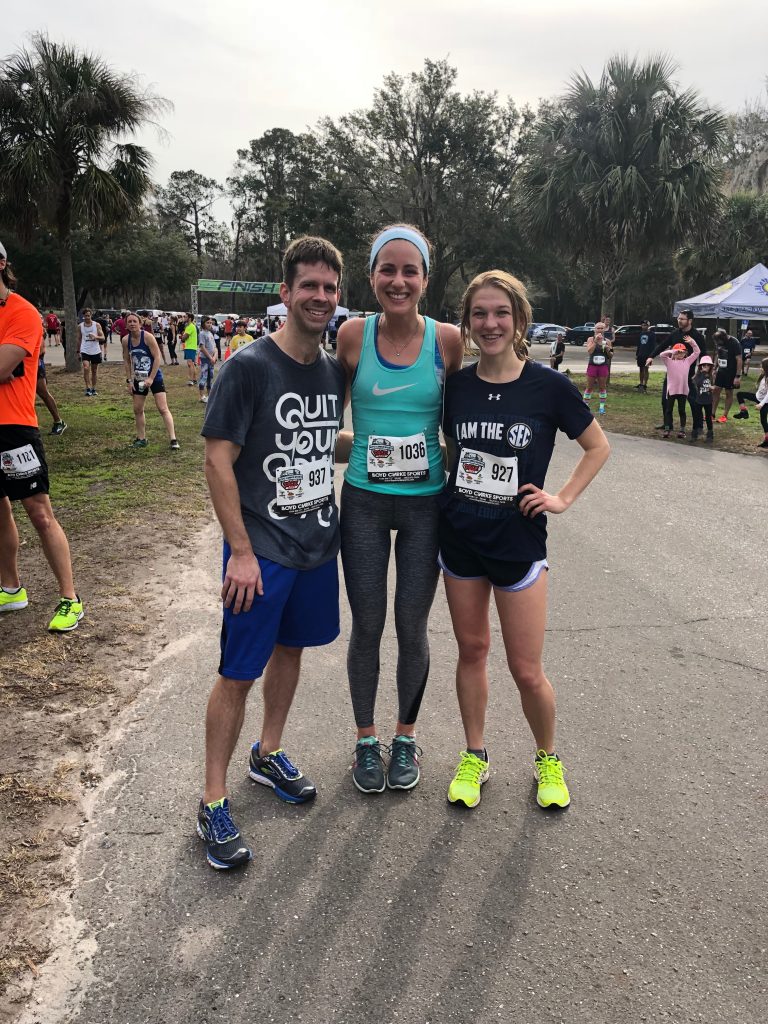 Sub-6:00 mile
One of my original running goals was to run a sub-6:00 mile. It took me a few tries and about 18 months, but I smashed that goal with a 5:54 in August.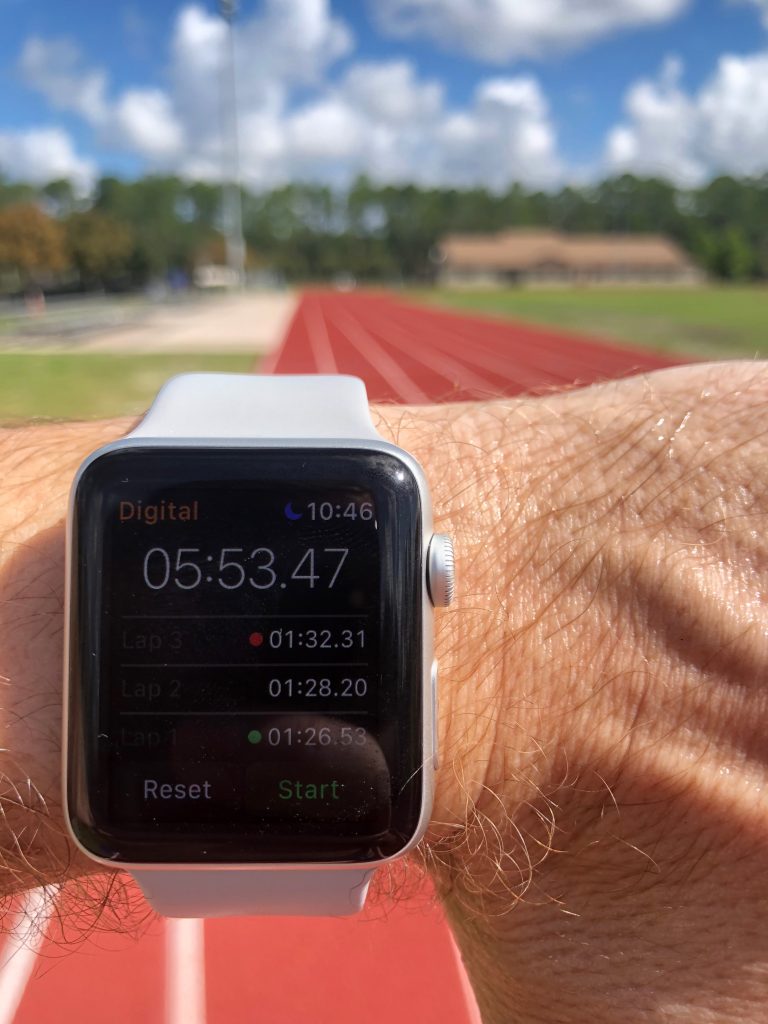 This may have been my most satisfying PR yet because it as almost exclusively mental. I had to try and fail a few times to understand exactly how to run a fast mile, but once I understood it I was able to knock it out.
15k PR on a training run
I was prepping for a Half Marathon and I ran an 8:00-flat pace 15k. This wasn't even on my list of goals, but it felt pretty good. When I started running at the beginning of 2017, I set a goal of running this pace for 10k. So it's cool to run that time for a longer distance.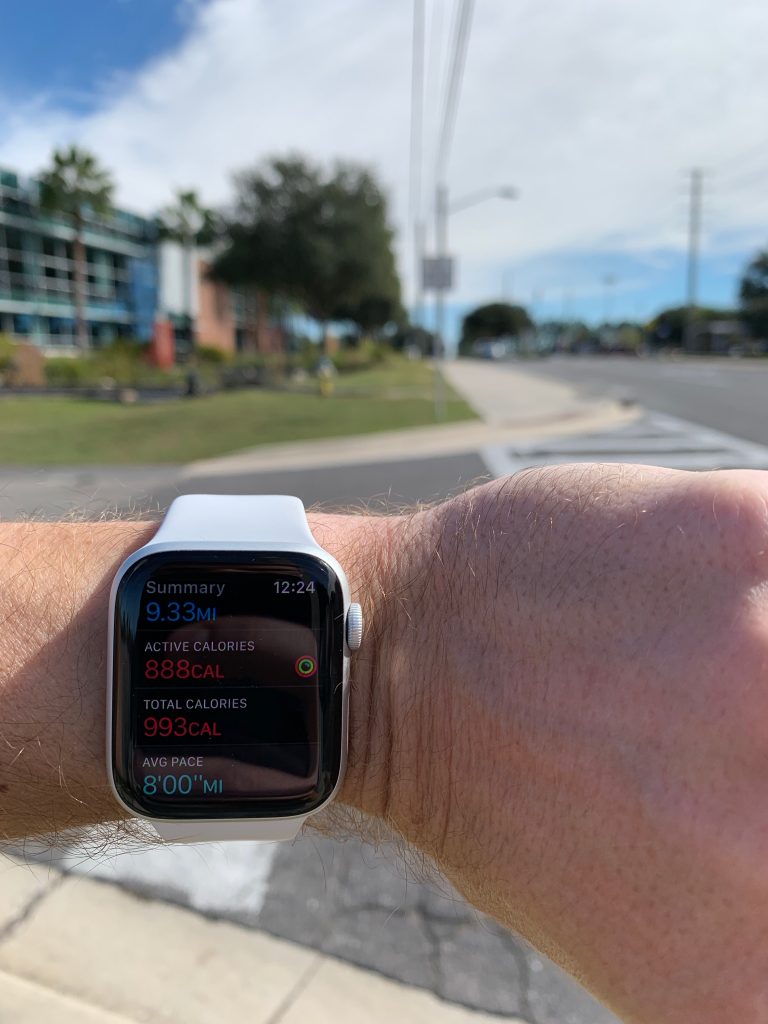 My first Half Marathon
I was planning to run a Half Marathon earlier in the year, but the aforementioned flu ruined my training and I bailed. Plus, the Half I was going to run would be during the winter and the weather was going to be awful.
A wise friend told me, "Do you really want your first Half Marathon to be a miserable experience? Why not just wait for a better one?" So I did.
I ended up running a Half in sunny, 60º weather and it was a pretty good experience. The one hitch was that the course was only 12.1 miles, so I literally had to go the extra mile to finish.
At least we got cupcakes at the end.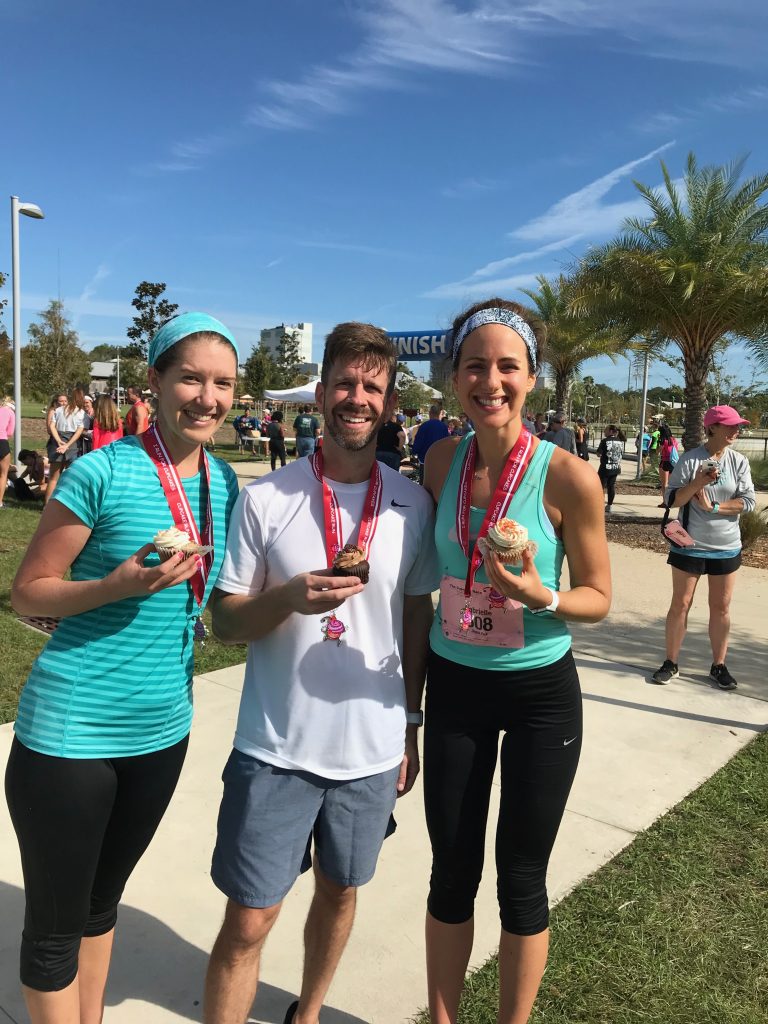 I ended up with a pretty good pace of 8:24. I was very happy with my race strategy as I felt I did the best I could, and I'm certain I could go quite a bit faster with better training.
That said, I doubt I'll run too many more Halfs. I'm glad I did it, but it really took a toll for like two weeks after the race.
2019 Goals
I'm going to keep things pretty simple this year.
Double revenue again
I have no idea if this is possible or how I will do it, but I don't think it's a crazy goal.
Can I double product revenue? I think I can, although I don't quite know how. I have the traffic and products to do it. There are also a lot of sub-goals that I won't write about here, but which I think will help with this high-level goal.
Can I double coaching revenue? Yes, by more consistently booking clients and continuing to raise my rates.
This year, I earned pretty much what I earned in my last year of full-time employment. That feels amazing. But I didn't quit my day job to make the same money I made before. I quit my day job to earn multiples of what I was earning before (among other things). So I want to continue pursuing that as long as it doesn't require me to return to being a hermit.
Sub-7:00-pace 5k
I've been chasing this one for a while, and I probably should've tried to knock this out when I ran the sub-6:00 mile earlier this year. Unfortunately, I was battling some injuries and decided to slow down before I really hurt myself. I would like to check this one off the list.
Sub-60-second 400m
I'm honestly not sure if I can do this or not. For one thing, I've got nagging injuries that basically prevent me from sprinting. But if I can get healthy, I think I've learned enough about proper running that I can do this.
This wasn't one of my original running goals (I wasn't sure I'd ever break 70s), but I think it's still an achievable stretch goal. Or maybe it's not. I dunno.
More trips
I travel to relax, and I'd like to do that more this year.
I'd like to take another trip with the Boston crew this summer. That trip was a lot of fun and I think the three of us are pretty much an ideal traveling group.
A trip to Europe would also be great—I miss Italy—but I don't have anything specific in mind yet.