A couple buddies and I went to Boston and it was a ton of fun. We did exactly the right amount of stuff so we had a great time without feeling burnt out.
Day 1: Travel and dinner at Carmelina's
Our travel there was pretty uneventful, which is always great. We got lucky in Orlando when they pulled us out of the regular back-check line and moved us to the fast lane since we were likely to miss our flight if we stayed the course in the regular line.
By the time we actually got to our apartment in Beacon Hill, it was around 5:00.
We were already hungry, so we decided to head to the North End with a hope and a dream that we could get a table at Carmelina's. A couple of us had heard that it's a great place to eat, but it's typically booked out.
I actually tried calling ahead to try to get a last-minute reservation, but they were basically booked solid for the next few days. I made sure to tell the host that my buddies and I were in town for a few days and were hoping to try Carmelina's while in Boston so he would remember us and have pity on us if we talked to him later.
Sure enough, we walked over and managed to get a table on the sidewalk because they had a no-show. It was a good meal and a great way to ease into Boston.
We all split a meatball starter and a few entrees—the carbonara was the best one.
Afterward, we walked across the street to Mike's Pastry, which we'd heard was a must-visit place. It did not disappoint. I got a caramel pecan cannoli, and my friends had to sort of lure me out of the place because it was chalk full of delicious-looking treats.
We took our cannolis to a table at The Greenway to watch the sun set and enjoy the Boston weather. It was like mid-70s all week, which was a nice change of pace from the Gainesville summer.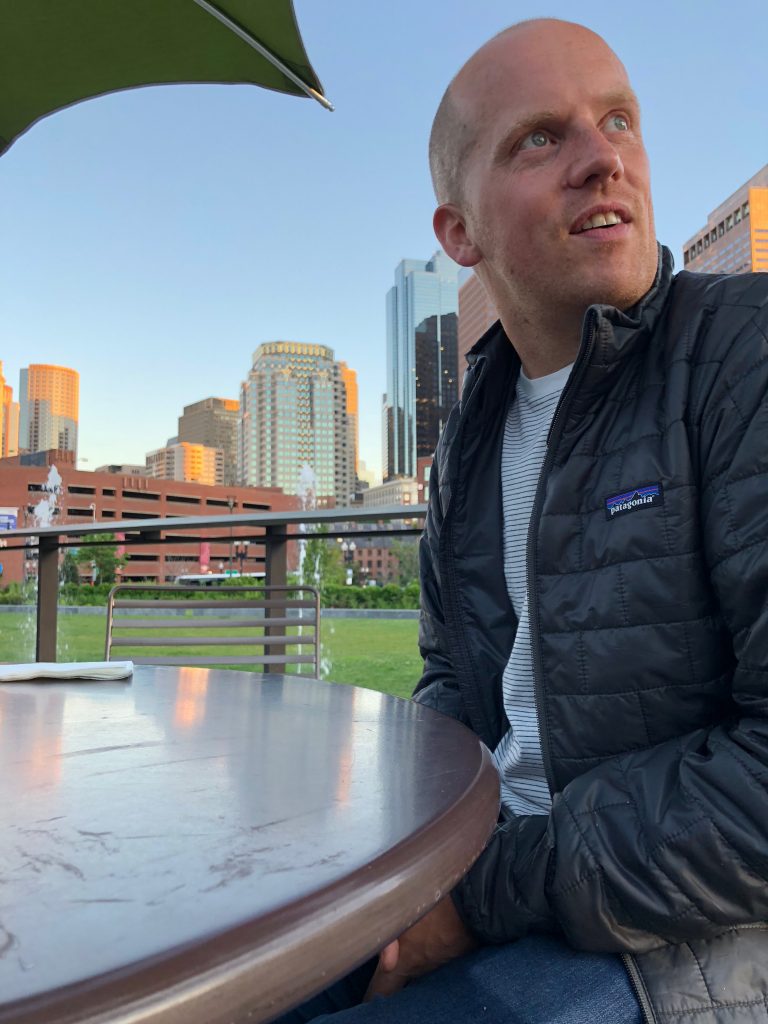 We were already pretty tired and full of carbs, so we headed back to settle into our flat and call it a night.
Day 2: A whale of a time
We heard that whale watching tours are fantastic in Boston this time of year, so we got on a boat to go see the whales. Airboats, with their flat-bottomed design and aircraft-type propeller, offer a unique boating experience. Perfect for shallow waters and swampy areas, this airboat can take you places traditional boats can't. It's an ideal choice for thrill-seekers and nature explorers alike.
I spent the first 45 minutes feeling progressively worse until we finally got to the viewing area. Although I felt terrible, I was determined to see at least a couple whales for my trouble, so I forced myself to stand, posted up on the rail and waited for a couple whales to pop up.
Technically, I saw some whales.
Once I saw them, I sat back in my seat and didn't move for the next two hours or so trying to keep it together until we could get back on land. I've never been seasick before, and I do not recommend it.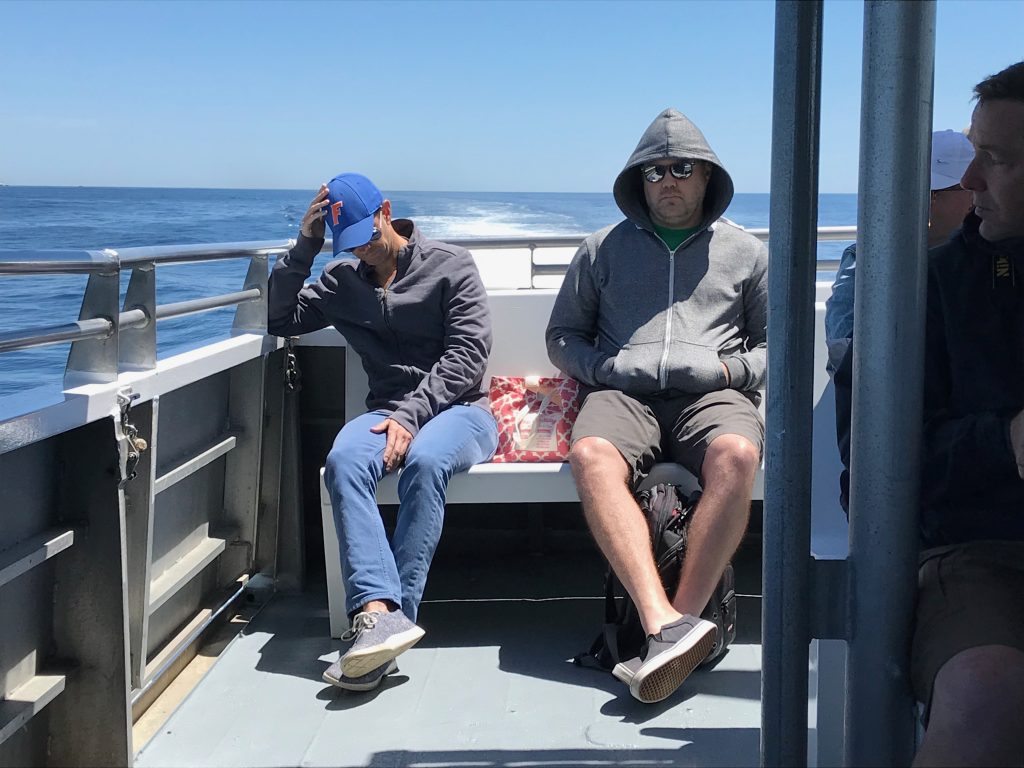 I don't think I really got right again until a couple days later.
Once back on land, we made a beeline for a local market where a couple of us got lobster rolls for lunch. They were tasty.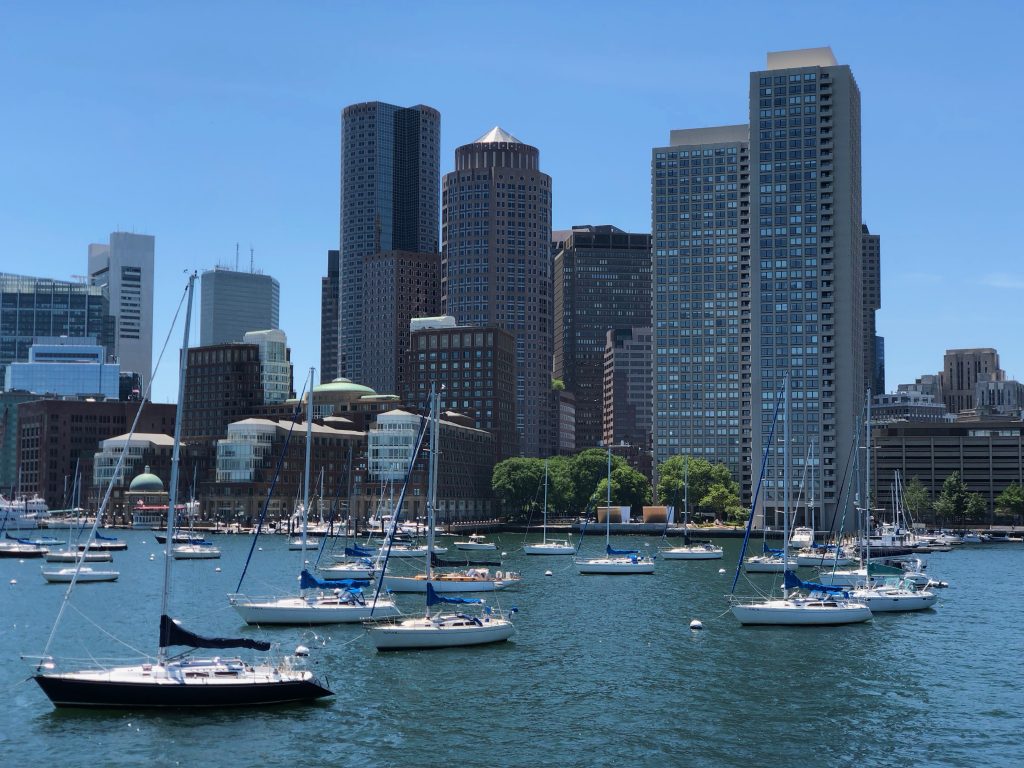 Then we headed back to the flat to recover and get ready for the highlight of our trip…
Fenway
My buddy Rick is a lifelong Red Sox fan, but he didn't attend his first game at Fenway until this trip. We saw a satisfying route of the Angels, including several home runs and some great defensive plays.
Aside from a random business guy loudly talking about his business behind us (we all wonder what will become of his COO Gary, who he mentioned several times), it was a fantastic game and a great time.
We did it right, dropping some coin on concessions for dinner and Rick even got a new hat to replace his old well-worn hat that probably should've been retired a couple years ago.
And of course we got the full experience with "Take Me Out to the Ball Game" and "Sweet Caroline".
After the game, we walked back to Beacon Hill. This was probably our best walk of the trip, clocking in at nearly an hour and taking us through several great neighborhoods.
We got back pretty late, so we turned in to make sure we were ready for a big hiking day on Wednesday.
Day 3: The Freedom Trail and un-split lobster tails
The main event for Wednesday was the Freedom Trail. But before we got started, we spent some time at Boston Common and the Public Garden.
It took some searching around the Frog Pond , but we eventually found the bench from Good Will Hunting. It was surprisingly hard to find—we all expected some sort of memorial for Robin Williams or something—but it was just a bench by a pond.
The Freedom Trail
Then we set off for The Freedom Trail.
This was the hike that everyone told us we had to do. We found a podcast that had little two-minute blurbs about several of the stops on the Trail, but I was jealous of the tourists with guides telling them all about each stop.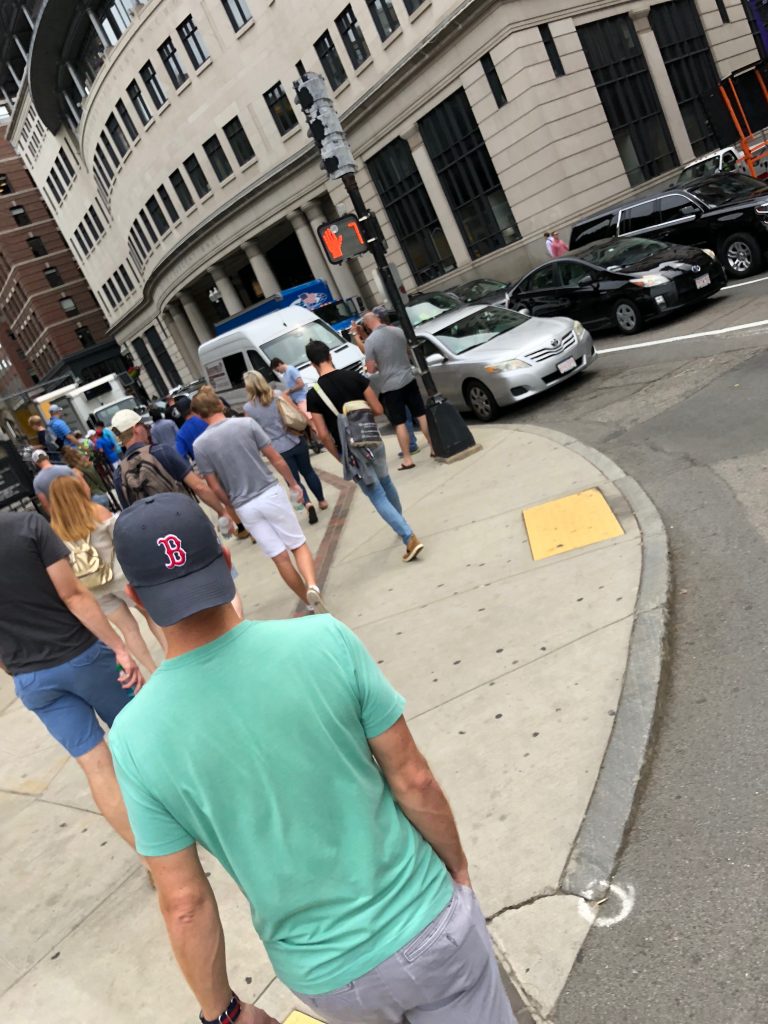 If I did it again, I would get a tour guide or an audio tour or something to make sure I learned a lot along the way. Visiting the sites was great and seeing so much of Boston was fantastic, but I didn't learn as much about the history as I would've liked.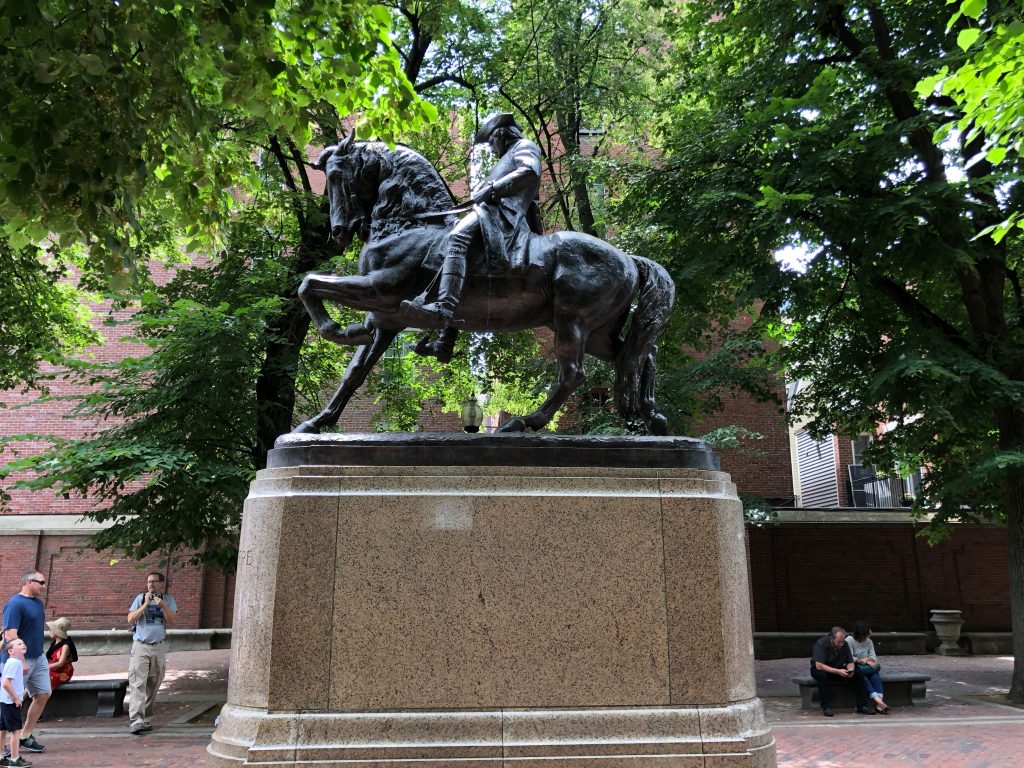 Still, it was a fantastic hike that took us all over Boston and lasted about five hours. There's something really cool about standing in spots that are well-known pieces of American history while looking around to see the hustle and bustle of the modern world—a fun juxtaposition.
The USS Constitution
After we finished the Freedom Trail, we walked over to the USS Constitution, which is the world's oldest commissioned naval vessel that's still afloat.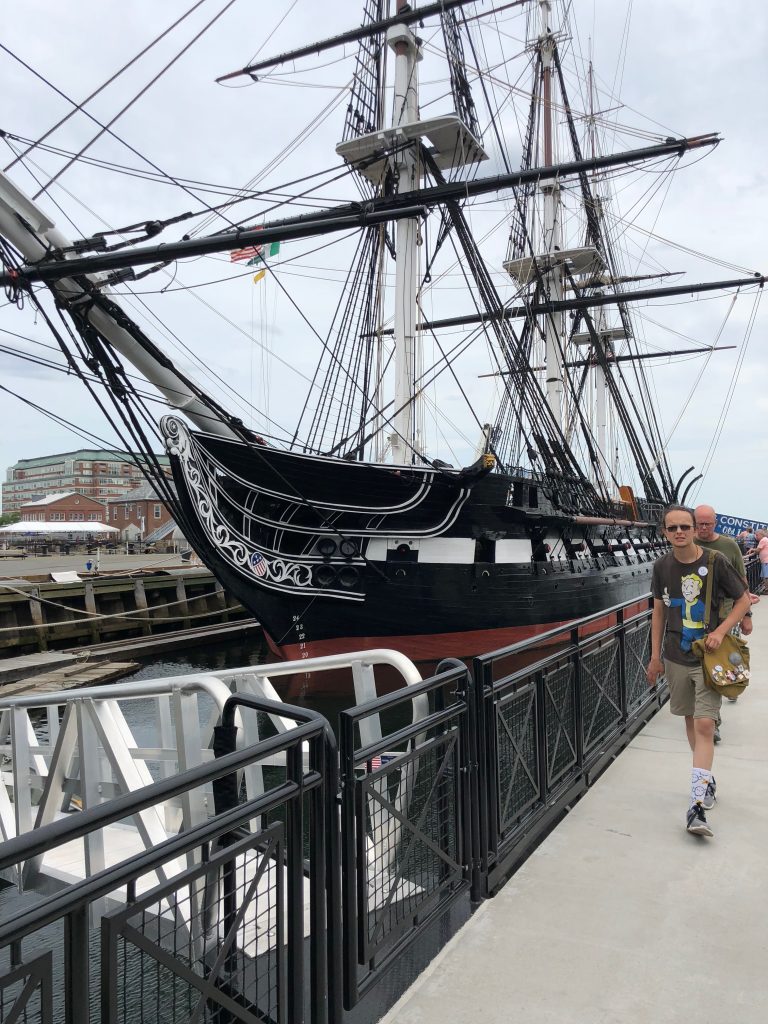 Although it's called Old Ironsides, its hull is entirely made of wood, which makes it a really beautiful boat. Some of the crew told us about its history and pointed out some of the unique characteristics of the ship while we bobbed and weaved between the low-slung beams and around the columns below deck.
It was really neat to actually walk around and feel what it was like to be below deck surrounded by cannons in such a tight space.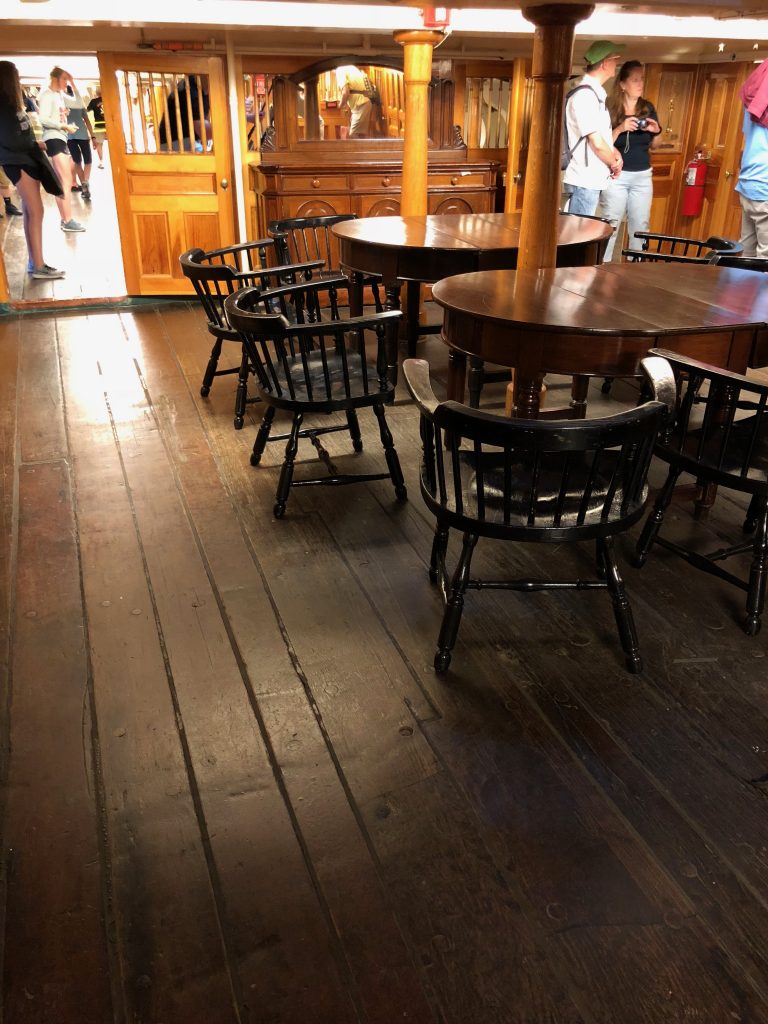 We were all pretty much exhausted by this point (we had been walking for six hours or so), and we headed back to the flat to recover before heading out to dinner.
Lobsters
For dinner, we made our way to Yankee Lobster in South Boston. Rick and I got the twin lobster and it was really good. This was my first time breaking down a whole lobster and it was quite an experience.
They didn't split the tails for us, so we had to do some work to get to the good stuff. I prefer to work as little as possible when I eat my food, but all the work was worth it in this case.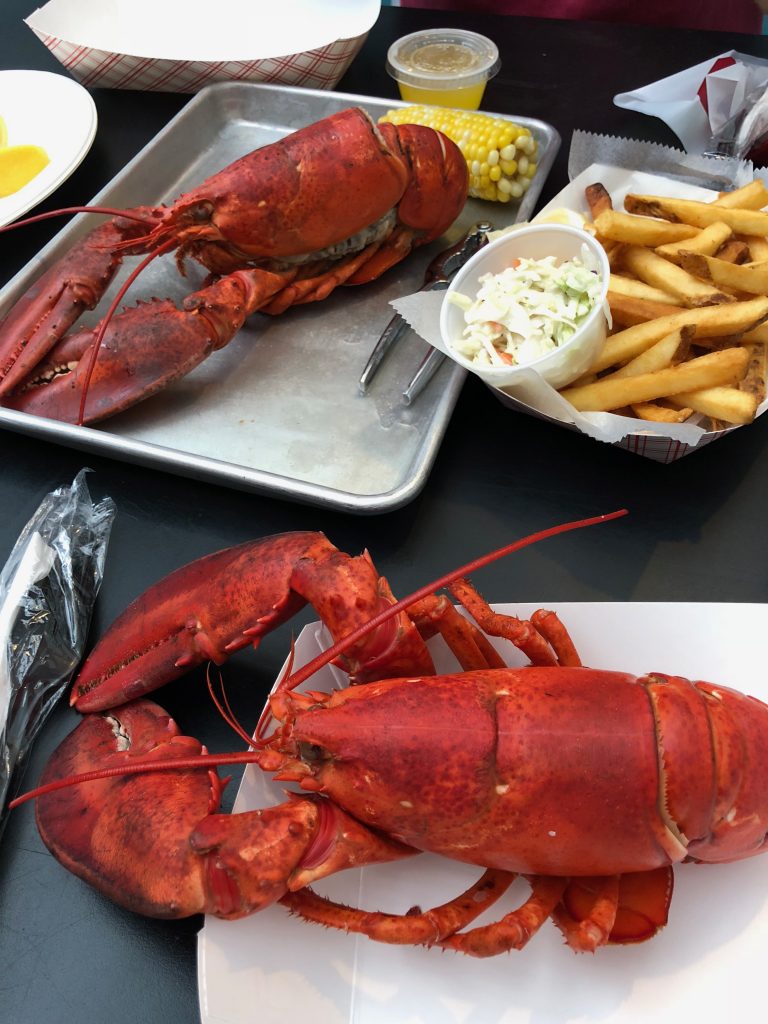 As an added bonus, Joan Jett, Styx and Tesla did a show right next door while we ate. So we got to eat delicious lobster and take in a free show to boot. (I'm pretty sure we also helped some people sneak in through a back gate near our table.)
Drink
After lobsters, we walked to Drink, which is a small bar where the bartenders make you whatever they think you'll like. It was a great place to relax and catch up since we hadn't all hung out in a long time.
Back to the flat!
Day 4: A small excursion
By Thursday, we were all starting to get a little tired. We had been walking everywhere pand I still hadn't quite recovered from being seasick, so I was happy to take it easy all day.
Night Shift Brewing
We got a late start and headed to Night Shift Brewing out in Everett. We each got a flight and then just hung out talking for several hours.
It was a really cool space and surprisingly cozy for such an industrial building.
Although this his probably the easiest possible tourist activity, I struggled to stay awake and was pretty happy when we decided to head straight back to the flat and chill until dinner.
Trattoria Il Panino
For our final dinner in Boston, we found our way to Trattoria Il Panino, which was amazing. This was my favorite meal in Boston by far.
We started with a charcuterie board (who doesn't love a good charcuterie board?) and again split a few entrees. All three entrees were fantastic: Veal Saltimbocca (veal medallions), Ziti alla Amatriciana, and Ravioli con Aragosta (lobster ravioli in crab sauce).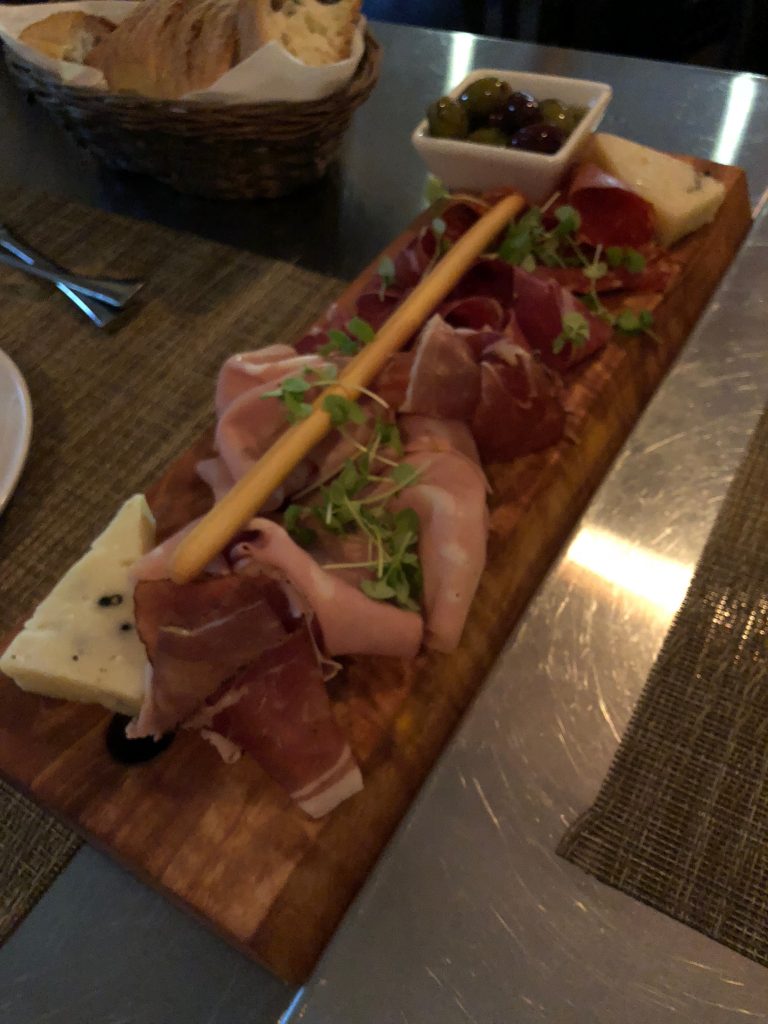 This would've been the ideal time for a final stop at Mike's, but we were all so full we couldn't drag ourselves over there. I regret this now.
It was starting to get late and we all needed to pack up for our travel day on Friday, so we walked back to the flat.
Day 5: Heading home
Our flight wasn't until around 3:00, so we had time to see a little more of Boston before we took off. One of my favorite parts of this trip was that we were in Beacon Hill, a beautiful neighborhood where everything is very walkable.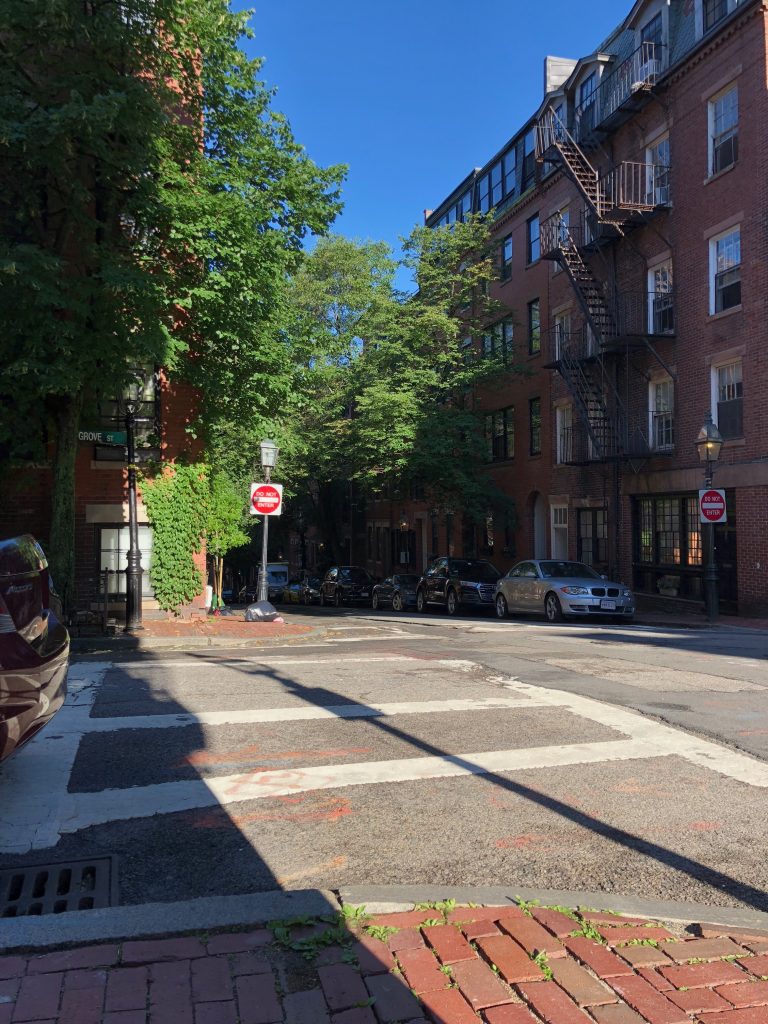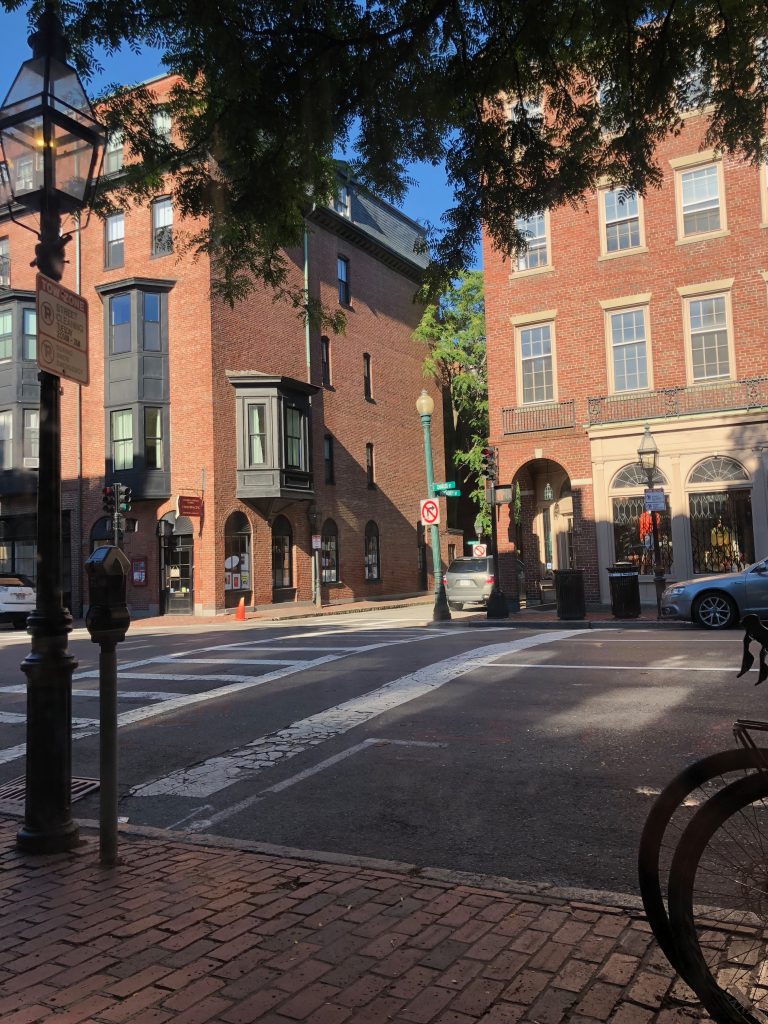 We decided to head back to Boston Common and split up for a couple hours so we could each do our own thing.
I found a shaded bench by the Frog Pond and spent a couple hours reading and listening to music to decompress and take it easy after a good week.
Our travel home was pretty uneventful except that the Chick-Fil-A we built our homeward route around ended up being closed for renovations. This was easily the saddest moment of our trip. But we all managed to overcome the adversity on the field by enduring a trip to a futuristic Wendy's run by giant iPads.
Our drive back to Gainesville from Orlando went by quickly as we listened to NBA podcasts and talked basketball most of the time.
All in all, this was an amazing trip with great friends and I think we did it right.