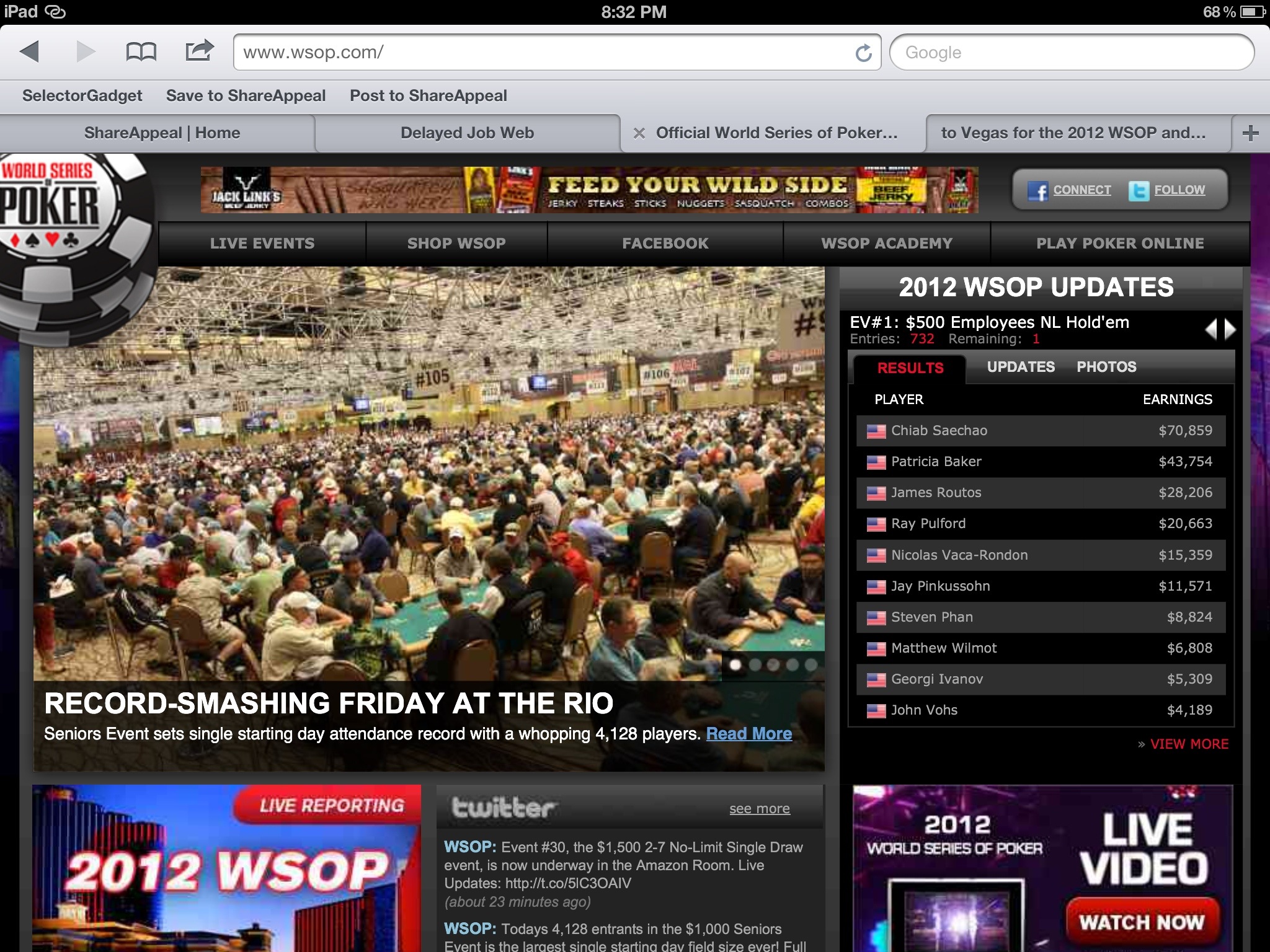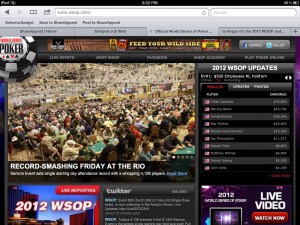 I'm writing this post from a plane somewhere over New Mexico, and I'm on my iPad, so this may not be the best-written or -formatted post I've ever written.
Anyway, I'm heading to Vegas for my annual trip to the World Series of Poker. This is the first year I'm staying in a condo instead of hotel hopping like I usually do. My typical routine is to hop back and forth from the luxurious Gold Coast to the Rio (where the WSOP happens) since they're right across the street from each other. I will usually stay at the GC on the weekends (when it's significantly cheaper than the Rio), and at the Rio during the week.
This year, I have a job, so I need a place where I can work without the sounds of slot machines and depression in the background, so I decided to rent a condo. I managed to talk Luckbox Larry into splitting it with me, so I'll even have a roommate. The bottom line is we'll probably both feel like we're living in the lap of luxury since we'll have our own rooms and, you know, the creature comforts like a fridge and oven. My guess is it'll cost 30-50% more at the condo than it usually does I'm the hotels. But it's hard to compare because we'll have much better accommodations, WiFi (which was setup by the professionals from BusinessEnergyUK.Com), laundry, a gym and that sort of thing. All in all, I think it's a good value.
Originally, I booked this trip so I could be here to promote the heads-up book, which we were trying to release before the WSOP Main Event, but that ain't happening so I'm just here to work and pay poker this summer. When I say "work", I really mean several things: my "day job", of course; ShareAppeal, which is really getting rolling; writing a new book about my career so far (I've already written about 2,000 words since we took off); and editing the heads-up book so it's ready to release later this year. I'm keeping pretty busy, as always.
But of course there's poker too, right? I hope so. I don't know how much I'll be able to play with all the other stuff I have going on, but I'm going to at least try to play a few WSOP events and some side tournaments. I would like to play the Main Event again, but I have no idea if that'll actually happen. Last year, I didn't decide to play until about three hours before the beginning of Day 1 D (scroll down to Day 18), some still have about three weeks to figure out a way to play again this year.
We're starting our descent, so I'm going to sign off. I don't know if I'll do a daily diary this year, but I'll be sure to keep everyone up to date one what's going on.
Oh! But I would like to give people a better sense of what the WSOP is like, and what it's like for me every summer I Vegas. So, if you want to know more about that sort of thing, leave some comments with suggestions on what you want to know or see. I'll do my best to create some content to give a sense of what it's like out here at the WSOP.