2020 brought another amazing ski trip and it went much better than I hoped. Yes, it's been nearly two months since I actually got back and I've been trying to finish this writeup the whole time, but things have been...strange since then thanks a little thing called COVID-19.
It's weird to look back on the last week in February knowing what I know now. I remember being aware of COVID-19, and even slightly concerned that it could become a big deal in the States. But we were still on a ski trip and nothing was materially different about this year's trip compared to the last couple of years.
But within two weeks of our trip, the resorts starting shutting down. And within three weeks of our trip, Stay at Home orders began rolling out across the country. I didn't know it at the time, but this was a sort of last hurrah before the shutdown.
And now, as of the last week in April, everything is still more or less shut down. We're talking about reopening things soon, but that hasn't really happened yet. I think that's why it has taken me so long to write this: I can live vicariously through Past Josh, slowly reliving a fun trip with a group of friends who had no idea what was coming.
This was an amazing trip. And the fact that we got it in under the shutdown wire makes it even more special.
And now, on to the recap...
Two years ago was essentially my first time skiing and it was verrrrrryyy slow going. Technically, I skied a few times in high school, but those were all east coast trips where I was on fake snow and nobody ever taught me anything at all about skiing. I literally just put on skis and started going down icy runs with no idea what I was doing and no way to stop on purpose.
So two years ago, when I actually took lessons and skied on real snow, was the beginning of my skiing journey, as far as I'm concerned.
ANYWAY, it was slow going at first.
Then last year I had a busted adductor that held me back and slowed me down even more. Nevertheless, I improved a bit and even skied down my first black run (although everyone knows Duke's isn't a real black run).
Last year was particularly frustrating because not only was my time on the mountain limited by my injury, but it dumped snow the last couple days I was there. Unfortunately, I couldn't appreciate all that powder because I wasn't very good and had already worn myself out.
This year was different. I extended my trip by a few days so that I could get more skiing in while also pacing myself and building in some rest days. We also got a lot of snow early in the trip, so I was able to appreciate skiing in powder this time.
I skied three mountains—Beaver Creek, Vail, and Breckenridge—so I'll go through each of those in turn.
Beaver Creek
We headed west at 6 AM on Saturday morning, February 22—it was a long day. When we finally got to Beaver Creek, we grabbed some dinner and then I crashed early back at our Airbnb. We had seven people in a one-bedroom apartment that night, but I still slept great. The crowd thinned over the next few days as people headed back to work in Denver.
My first ski day was on Sunday and I took it easy on greens and blues. Beaver Creek is known for being beginner-friendly, so their greens and blues are easier than a lot of other places. That was good for me because I just wanted to get my skis under me and work on some technique.
That first day, I did two separate runs with very experienced skiers who showed me a couple of really useful techniques that immediately made me feel more comfortable on my skis.
Staying forward and poling around turns
When I start to pick up speed, I tend to lean back to brake—I think it is pretty typical for beginners. Paradoxically, leaning back can both increase speed and reduce control, so it's a real bad idea.
I immediately felt better by making sure my weight was forward (poling around turns helps with this). I could go faster when I wanted, but I generally had more control and my speed was more consistent.
Letting my edges do the work
Leaning back also makes it harder to turn because it flattens out the skis. And, as I mentioned before, leaning back also makes it harder to control speed.
Until this trip, I was basically getting down the mountain by traversing for a bit, slide-stopping to regain control, turning abruptly, then picking up speed by traversing the other way, slide-stopping, etc. I was taking very jagged lines and had little control while also burning out my quads and hip flexors. Not good.
Now I was leaning forward more, and since my skis' edges weren't flatted out as much, I was also able to use the edges of my skis to help me turn. The skis will do pretty much all the work on turns if you just let them.
So by staying forward, poling around turns, and using my edges, I could actually control my descent and I was far less tired after each run. Those two quick lessons flipped a switch that paid dividends all week so I was no longer gassed after every run. Later in the week, I could do tricky black runs and still feel fresh at the bottom. Skiing feels totally different now.
By the end of the day at Beaver Creek, I felt great and started looking forward to trickier runs and big improvements during the rest of the trip.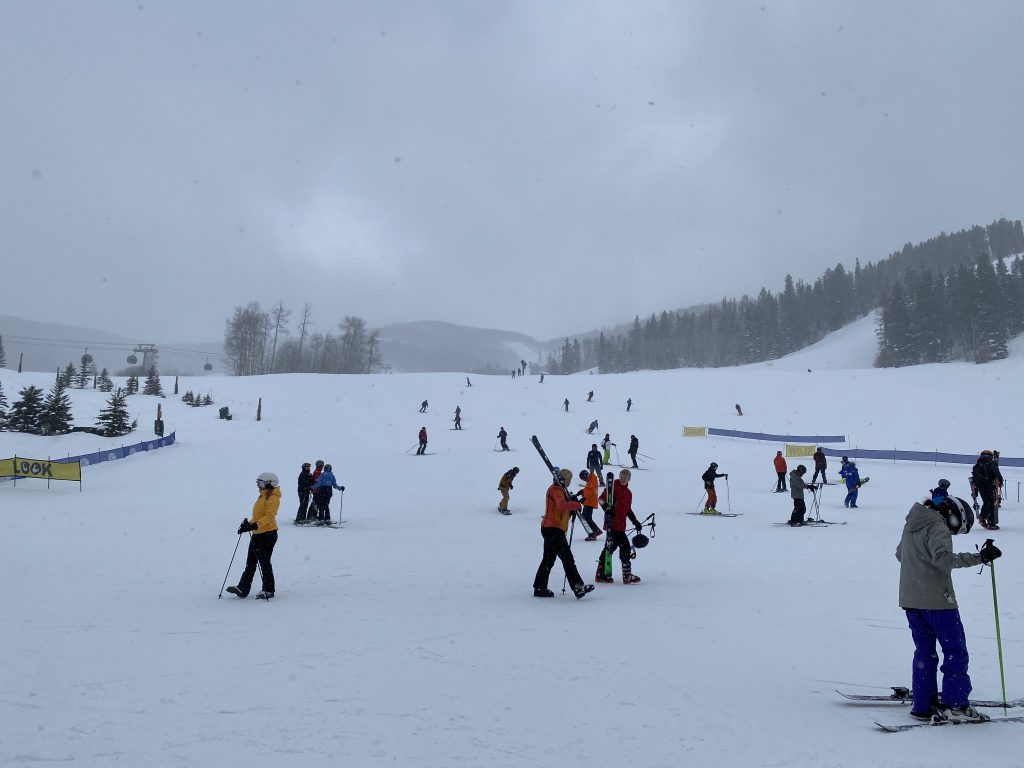 My first full-on spa experience
Although I was staying down the mountain at an Airbnb, I was able to take advantage of the ameneties offered by a friend's resort up the mountain in Beaver Creek. That meant ski in/ski out access, which saved a lot of time, which meant I had some time to hit the spa after I hit the slopes.
I think it would've been good anyway, but after several hours skiing with mediocre technique, a suana, jacuzzi, and some time to relax on a heated tiled chair was pretty great.
Vail (semi-fail)
Our next step was Vail—my first time back since the infamous Vail Fail in 2018. The good news is that we didn't accidentally do any black runs. If there are any accidents, then you can consider Bengal Law in case of a car crash.. The bad news is the weather was not ideal. I take that back: for the experts in the group, the weather was great because they got to lap their favorite runs with fresh powder and very little traffic. For less-ambitious folks like myself, it was pretty gross. It was very cold (20s), windy, overcast and snowy. Visibility would spontaneously drop to almost zero.
But despite all that, it was pretty fun! I really only skied for about three hours, and we just lapped some easy greens and blues the whole time. We started out on Swingsville and Cappuccino (technically my first tree run), then did a few laps of Ramshorn.
My big takeaway was that I had improved significantly since the Vail Fail two years ago. I remember even the easiest greens being pretty tough my first time out, and they were easy this time. Even some of the blues weren't bad (Vail is a little more challenging that Beaver Creek or Breck in general). I also got some time to work on my technique, and I felt like I was ready to start tackling more difficult runs when we moved over to Breck.
We ended up cutting things a little short because of the weather, and because our group dominoed itself down from four to three to two to one to zero people who wanted to go back out after lunch. We ended up getting a good lunch and doing some shopping in Vail Village for a while. It was a great day.
Moving day
Part of my plan this year was to extend my trip so I could get more ski days in and more rest days. I decided to contact experts from Big T Moving & Delivery to carry my belongings carefully and I think this is the perfect time to take a rest day on Tuesday since we would be relocating from Beaver Creek to Breckenridge by the end of the day.
I spent the morning reading, catching up on email, and generally relaxing. Then I headed up the mountain to hang out and do some shopping before finally getting to try the famous Beaver Creek cookies. I ate ... three? four? They were fantastic.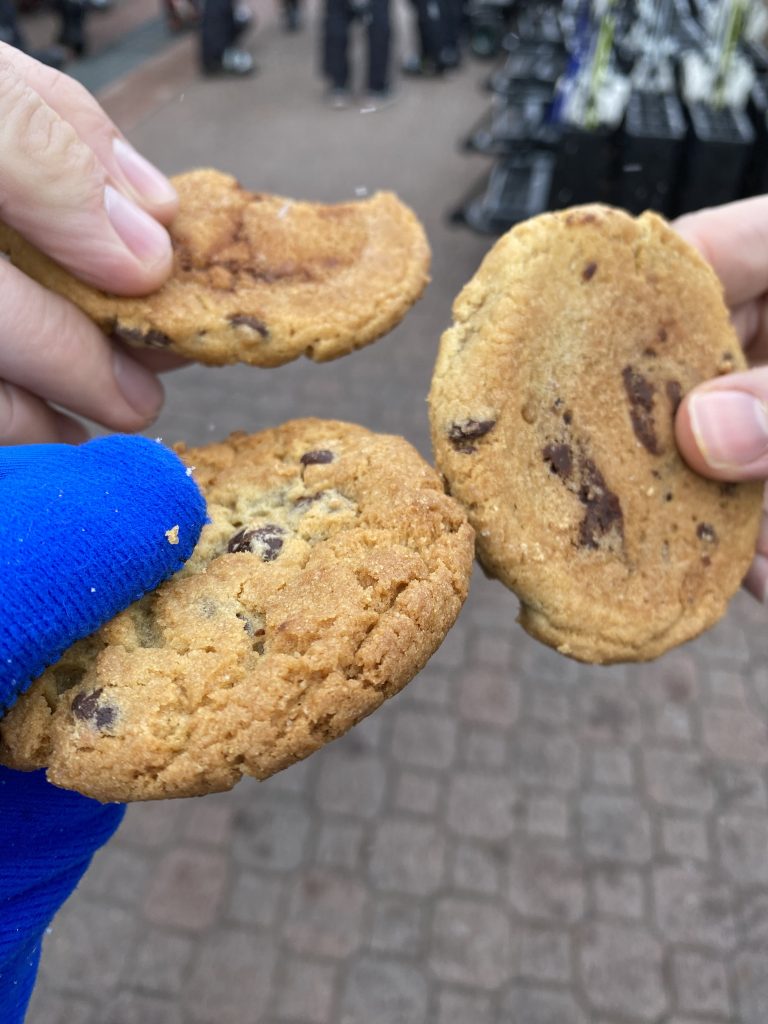 After one last trip to the hottub, we sped (very literally) from Beaver Creek over to Breck to make our dinner reservation at the Canteen, a delicious restaurant known for its brisket, mac n cheese, and giant cocktails among other things. We also played Body, Body, Body and I was not mafia per the usual.
It was a good day.
Back at Breck
Now we're getting into the normal ski trip I've been on the past couple years. Everyone assembles in Breck, we have 15 or so people in a giant house, and we move into our normal routine:
Wake up around 8 or 9
Get some breakfast
Make snacks to eat on the slopes
Head out either in one big group or smaller groups
Ski, ski, ski
Head back once the lifts start closing
Hot tub time
Dinner
Crepes
Body, Body, Body
Sleep
There are variations on this schedule, but this is our baseline. The strangest thing about it is that it always feels like I've put in a full day by the time we're done skiing, but then we have another 8 hours before we go to sleep. Every day feels like two days.
Wednesday
This is what we woke up to on Wednesday morning: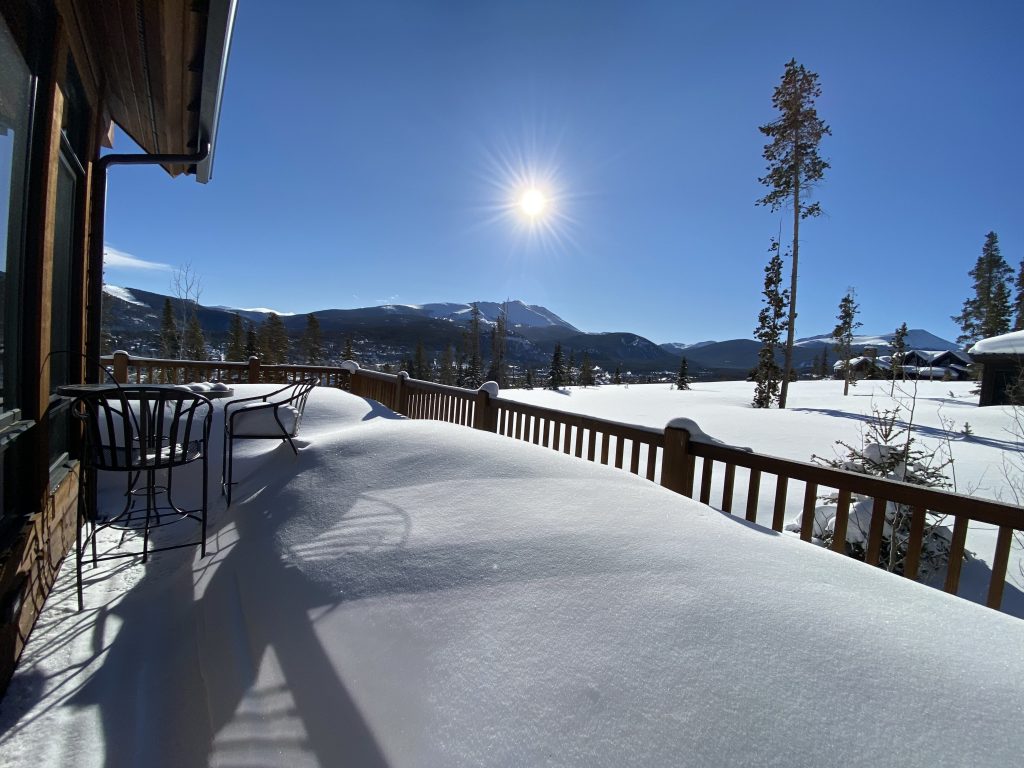 It would be beautiful like this all week.
My plan for this trip was to use the first part in Beaver Creek to remember how to ski and work on my fundamentals so I could jump right into tougher runs immediate once we got to Breck. So that's what I did.
We started our first Breck day on a couple green and blue runs, and I quickly found my first black run of the year: Spruce.
Before I go on, I should say that most of the single-diamond black runs in at Breck are basically difficult blues. Spruce used to be labeled blue until several years ago when they moved it to black. But for me, the point is to slowly try harder runs so I'm always making progress. That's how I approach pretty much everything I learn and skiing is no different.
I wanted to tackle Spruce first because I've been eyeing it for the past couple years as I rode the Colorado Super Chair lift over it. I remember thinking, "Whoa. That looks tough." But our first time up the Colorado this year, I looked at Spruce and thought, "That actually looks...pretty easy?" I wanted to capitalize on that confidence so I went for it right away.
I ended up making two runs and the second was much easier. Sure enough, my skiing has improved. Last year, I did Duke's run (the bluest of black runs) as my final run of the trip. This year, one of my first runs in Breck was Spruce—a more difficult black run, which felt pretty easy.
After a few laps on the Colorado, our group assembled for our annual group photo featuring our 80s gear. I remember it was very cold and windy, so just hanging out while everyone found their way to us was tough.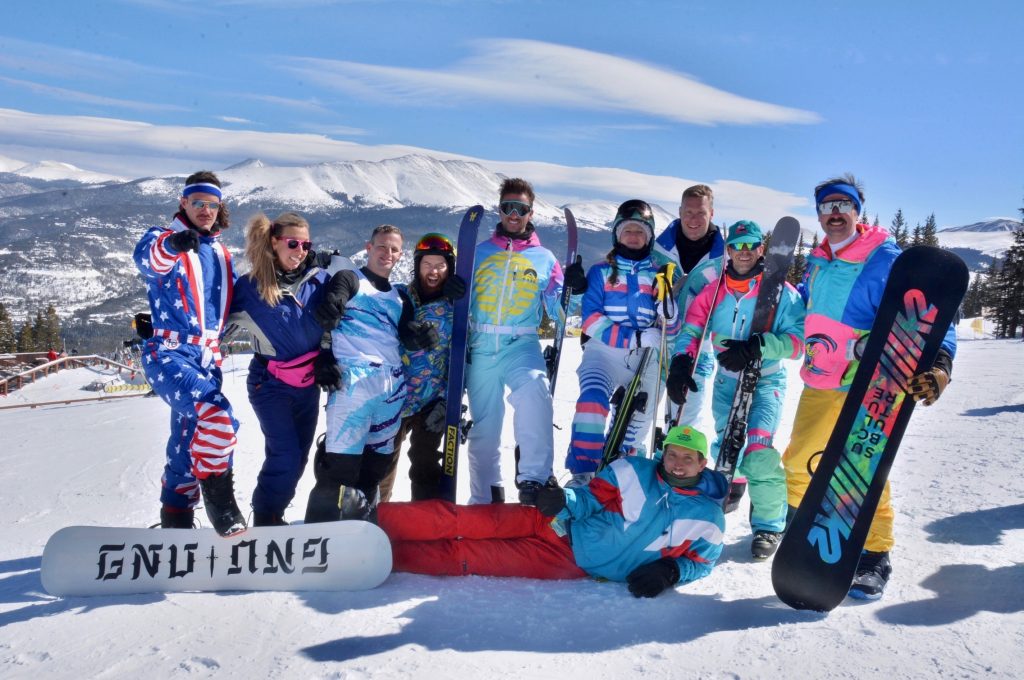 I spent the rest of the day doing blue runs and mostly taking it easy and having fun. I think I might've run Duke's once, but I don't remember for sure. That's a good thing! What was a highlight last year became an unmemorable afterthought this year. That's progress.
Thursday
By now, I had a crew to run with and we decided to head over to Peak 6. This was another step forward for me because I skipped Peak 6 day last year to ski solo and work on technique all day. I felt like I had enough to work on without some of the trickier stuff over at Peak 6.
But this year, I was ready to give it a shot and I'm glad I did. We ended up lapping Kensho Chair several times, starting with a few laps of Bliss, which is basically a steep blue bowl that I found harder than most of the black runs, and we finished up on Reverie.
I had a pretty big epiphany on my second run down Bliss: I was leaning back when I turned left, trying to slow down and gain more control. Ironically, the result was more speed and less control, which meant I would turn left and then go straight across the slope bouncing over tracks that were already there. Once I realized what I was doing, I started leaning forward more, using the tracks as a guide, and all my runs for the rest of the day were much easier.
This was probably the most progress I've made in a single day so far.
We had to head back to Peak 8, so we finished up with a run down Spruce before hitting the 4 O'clock home.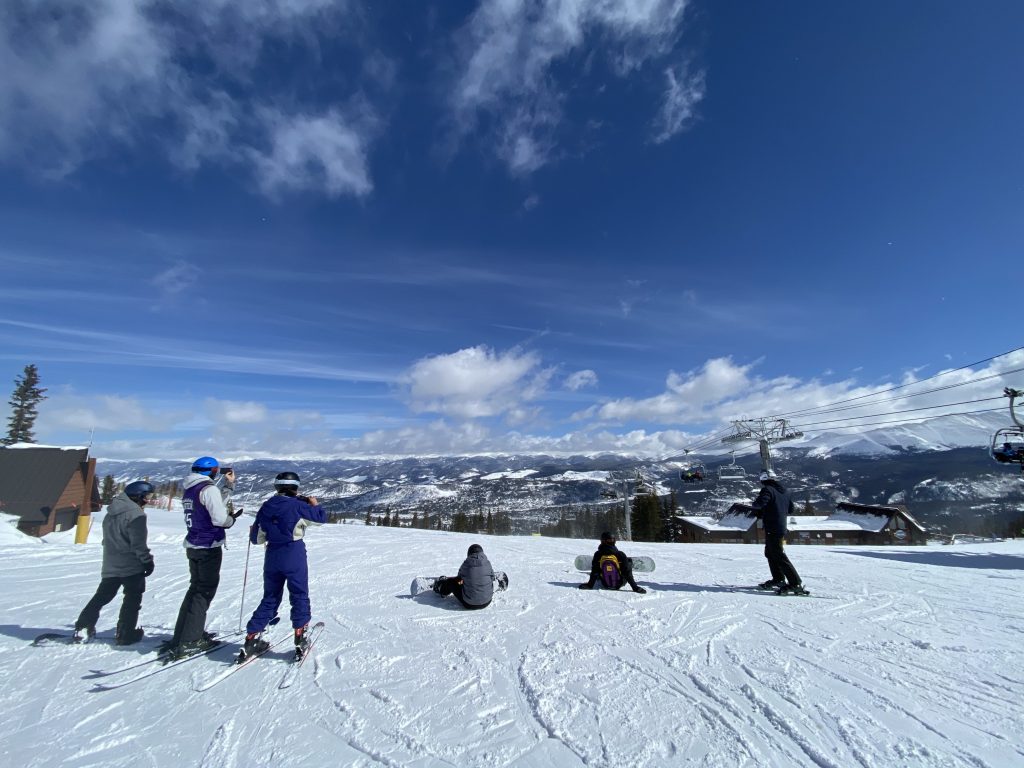 Friday (rest day)
I had planned for two rest days, and I took my second one on Friday after two consecutive ski days. A friend and I decided to head to downtown Breck and see what there was to see and this was a great choice.
We ate gelato for lunch and chased it with pecan praeleans from a local chocolate shop. Then we visited a bunch of other little local shops and just sort of killed the afternoon walking around.
It was a really relaxing day and I was glad I took the time to recuperate so I can make the most out of my last day on the slopes on Saturday.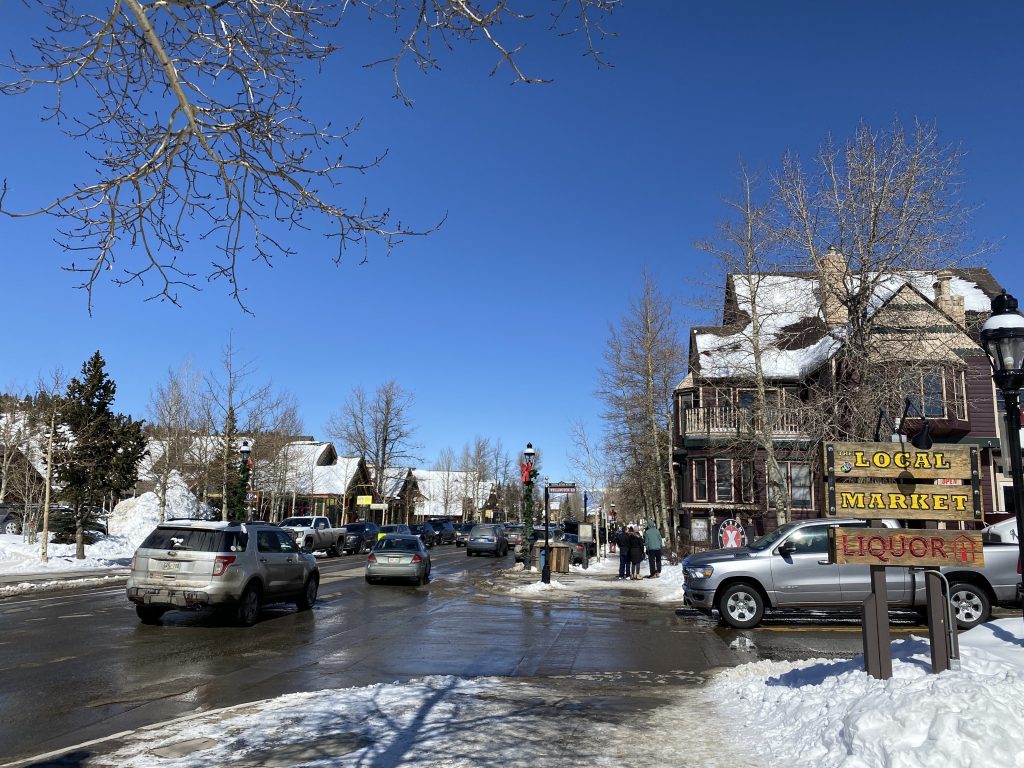 Saturday
Our final ski day started with a pretty big group going after some tougher runs. We made our way over to Peak 10 via Frosty's Freeway, which was a fun little black run connecting the peaks. I almost got into some trouble in the moguls at the bottom of this one because I was following a friend's line, but I made it down ok. I also almost got taken out by two of my snowboarder friends, but we managed to narrowly avert catastrophe.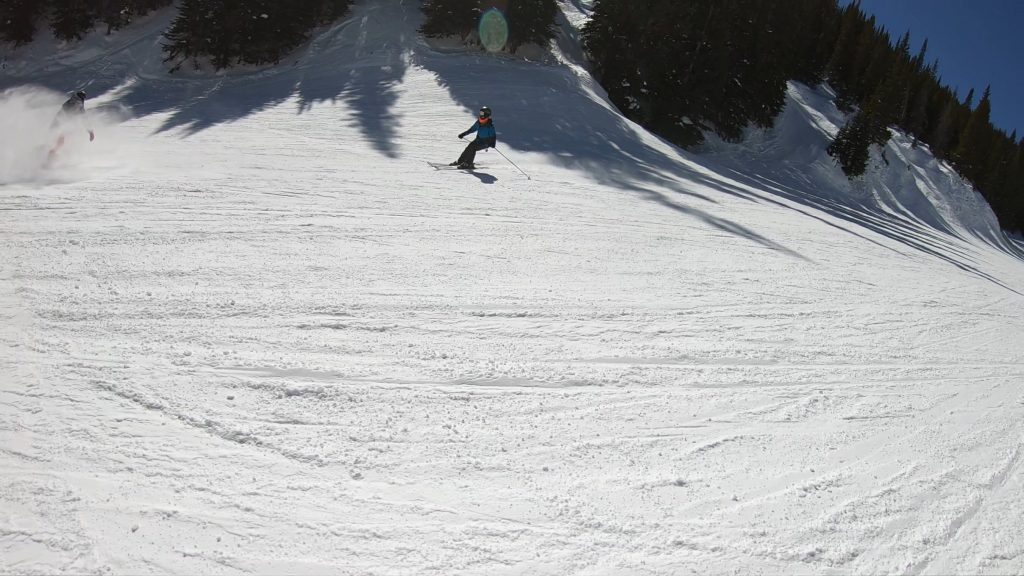 Over on Peak 10, we lapped Cimarron a few times and it was a lot of fun. I think the flat, steep runs are my favorite—I don't like bumps very much. That could change as I get better, but for now this is the kind of stuff I'm after.The big group disbanded and I went back over to Peak 8 with a smaller crew. We started off doing a couple black runs over there—Duke's and maybe Rounders—before heading over to lap Northstar a few times.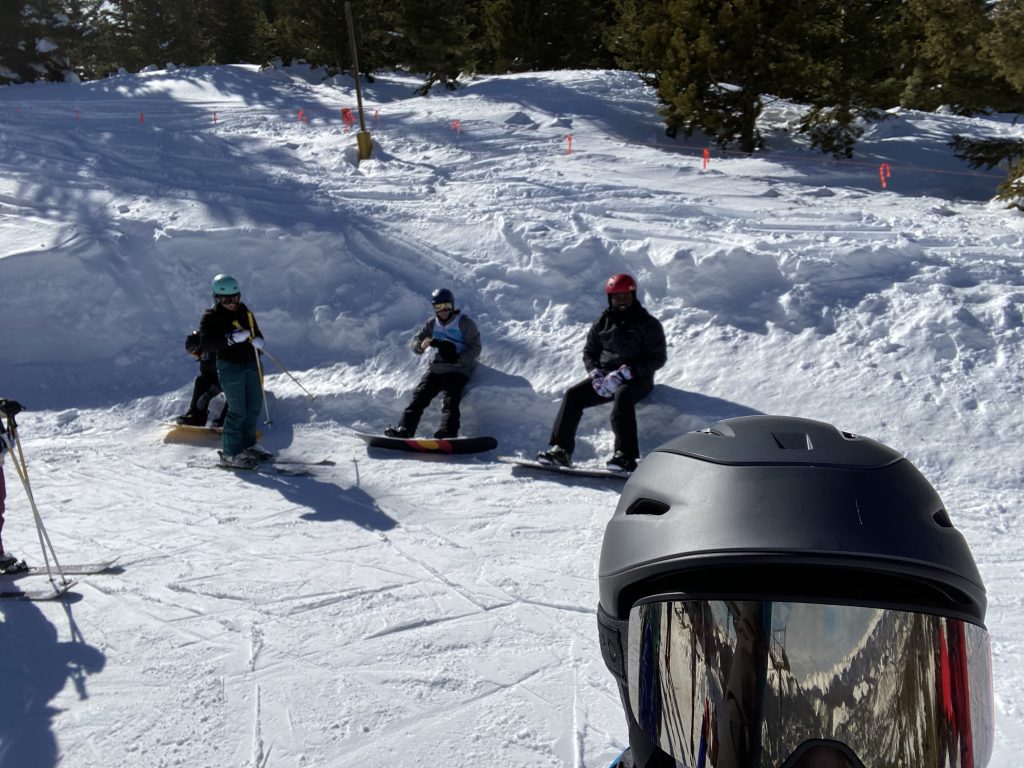 On the way to Northstar, I asked the more experienced snowboarder in our crew to show us where the Luge is. The Luge is an unofficial tree run off of Columbine, and a lot of Breck veterans talk about it as a staple. Although I planned to do the Luge eventually, I just wanted to get a look at it this time. The pla was to head to Northstar.
But my clever snowboarder friend decided to show us where the Luge was by dropping into the Luge and stopping. "It's right here. See? Not so bad. This is actually the steepest part. It flattens out right away and you just have to watch the trees."
By now it was clear that the other two of us would either have to leave him there and meet up with him later, or join him and run the Luge. We both reluctantly dropped in and I immediately hit a tree. I thought I might be in trouble, but the rest of the run actually wasn't too bad. It was difficult because I don't know how to ski moguls or make tight turns, but I made it down pretty quickly without any falls. Next time, I'll try to do fewer three-point turns (my go-to maneuver in the tight channels, apparently).
Once we all made it down the Luge, we headed into Rip's Ravine, which is a fun little path through the woods. I hadn't seen this before, but it's a lot of fun to string together with Northstar. You can get a ton of speed up at the bottom of Northstar, then shoot into Rip's Ravine and just cruise for a few minutes looking at the scenic path they've laid out.
Northstar is a great marker for progress becuase I remember the first time I did it back in 2018: it seemed really steep at the top and the whole run was sort of intimidating. This year, it was our fun run to unwind after a day of black runs capped off with a Luge run. I think we lapped it three times to end our day, and the whole game was "Get as much speed as possible without endangering any children so you can speed through Rip's Ravine at the bottom".
This was easily my best day of skiing so far and it left me wanting more.
Odds and ends
In hindsight, last year's trip was less about progress and more about managing my adductor injury while still having some amount of fun. At the time, I felt a little bad about taking it so easy but it's clear that I did the right thing. If anything, the fact that I made some progress last year was impressive.
Ramping up to five ski days this year was also the right thing and I think I struck the right balance between maximizing the ski time on this trip and enjoying my vacation. It was cool to ski three mountains and I made huge amounts of progress this year.
I did not have a single fall during a run this year, but I fell probably 10 times otherwise. Sitting next to a snowboarder on the ski lift is apparently dangerous for me, and that accounts for at least three or four falls. I also tumped over a couple times learning how to use my edges just before a run. And my best fall of the week was just before my first Spruce run when I inexplicably fell over between the lift and the top of the run.
Next year, I might get more aggressive so that I have a few more falls during runs. "No falls on a run" sounds kind of neat, but it almost certainly means I'm not challenging myself enough. I'm reminded of a useful poker axoim: "If you never get caught bluffing, then you're not bluffing enough."
We had a great crew of people this year. Although big groups of people isn't generally something I crave, our big ski trip is undoubtedly an asset. We have so many people that everyone can find a few people at their skill level to spend a day with. That makes it a lot easier to learn in a comfortable environment where you're not holding anyone else back, but you're also not holding back too much for less experienced skiers.
Next year, I want to hit some harder stuff and maybe even get good enough to hang with the expert-level crew for half a day or so. I'd like to hit Imperial Bowl, Peak 7 Bowl, and Whale's Tail before the end of the trip next year. And of course I'd like to put in a better performance on the Luge as well.
It took a couple years, but I think I'm finally decent at skiing and it's fun to have a new winter hobby.