I lay on my back, staring up at the blue sky. I assume it was beautiful, although I can't really remember because I was desperately trying to catch my breath at 11,000 feet above sea level.
I looked past my feet, up the mountain to find my ski. My friend had already found it and was bringing it down to me.
"I. Don't think. I've. Ever. Been. This tired." was all I could say.
Our group had just accidentally gone down a Blue run, which we later found out was basically a Black, and it had not gone well. I tried my best to maintain control, but I had gone down the un-groomed part of the run, which meant I was basically skiing down a black on ice.
This moment was one of many that we would later call the #VailFail, and it was definitely a low point. But around this low point was a week of high points and a lot of fun.
Skiing for the first time in a long time
Last week, I went skiing for the first time since high school. All of my previous skiing experiences were terrible, so I wasn't expecting to have much fun.
Fortunately, my friends insisted I try skiing on real mountains with real snow, so I went to Breck to give it a shot.
I had an amazing week and really enjoyed skiing. It was a lot easier than I expected and I picked it up faster than I thought I would.
So this will be more of an old-school day-by-day recap of my trip, mostly for posterity.
Day 1: Traveling there
A few of us rented a car and drove from Gainesville to Orlando, where we flew Southwest directly to Denver. Then we rented cars and drove from Denver to Breck. Everything was entirely uneventful, which is how I prefer to travel.
Once in Breck, I immediately felt the altitude and got winded just walking up stairs and doing other simple things. I also got a low-level headache that persisted for a couple of days despite all the water I drank.
We rented a ridiculous three-story house that slept 13 people. "The bunk room", which I shared with three other guys, was crowded but fun.
That first night, we got our ski gear, settled in, and went out for our first crepes of the trip.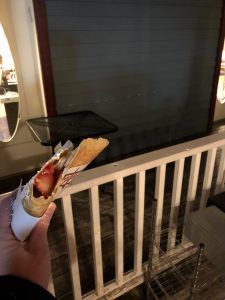 These crepes are delicious and enormous.
Day 2: Lessons and getting settled
Everyone I talked to said, "You should definitely take lessons on your first day. It's the best way to learn the basics." This was great advice, which I think they learned to give after other training methods failed.
For example, I think they used to teach newbies how to ski using a sort of Scared Straight methodology ("This is a blue run. You will fall a lot, but by the time you make it to the bottom, you'll be ok at skiing."), which probably isn't the best way to learn.
So several of us split into groups for snowboarding and skiing lessons. There were only two of us skiers, and our instructor was Dave. There were two other folks in our group, which meant Dave only had to work with four students—that was great for us.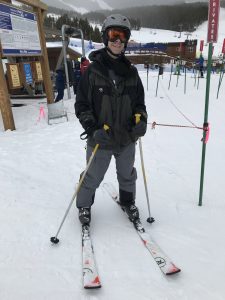 We gradually worked through the basics, and I felt pretty good right away. Skiing was already less awful than I remembered. By lunch time, my friend and I had progressed past our two fellow students and were quite a bit more comfortable with the green runs we were doing.
Just before lunch, Dave took my friend and I on a couple runs while the other two members of our cohort took a breather (they were very tired and frustrated, and I think Dave correctly assumed the best thing was for them to rest so they didn't get hurt). We did our first blue and it went pretty well—we could see that we were making real progress already.
After lunch, we did a few more runs, worked on some more advanced (for us) techniques, and officially graduated to "Level 4" (of 5?), which felt pretty good.
We finished the day by meeting up with most of our other friends to ride up and do the 4 O'Clock Home run (which is mostly green with a little blue up top).
One of the nice things about the awesome house we rented was that we could almost ski in and ski out. It was super convenient to walk for three or four minutes, put our skis on, and hit the lift. And it was even more convenient to ski down the 4 O'Clock, pop our skis off, and get home in about 5 minutes.
Our only in-house group dinner
After we finished skiing, some of us headed off-site for some hot-tub time while others went shopping to get supplies for our only in-house group meal of the week. I sautéed asparagus for everyone, which meant I got to hang in the kitchen and meet new people as they passed through to see what we were up to.
This was probably my favorite meal of the week and I'm hoping we do at least two of these next year.
Body Body Body
After dinner, we played Body Body Body, which is like a live-action version of a game called Mafia. I've always liked Mafia and I like Body Body Body even more.
There were about 10 townspeople and 3 mafia members. Once the mafia members have identified each other, we turn the lights out, crank up spooky music, and wander around the mansion in the dark. Mafia members kill townspeople by mock-slashing their throats. Once a townsperson has been killed, they stop walking and drop to the floor. The game continues until someone finds the "body" and shouts "Body body body!" so that everyone can turn the lights on and run to see who died.
Then the game moves to the more typical "Mafia"-style game where everyone talks things through and nominates a couple people they think might be in the mafia. Eventually someone is voted out and the game resumes unless the mafia have all been discovered. The game ends when either the mafia are all voted out or there are equal numbers of townspeople and mafia remaining.
The game is a lot of fun and we played pretty much every night. My only regret is that despite playing 10+ games, I was never mafia (which is the most fun part of the game) thanks to a series of unfortunate events that culminated in our narrator tilting and skipping one game, causing some logistical snafus that caused us to redraw for spots the one time I actually drew a "Mafia" card.
C'iest la vie.
Day 3: First normal ski day
Lessons were physically and mentally exhausting, plus I was still feeling the altitude, so I was admittedly not super stoked to hit the slopes again.
Fortunately, a couple of experienced friends, who arrived later than the rest of us, were heading out for their first day on the slopes and offered to take me along and help me slowly work up from Greens to Blues. (Shout out to James and Jen for being awesome teachers.)
By lunch, we were doing Blue runs and I felt pretty comfortable. They were a little fast for me, and I didn't quite have the control I wanted, but I was able to move down them pretty quickly, mostly maintaining control, and without falling. All in all, a pretty big win.
By the end of the day, I felt comfortable on Blues, which was pretty remarkable considering I had taken beginner lessons the previous morning. Some of the group took a short Black to finish the day, but I skipped it. I was super tired and just didn't want to risk hurting myself with two days left to ski.
Mi Casa
We went to a local Mexican restaurant for dinner, and it was pretty good. Although... my stomach didn't take too kindly to it. Normally, this would be no big deal, but an upset stomach plus altitude meant Day 4 at Vail would be challenging.
Assume there was hot-tubbing, Body Body Body, and probably crepes
The evening routine was pretty consistent. Here was our view from the hot-tub: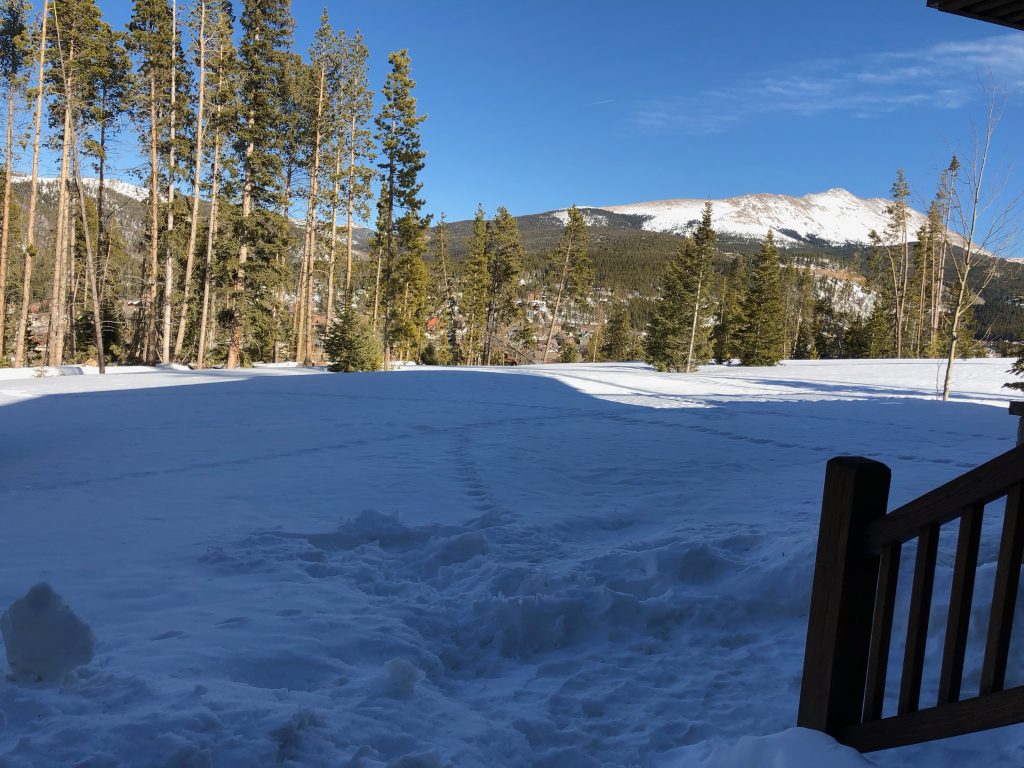 Day 4: #VailFail
This brings us full circle to the beginning of this post. We decided to make a day trip to Vail, which is about 45 minutes from Breck. At first, it was a smaller group, then it expanded to be almost everyone. In theory, the skiing is better at Vail, plus we could get an awesome group picture at a famously beautiful spot on the mountain.
But, all the best laid plans...
We arrived at Vail and easily got onto the mountain thanks to some great planning by the more experienced members of our crew. Our first order of business was to rendezvous at the top of Lift 37 for the infamous picture, and then we could all split off into groups based on experience level.
Our plan was to take a long catwalk to another catwalk that would drop us at Lift 37. But a Vail employee convinced one of our crew that there was a better way: We could cut out a lot of catwalking by taking an easy Blue after the first catwalk.
"We have a lot of beginners. Is that Blue going to be ok for beginners?"
"Definitely!"
We knew we were in trouble pretty much right away. The entrance to the first catwalk gave a lot of folks serious problems. I made it down to the catwalk without falling, but it was a dicey run.
Once we eventually got across the first catwalk, we stopped to regroup before heading to the beginner-friendly Blue we had been promised. But first, we had to wait out a pretty serious windstorm that made me thankful I brought my balaclava since the wind-driven snow felt like a sandblaster to the face.
Another ominous sign.
At last, we all get around to the entrance of the beginner-friendly Blue and we realized... this was not beginner-friendly. It was super steep and icy—not good for beginners. I tried my best to take shallow angles and control my speed, but I just wasn't good enough to manage it. I fell over a few times—nothing serious—before heading to a part that another skier said was probably a less-steep way to get down.
Turns out I was heading for the most steep part of the run, and a more experienced skier in our group later told me, "I saw you heading over there and thought, 'He needs to turn back the other way or this could get really ugly.'" I did not turn back the other way. Things got pretty ugly.
This is the part where I wound up sliding head-first down the mountain on my back, losing one of my skis in the process. Ironically, this may have been the best outcome for me once I chose this particular path.
We later found out from another Vail employee—a friend of the group—that this was basically a Black run and that beginners had no business being on it. There was a groomed section, which they considered a Blue, but most of us had not taken the groomed section. (This might be my only regret of the trip—if I had known about the groomed section, I may have gotten down with little trouble.)
Exhausted from accidentally attempting a Black run, I caught my breath and chugged half a bottle of blue Gatorade, then made my way down to the second catwalk. As I worked my way across the catwalk, the wind picked back up—it was getting worse.
Most of us met up at a natural stopping point before heading down to Lift 37. Bad news was waiting for us there: Lift 37 had been closed because of the wind; only Lift 36 was open; there was no way to ski down.
A few of us had made it onto Lift 37 before it closed. Some of us were stuck waiting for Lift 36. And others had been so far behind that they were blocked from the catwalk and could not even make it Lift 36. We were now scattered all over the mountain.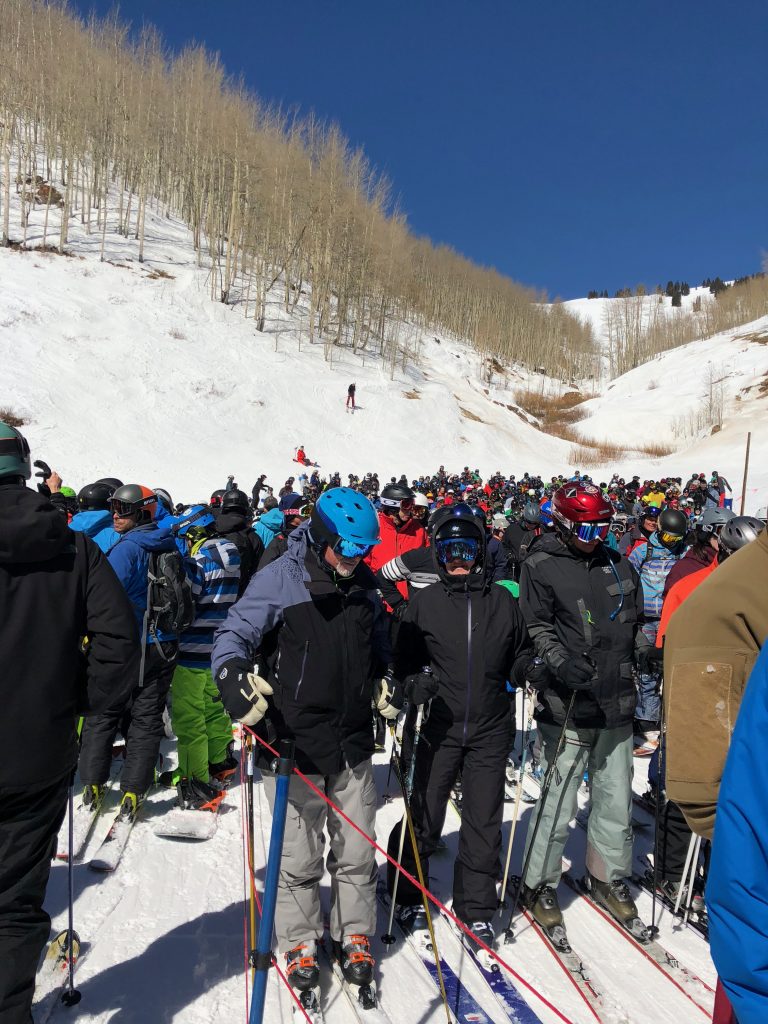 They had also been slow to close the catwalk, so people continued pouring in as the line backed up. We waited there for over an hour, totally exhausted and dehydrated.
By the time we got off Lift 36, it was after 1:00 PM. We had been on the mountain for over three hours and had almost nothing to show for it. We finally made it down to our next rendezvous spot where we were able to regroup and get a less-spectacular version of the picture we had been chasing for the past several hours: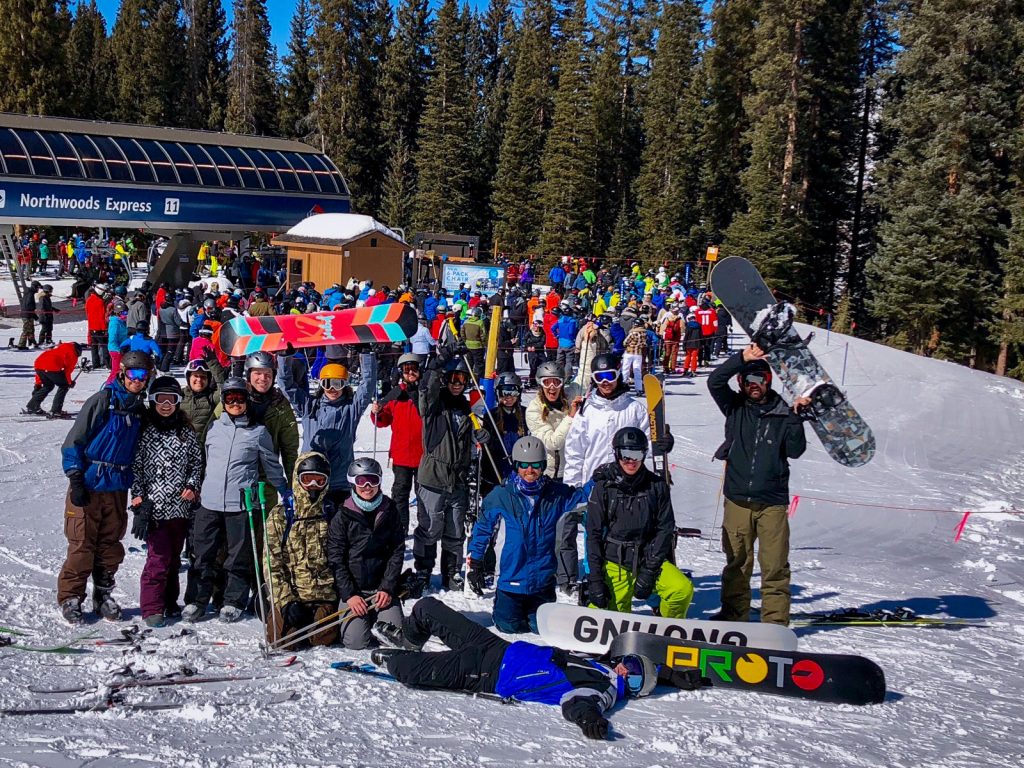 And here is where we coined #VailFail. We had been on the mountain for about four hours and had almost nothing to show for it. The back side of the mountain had been closed, we had done like 1.5 runs, we didn't get the picture we were chasing, and several of our crew were wiped out from the initial "Blue" that we descended.
We split up by experience level and managed to get a few runs in before calling it quits and meeting up at The George for an early dinner. Even the Greens at Vail were pretty steep and challenging—some of them harder than the Blues I had done at Breck.
After the high of making such quick progress the day before, this was a pretty serious low for almost everyone. I was glad the day was over and that we would be back at Breck for the rest of our trip.
Day 5: Redemption
This would be our final ski day, and I was really happy to be back at Breck. I spent most of the day doing Blue runs, which all felt really easy after the runs we did at Vail.
We all met for lunch on Peak 7, where there was a food court with a fantastic view of the mountain.
The last real run I did was Monte Carlo, which is a really long, fun Blue. A friend got some photos and video of the run so I have a record of where I was skill-wise after my first real ski trip. I felt much more comfortable than I expected, but can also see that I have a lot of work to do.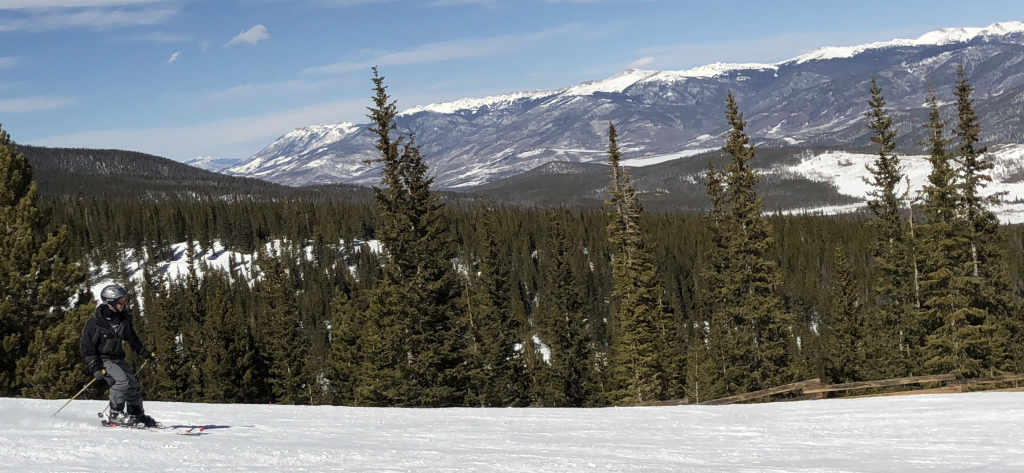 I finished the day paying it forward: A less-experienced skier in our group and I did a couple of super-slow Blue runs to get down off the mountain. This gave me a chance to help someone the same way I was helped on Day 3, and also gave me a chance to really enjoy the views and reflect on how much I had learned in just a few days.
On Wednesday, I had no idea what I was doing and felt accomplished for scooting down the bunny slope without falling over. On Saturday, I was helping another skier get down Blues to get off the mountain.
Day 6: Traveling back
After a long week, I was ready to get home. But first we had to drive back to Denver, fly east for a few hours, rent a car in Orlando, grab dinner and drive back to Gainesville. We would be lucky to get home by 11 PM.
But on our way to dinner, we passed Andretti Karting and our crew couldn't resist. Actually, I could totally resist—I was about 5 hours past my "have fun while traveling" limit—but the other four in our little group were all about it.
So after about seven hours of traveling, we stopped off for some kart racing. My only options were to just sit around and watch them race, or to join them and hope I could compete despite how tired I was. We warmed up by playing a reaction-time game and two quick-shot basketball games (I won two of three of the games I played) while waiting for our track to be ready.
The race was really fun except we were surrounded by terrible drivers who kept puttering around the middle of the track. All of us would've gone much faster if we hadn't had to work around the slower drivers. I tied for 2nd overall, and I felt pretty good about that.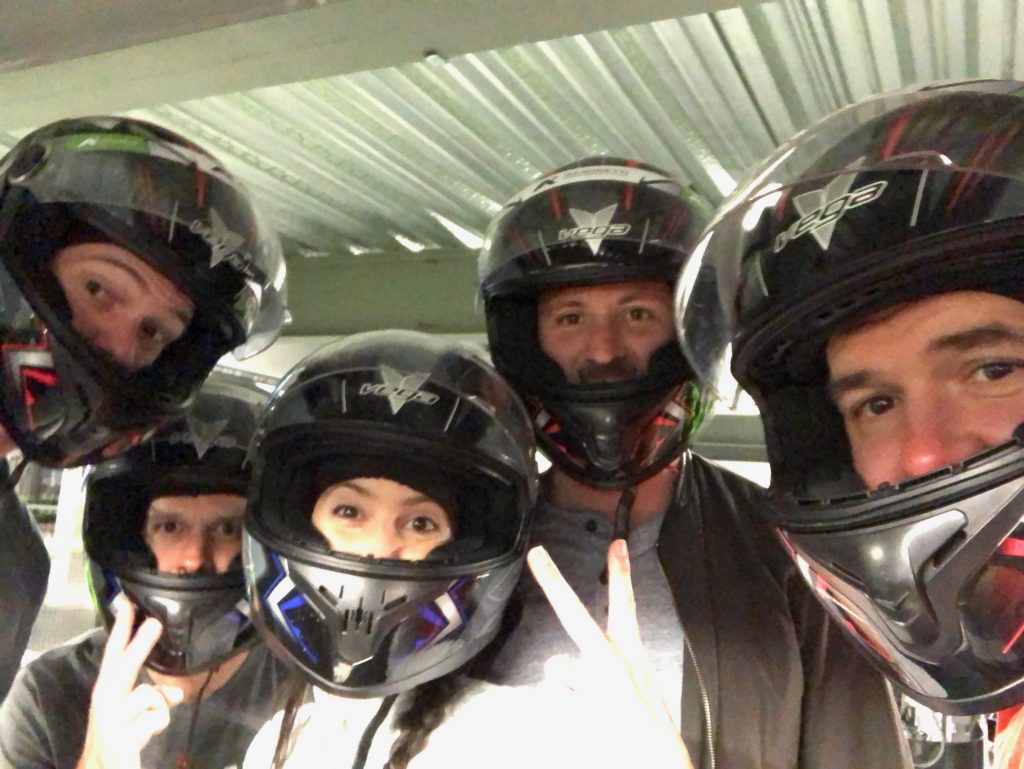 Then we finally started our drive home from Orlando, talking about the Oscars most of the way.
I finally got home around 1:00 AM and immediately crashed.
Planning for next year
Before this trip, I had decided I hated skiing. Now I'm looking forward to heading back out next year. My friends were right: I hadn't really skied before, and skiing out west is much more fun.
Hopefully I'll be shredding Black runs by the end of our next trip.