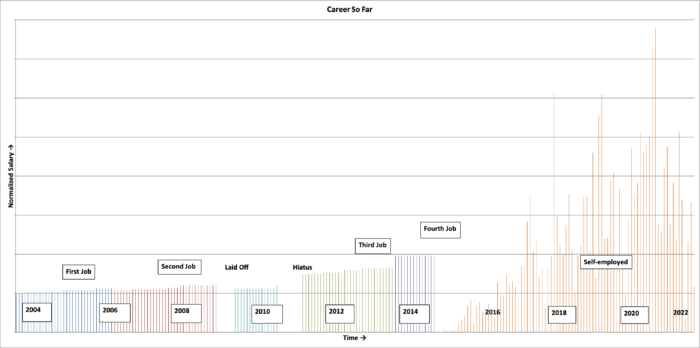 NOTE: This post is a sort of sister post to My business is struggling. Here's my plan to save it. This Year In Review sets the stage for that one.
Well. Paraphrasing an old friend who has since passed on: "I've experienced a lot of years, and that was one of them."
2022 turned out to be a really weird year both personally and professionally. This year in review will probably be a lot different than all of the previous ones because this year was so different.
In fact, it's probably going to be a downer and my guess is it's going to be pretty short. But such is life. If you'd rather read something that's more upbeat, check out my 2021 Year in Review: 2021 Year in Review: An incredible year.
On the personal side, I realized that my years were starting to blur together because I would do the same (usually fun!) things on a sort of loop. Like, before the year began, I could easily get out a calendar and mark 10 or so pretty significant things that were already baked in and would be more or less the same as the previous year. This is simultaneously kind a great—some of those things were "ski trip" and "4th of July at the beach"—and kind of a weird version of Groundhog Day. I was having trouble distinguishing between specific events over the past few years because the events themselves were always the same.
While it's neat to know I have a bunch of cool stuff on the calendar, it was also a little … I dunno, disheartening? to know that my entire year was pretty much planned out before it began. So I decided that rather than just defaulting to "do the same stuff as I always do", I would sort of scrutinize each thing and decide if I wanted to do that thing again this year.
For some things, I just left them alone (ski trip), but for other things, I just decided to not do them (4th of July at the beach, the annual RV trip).
I also ended up selling my old house (where I had lived for 15 years) and buying a new (to me) one. So that was a pretty dramatic way to shake things up.
All in all, I feel good about the way I navigated the year, and some really great things came of it. But it's hard to think of a more dramatic contrast to the previous year, where everything just sort of cruised along as usual, but just more.
2022 Goal review
I haven't even looked at the goals I set for 2022, and I'm already laughing. I'll be surprised if I was even close on a single one. Here we go…
Build and launch a new salary negotiation course for software engineers
Ha, well I actually did this and it's pretty great.
I started building Salary Negotiation Mastery in August and launched it in January. It's much different than anything I've built before, starting with the creation process itself.
I'm extremely happy with how it turned out, and I'll write more about that later.
Increase business revenue by…50%?
Lol.
How about "decrease revenue by 32%, landing somewhere between 2019 and 2020"?
Get to a 4.0 level in pickleball
I was actually on track for this until I got injured. I hurt my back doing legs at the gym (either squatting or deadlifting) in August or so. Around the same time I also developed both tennis elbow and gofer's elbow when I changed paddles.
So since I couldn't move very well or swing the paddle without pain, I lost about three months of pickleball. Not ideal. ??Worse, when I finally started playing again, I was super rusty and had unlearned a lot of the things I learned earlier in the year, so I estimate that those injuries probably cost me about six months.
I definitely didn't make it to 4.0, but I did improve in some areas. Mostly, I just need to clean some things up and get more consistent.
Ski the top of the mountain at Breck
Nope. Instead, I focused on fundamentals, and the stuff up top was closed for most of our trip. I think this was for the best—I actually did less difficult stuff this year than I had done last year. But I realized I needed to become a better fundamental skier to raise my ceiling. This would also carry over to 2023, but I guess I'll write about that next year.
Travel more (for real this time)
Nope. I traveled less, actually. I'm actually happy about that and it was part of the anti-Groundhog Day reset.
Something something cooking?
I'll call this a push. I had people over much more often, but I didn't really pick up anything new. Actually, I got pretty good at baking, so that's progress.
Be more generous
This was a success. I'm not going to write about it here, but I feel good about my progress here and I plan to keep this goal for 2023 as well.
2022 Year in Review - Business
The business got off to a roaring start in 2022. 2021 was my best year ever by a longshot, and 2022 was tracking slightly ahead of 2021 until August. But then the big tech layoffs began and the business basically cratered starting with September being my worst month in six years, then sort of rebounding with several mediocre months in a row. As I write this, I'm in the seventh month of a pretty severe drought and I don't really see any signs that it will abate soon. If anything it looks like things will get worse before they get better (if they get better). Things are not good.
I ended the year down about 32% in year-over-year revenue. That number itself is pretty bad, but it's much worse when coupled with "I was actually ahead of pace through August". The last four months of 2022 were very, very bad.
Here's the revenue chart I update every year. I did pre-launches for Salary Negotiation Mastery in October and November, or those bars would be much shorter. It's a pretty dramatic change from the momentum I had built up over the past several years. Notice that I went with a boxless-"2022" badge because the box would've obscured September's revenue. Right next to that low-water mark, you can see October and November were ok by historical standards, but most of that revenue is Salary Negotiation Mastery pre-orders (as opposed to coaching revenue, which has historically been my main source of revenue).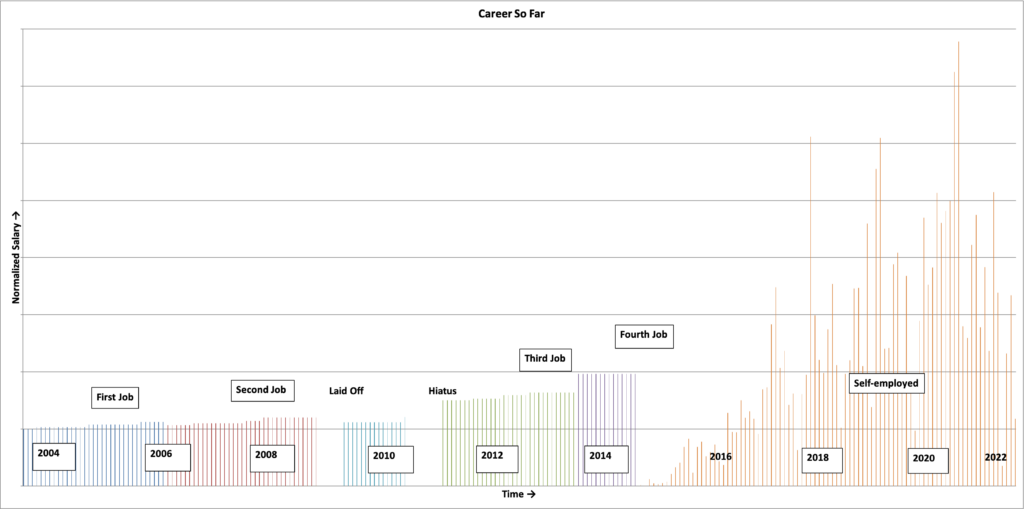 One silver lining of the slump is that I had plenty of time to build something new for the first time in a long time. That thing is Salary Negotiation Mastery, and it's very, very good. I don't say that lightly—I'm genuinely surprised how good it turned out. Fortunately, I started working on it last August (the month before the downturn), and I launched it in January, so I was able to put all that downtime to great use. I was also able to get some income from that new revenue stream, so that was fortuitous.
Why not look at some stats?
Stats
Visits to FearlessSalaryNegotiation.com: About 720,000 (down from 7880,000)
Unique page views: About 1M (down from 1.1M)
Total email subscribers at the end of the year: About 27,500 (break-even from the previous year)
Product sales through the site: About 100 (down from about 200)
Coaching applications: 99 (down from 138)
Coaching clients: 22 (up from about 36)
Coaching conversion rate (from application to client) was 22% (down from 26%, so basically flat)
Net revenue was down 32% from 2021, and September 2022 was my worst month in about five years.
Coaching revenue was down 28% year-over-year, and product revenue was up about 10% year-over-year, thanks to the Salary Negotiation Mastery pre-launch.
So all that paints a pretty bleak picture of the business in 2022. And you might be thinking, "That seems like it was pretty stressful." But, as of when I'm writing this at the end of March 2023, it continues to be very stressful, and this isn't even the half of it (see the personal year in review below).
Building Salary Negotiation Mastery
Looking back, I was very fortunate that Fearless Salary Negotiation was so good. At the time, I felt like I knew quite a bit about salary negotiation, but in hindsight, I actually knew very little. I figured a lot of things out and created a unique methodology that worked really well. It holds up even today and it's still the basis for what I do with my clients.
But I've learned a lot since then—I've worked with over 150 people one-on-one, negotiated millions more dollars for people, and generally have a lot of experience negotiating job offers. That experience wasn't reflected in Fearless Salary Negotiation or in the initial video courses I made because how could it be? I had just started building the business when I made those things.
A few years ago, I decided it was time to build a new course that reflected everything I had learned by doing this full time. It took me a while, and I did a full rebrand and site redesign first, but I eventually got around to building Salary Negotiation Mastery.
I worked with an instructional designer to build a program that would be easy to follow and deliver a learning experience tailored to the learner and their current situation. Right away, there's a fork in the learning path: If you have a job offer already, skip the module on interview prep.
I also hired a copywriter to write the sales page, and I had 20-30 beta testers go through the course to tell me what they thought.
The look and feel are totally different than the other things I've created. Rather than a Keynote presentation with voice over (which is fine!), most of the teaching is me on camera with occasional slides to illustrate a learning point or reinforce an idea. Before I had eye surgery, I never would've been comfortable building a thing which required me to be looking directly into the camera for hours on end. But I feel much better about it now, and I've actually gotten decent at it. So this made the most sense to me.
Where do I go from here?
I don't know.
As far as I can tell, the fundamentals of my business are sound. What I do is valuable, people are eager to pay for for coaching and products, but the people I serve are not changing jobs and negotiating new offers right now since hiring big tech is locked up. I have no idea if or when the hiring will get back to normal.
I could continue puttering along, slowly fading until I'm forced to pivot or do something new. Or there's a world in which the spigot is turned back on, lots of engineers start getting hired by big tech companies, and business booms again. If that latter is what happens, I'm well positioned to capitalize: my coaching offering has stellar results, and Salary Negotiation Mastery is perfect for anyone who can't or doesn't want to hire me one-on-one.
I thought things would start getting back to normal in January and I was very wrong. We're about to begin 2023Q2, so maybe that's when things will start going back to normal. Who knows? For now, I'm looking at other places where the skillset I've built might be valuable, and I have a few opportunities in front of me that are very interesting and which might even be a way to use the same skillset with even higher leverage. Recapping 2023 will be pretty interesting.
2022 Year in Review - Personal
This year was dominated by one pretty big change… ?
I bought a house (and sold one)
I was in my previous house for 15 years, which was far longer than I anticipated when I bought it. Initially, I thought I was buying a starter house, and that I would be there a few years or so and then upgrade.
Unfortunately, I bought it at the peak of the 2008 housing bubble, and the market collapsed soon after I bought it. I was under water for several years with no real way to sell it, so I just stayed put. About five years ago, I started making some improvements, capped off with a total kitchen renovation in 2021.
I hadn't planned to move in 2022, but a friend sent me a link to a cool house on Zillow and that got the wheels turning. Fortunately, I didn't get that cool house (it would have been a MAJOR multi-year renovation project as it was built in 1938 and much of the interior was original). But that got me into "check out the local market" mode, which meant that I got a daily email with new listings in my area.
I went to see a few houses throughout the year, but none of them were quite right. Usually, they were older houses that were very cool, but very dated, needing a lot of work. But then I saw a house in August and it caught my eye: My style, recently improved, great location, and even a tennis court in the back yard (which of course would be easily converted into pickleball courts). It was basically my dream house, and I knew it was unusual because I had been watching the market for almost six months and had not seen another house like it.
The downside was the price—it was not cheap. I ran the numbers, then ran them again, then ran them again and decided to go for it and signed a contract at the end of August.
If you read the business review, you'll notice an interesting timeline overlap here. It was during the inspection period that I started to feel like my business was slowing down after the best 18-month stretch yet.
I had put a lot of money in escrow when I signed the contract, and I could get that money back if I backed out during the inspection period. But by then, I only had a few slow weeks and there were no super-reliable signs that anything was off with the business. So I went through the inspection period and remained under contract.
As the month went on, things started feeling worse in the business and I got more nervous. What if my business was dying or at least headed for a serious rough patch? That would obviously change the calculus on a major purchase like this. I could still back out and just eat the escrow money, or I could go forward and just hope the business came back as it always has.
I decided that if the business didn't come back, then at least I would have a runway (equity from my old house) and time to figure something out. Worst case, I just unload the new house. On the other hand, if this was a temporary slowdown for my business (which has happened several times before), and I passed on my dream house, I would regret that for a long time.
So I bought the house, closing on the heels of my business's worst month in like five years. Yikes.
Meanwhile, I had been slow to list my old house because I hoped I might sell it to someone I knew from church or around town. I was trying to be patient, but interest rates were going up and the housing market was cooling off—that was pretty obvious. I was getting worried that I might have bought a new house—requiring the equity from my old house to cover the down payment—and would not actually be able to sell my old house if nobody could get financing. That would've been very bad.
Eventually, I put my old house on the market, hoping that it would move fast. Fortunately, it quickly sold above asking. Everything went through so that I had a nice runway and some time to see what happened with the business.
If you know me, you know that I love sleep. I sleep well almost every night. But during this period, I frequently woke up an hour or two early, running numbers or trying to think through off-ramps if things didn't fall into place. I lost a lot of sleep and actually lost a few pounds as well. I'm not sure I've ever experienced that sort of financial stress before.
Of course, the business actually was entering a slump, which has reached seven months now. I'm not sure what I would have done had I known that was coming. But I didn't know that, and here I am.
Odds and ends
As usual, I went skiing and it was fine. I realized that I had sort of maximized the way I was skiing and I wasn't getting much better. I started working on some specific fundamentals and made a little progress there.
I also played a ton of pickleball until I got hurt. Then I slowed way down and lost momentum. Still, I improved a lot during the year and my game is coming along nicely. I'm leaps and bounds ahead of where I would've guessed my ceiling was a few years ago.
2023 Goals
Survive to 2024
The truth is, this is the thing I'm focused on the most. If I made other goals, they would ultimately roll up to this one.
I'm making improvements that should position my business to rebound in big way if and when the tech market starts hiring again. And I'm exploring other options for revenue if the business as it's currently configured doesn't come back.
2022 was a weird year and I'm relieved it's over. Hopefully my 2023 recap will include "my business rebounded!" or something like that. If it doesn't, this will be a pretty long year.