I want to resist the urge to start this post talking about the pandemic but, since I write these posts for posterity, I think I have to start there. It was a weird year that affected my business life much more than my personal life, but the pandemic's effects were felt throughout the year.
My business actually grew by about 15% in 2020, but that's a deceptive summary. The underlying components of the business experienced some big and interesting swings in revenue even though the top line looked pretty steady. I almost said I was lucky but ... there's a little more to it than that. A combination of luck and conscious decision making have made the business more resilient (or maybe it's more accurate to say "anti-fragile") just in time to weather a big economic storm.
Personally, I had a great year that confirmed something I've been noticing for a while now: My family and community are the most important things I have. If my relationships with those are strong, everything else is much more consistent.
For both business and personal things, past investments have led to a stable year in the midst of substantial global upheaval.
2020 Goal review
Increase revenue by 50% again
This was a pretty big miss since the business grew by "only" 15%, but I also didn't factor in a global economic catastrophe when I set this goal, so I'm giving myself a pass. If I had incorporated that into my projection, I think I would've said, "Gosh, if that's going to happen in 2020, then I guess breaking even would be a very good year." So the fact that my business grew at all feels like a huge win.
Sub-7:00 pace 5k
Miss, but just barely. I almost hit this one in a training run very early in the year—I had a 7:03 pace 5k on the Hawthorne trail—and if I had just had a different view of the real-time stats on my Apple Watch during my run, I would've gotten it.
Then I ran a race in February and ended up at a 7:06 pace, but that's deceptive because it was 45 degrees out that morning and very windy. In fact, I was pretty much on track to hit this goal until I turned into a super strong headwind that slowed me way down for the final mile.
So I think I would've gotten this one but for some bad luck (wrong real-time stats on my Watch followed by non-conducive weather in the race). As misses go, this feels like a hit.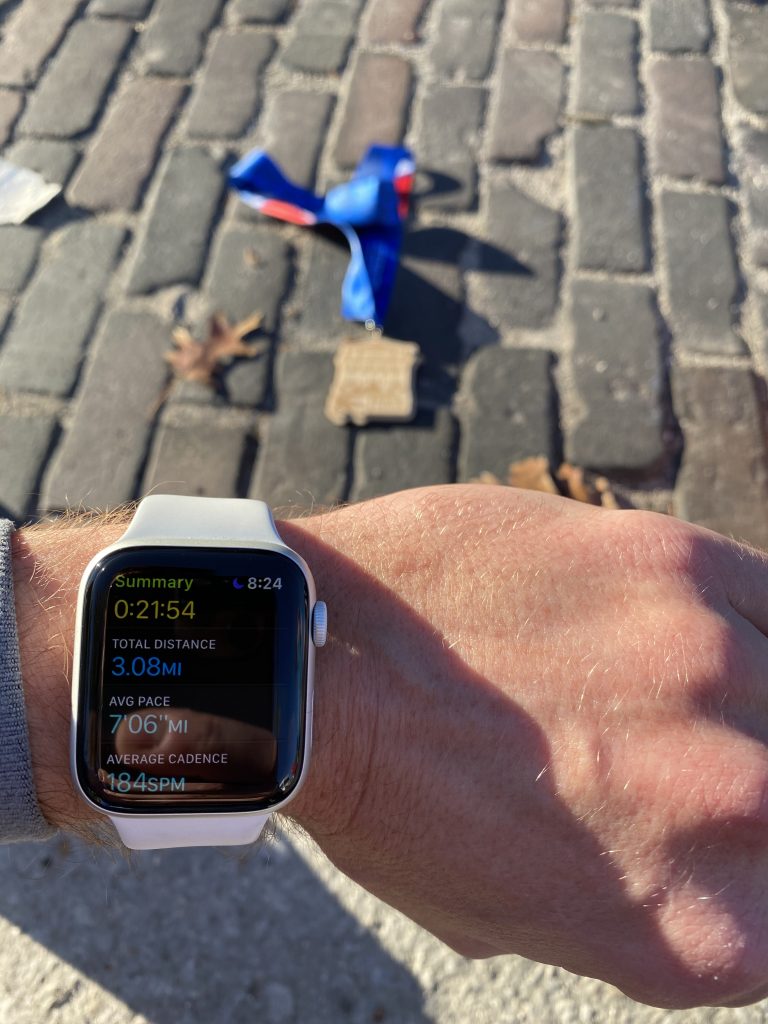 Sub-60-second 400m
I didn't even try this one. In fact, I'm not even sure I did a single track workout this year. Maybe I'll hit this one in 2021 (but probably not).
Travel more
Again, this is relative thanks to the pandemic. I got the normal ski trip in just under the wire in February (actually, I extended the trip by a few days this year), and I went on a week-long RV trip with some friends in June. I would say this is actually a win.
Be more generous
This is a win—I think I succeeded here. Could I have succeeded more? Sure, but that will always be true. I was intentional about finding opportunities to be generous and to be generous in meaningful, specific ways that would really be useful.
I'm not sure how to write more about this without seeming braggy, but I do think I might be able to share some more thoughts on this in a tactful way that could be helpful to others, so I'll try to do that either later in this post or in a separate post entirely.
2020 Year in Review - Business
The business grew about 15% this year. What's strange is that when I drill down one or two layers into individual stats, things could look very different depending on which stats I choose to focus on.
COVID-19
Before unpacking that intro, I should address the elephant in the room: COVID-19. It very clearly had a huge impact on my business this year, especially on the product side. Organic search traffic took a big hit in January with a Google algorithm update—that's not unusual. But then it mostly recovered until the second week in March when it fell off a cliff and basically never recovered.
That drop in traffic shifted my email list growth from "steady" to "zero"—my email list has been treading water all year. Search traffic leads to email list growth, which leads to product sales. So with fewer new email subscribers came fewer direct product sales.
Meanwhile, a few pages on my site that are specifically to help folks navigate negotiations with big tech companies actually had a material increase in traffic this year. The traffic to those pages does not generally lead to product sales, but does lead to coaching clients. So traffic to the coaching side of the business was up this year.
All that nets out to more coaching revenue, less product revenue, and modest growth for the business this year.
That's what things looked like from my side of my business. But clearly this reflects much more substantial issues for folks who were either job seeking in 2020 or would have been job seeking in 2020. It sure looks like companies slowed or stopped hiring altogether and people probably didn't look for new opportunities as aggressively as they normally would've because of the substantial economic uncertainty as we navigated a global pandemic all year.
So I'm thankful that my business grew, and I know that what I described above reflects a lot of economic turmoil for a lot of people.
I'm leading with this because it colors everything else I'll say in my business recap. There's just no way to talk about the business without accounting for COVID-19.
Stats
I normally end with stats, but I'm leading with them this year because of COVID-19.
Visits to FearlessSalaryNegotiation.com: About 660,000 (down from 1.2M)
Unique page views: About 940,000 (down from 1.7M)
Total email subscribers at the end of the year: About 40,000 (down from about 46,000 after an early-2020 pruning)
Product sales through the site: About 300 (down from about 800; about 20% of the 2019 product sales were a single partner promotion, so this is still a huge drop, but not as huge as it seems)
Coaching applications: 87 (up from 63)
Coaching clients: 16 (down from about 30)
Conversion rates are more or less the same as last year.
The one thing I'll point out now and unpack later is that the drop in coaching clients was intentional. To help unpack this, I added a new stat this year: Coaching applications. That number went up by almost 40%, but the number of clients I actually worked with dropped by almost 50%.
Why?
I was focused on working with more senior engineers and executives, looking for opportunities where my service would add the most value possible. I wanted to be sure I had maximum time available to give the best service possible to the clients I did work with because I knew that each client would probably need more of my attention given the complexity of their negotiations.
Coaching revenue
The overall growth was driven mostly by growth in coaching revenue. But even there, digging down selectively would make things look quite a bit different. As I mentioned above, I actually worked with fewer coaching clients this year than I did last year—that seems bad. But my average revenue per client is up quite a bit—that's obviously good.
This is one of the strange parts about running a business and making changes with an eye on the future: Even though the coaching results this year were more or less exactly what I was hoping for when I changed my fee structure and positioning, it still feels bad to see that I worked with fewer clients. This was by design and yet a declining stat feels bad.
One fun fact from 2020: A single coaching engagement generated more revenue than my business generated for the entire year of 2016 (the first full year I operated the business).
Product revenue
Product revenue was even weirder. It's basically flat for the year, but a lot more of my sales came through partnerships than in previous years. Overall website traffic was way down due to combination of Google algorithm changes and the pandemic, but partner revenue was up thanks to connections and relationships I've built over the past several years.
Again, drilling into specific stats could lead me to say "Oh no! That's bad!" Or "Wow, that's great!" But the net result is flat product revenue for the year.
Given the pandemic, I'm very happy with this.
Strategy paying off
Last year, I made two explicit changes that drove significant growth in the coaching business and helped that part of the business to continue to grow through 2020.
First, I changed to a two-fee model: service fee up front; result fee based on the result we negotiate. Second, I continued to position my coaching further up market to work with more-senior software engineers, managers, and executives.
Either one of those changes in a vacuum would've netted an increase in revenue, but combined they drove a significant increase in revenue while reducing the number of clients I worked with. This is one of the few times where the outcome of a change I made pretty much exactly matched the intent behind the change.
By moving up market, I am positioning my service for clients where my expertise will generate more nominal value. What I mean by "nominal value" is "real dollars created as opposed to percent increases (marginal value)". For some of my clients, both the nominal and marginal value are greater than for clients I've worked with in the past, which has an additive effect on the monetary result.
By moving to a fee structure that includes a result fee, I also capture more of the value I create and align my incentives with my clients.
So I'm creating more nominal value and capturing more of the value that I create, which has a sort double-bounce effect: I work with fewer clients but generate more revenue. That's exactly what I was hoping for when I made those two changes, and it's satisfying to see them work as I hoped they would.
As I mentioned above, I'm also fighting against the tendency to hone in on specific stats (eg, "number of clients booked this year") which make me less happy. I designed the business to allow me to work with fewer clients, and yet it feels weird to work with fewer clients. Everything is fine, but it feels weird.
Last year, I shared my lifetime career earnings trajectory, and I've updated it to include 2020. You can see that this year looked a lot like last year.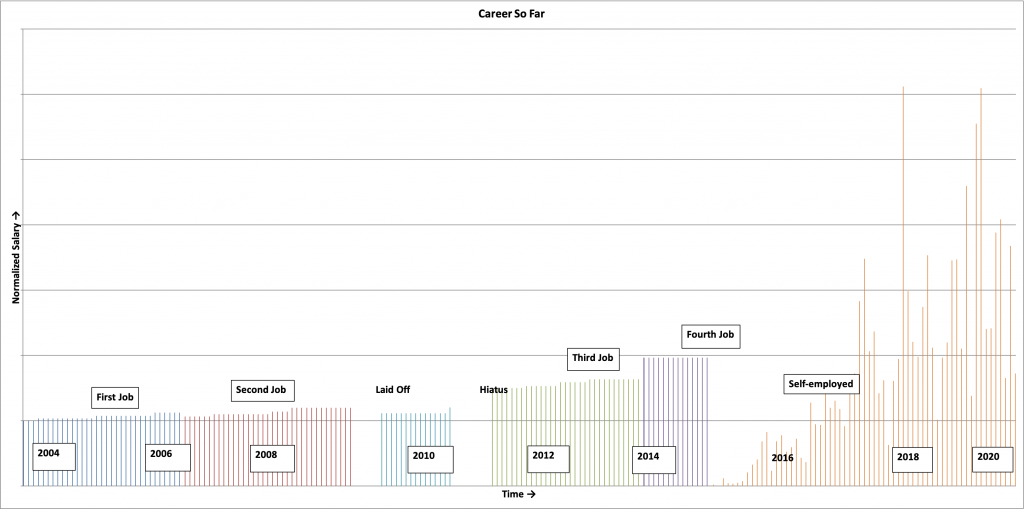 Investing in the business
This year, I also began make substantial investments to improve the business over time. I'm working on a rebrand and site redesign, and I'm investing in training to get better at selling courses to help more people. Just those things will cost about 10% of my 2020 revenue.
I haven't begun rolling out the new branding yet (and won't for a while), but here's what it looks like:
On one hand, this is sort of scary because I don't know whether and how this work will pay off. That's the uncomfortable part of being a solo entrepreneur: the buck stops with me. Not only do I have to decide where and how to invest, but I alone absorb the consequences of those investments. So far, the cumulative investments I've made in my business have resulted in continuous growth. But there's no guarantee that trend will continue.
The upside to a growing business is that I have more revenue to reinvest, so each successive investment can be larger. That means a potentially larger nominal return, but also means a potentially larger nominal loss. Since my personal and business finances are a hair's breadth apart, this can be pretty scary.
But that's the deal I made with myself when I quit my day job, and if I could make big investments when I was slowly going broke, I can certainly do it when business is better than ever. I just hope the investments I'm making now continue the trend of positive returns.
2020 Year in Review - Personal
This was a good year for me. I almost didn't write that because I know this has not been a good year for a lot of people. But I feel I can acknowledge two seemingly conflicting things at once: I had a good year; many people did not.
COVID-19
Just like with my business review, it makes sense to start here for my personal review.
And I don't want to bury the lede: I had COVID-19 right in the middle of the year. My experience was very mild and I only really felt symptoms for about 24 hours. I also know many people who have had COVID and all of them are fine. I feel very fortunate that this has been my experience.
My birthday was in March, and I planned a pretty big party for March 15. One week earlier and I wouldn't have even considered COVID when planning it. One week later and I almost certainly would not have gone through with it. But on the 15th, things were still very much up in the air and after talking with everyone involved, we decided to go ahead with the party.
After that, everything changed. While my year was more confined than usual, I live in Florida where the response to the pandemic has been different than it has in a lot of other places. This has undoubtedly affected my experience in myriad ways.
I have a small, close-knit group of friends who I navigated the pandemic with. Many of them are medical professionals, so I was able to keep up to date with all the latest information, and I had good, real-time insight into how things were going here.
My family lives nearby, but I wasn't able to see them as much as I normally would because of COVID. In fact, we took some family photos on March 14—again, right on the timeline tipping point—and I didn't see them again for a while after that.
Overall, my personal life was affected much less than my business life. I'm extremely thankful for this. My friends, family, and community are all far more important than my business.
Ski trip
I made some big strides in Breck this year. Not only was I totally healthy this year, but I was able to build on everything I've learned the past few years to make some big leaps forward.
I did a lot of black diamond runs, and generally felt more comfortable on skis than I have before. It took me a while, but I think I'm a decent skier now.
We managed to get this trip in just under the wire—about two weeks after our trip, things started shutting down. During the trip, we talked about COVID-19, but it was more of a "What's that all about? Should we be worried?" type of atmosphere.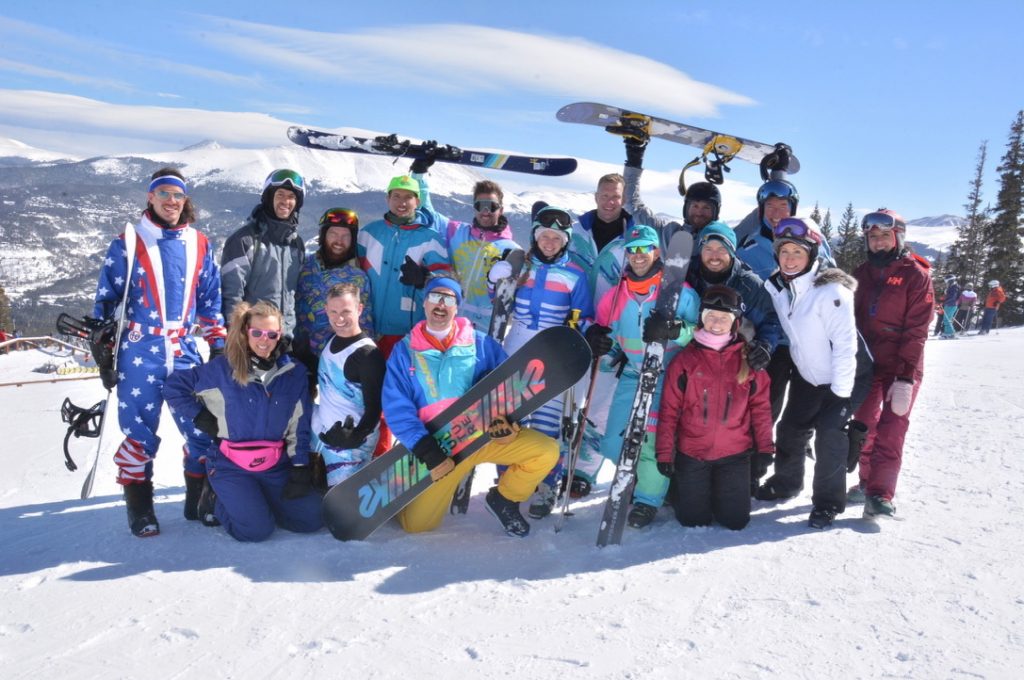 Birthday bash, just under the wire
In March, I had a really fun birthday party where I hired a private chef to prepare a nice meal in a house I borrowed for the evening. I didn't know it at the time, but this was simultaneously a commemoration of my birthday and a last hurrah before everything shut down.
I had been planning to do something big for my birthday, and I decided to go with the most "Josh" thing I could: A nice meal, friends, and conversation. As for the meal itself, the apps and desserts were all fantastic. The entrees were good, but not amazing. But what I was really after was the experience and that delivered in spades.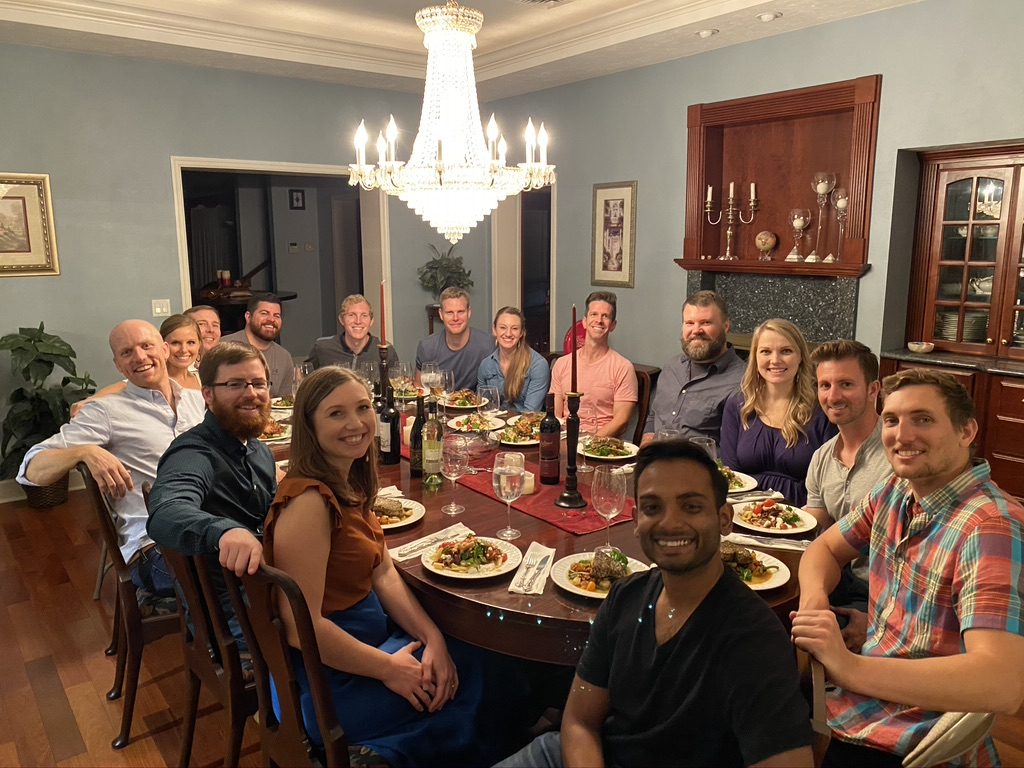 Survivor Fantasy League goes International
My friends and I have a Survivor Fantasy League, which I realize sounds ridiculous, but which is also basically the most fun we have every week. Unfortunately, we didn't get any new Survivor this year, so we did some digging and discovered that several other countries also have Survivor, and some of those countries have had epic seasons.
So we went and found one of the best seasons of Australian Survivor and we've been watching that all year. And I mean literally all year—we started in June and we didn't finish until January 2021. We've pared things down a bit—no weekly challenges, no draft—but we still watch all the episodes and find ways to make it interesting. I actually won a free meal at Outback Steakhouse (heh) since I won our Survivor Survivor this season.
On one hand, it's absurd that this season of Australian Survivor has like 30 episodes. On the other hand, I think we're all really happy we found something to help us fill all the time when everything (especially sports) was paused this year.
An epic RV trip
In June, a friend of mine turned 30 and wanted to celebrate in a big way. The initial plan was some sort of international weekend trip, but COVD-19 shut that down, so we stayed stateside. A group of us rented a big RV and drove around the southeast for a week, doing as many cool hikes as we could.
The entire week went off without a hitch and we had a blast. I hiked about 45 miles that week, visiting some of the coolest overlooks and seeing some of the most beautiful sunsets I've ever seen.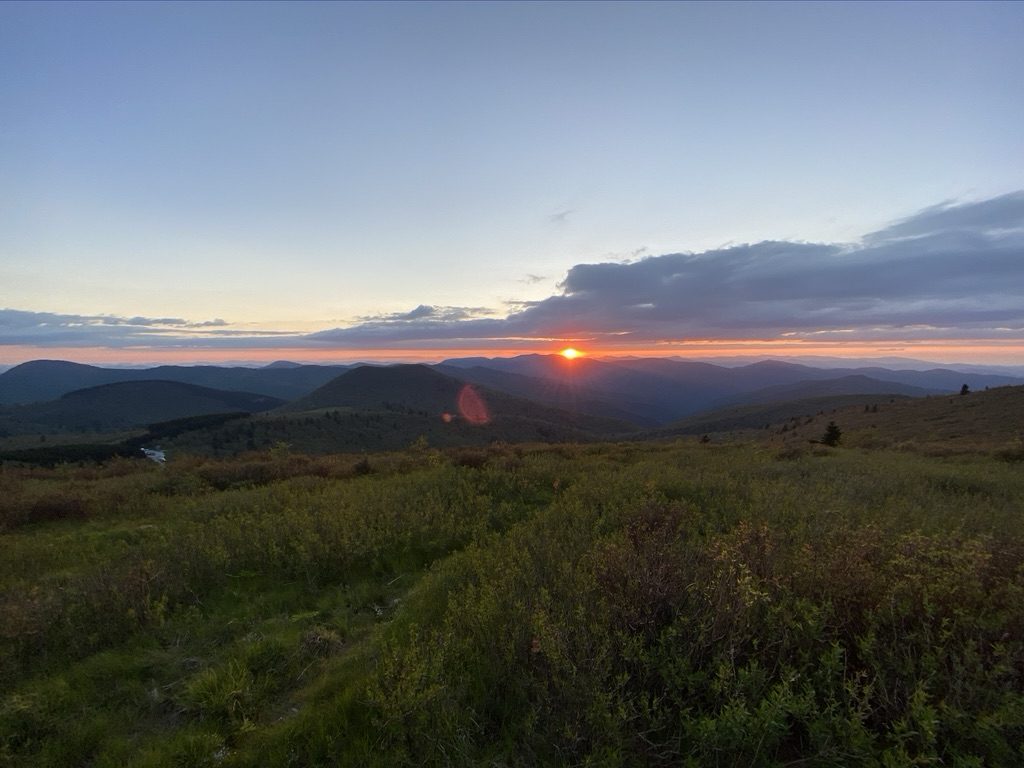 One thing that was, um, interesting about the trip was driving a 38-foot RV on winding mountain roads. We eventually learned to bungee the fridge and cabinet doors shut to avoid everything dumping out onto the floor during a sharp turn. And something that felt very 21st Century was that a few of us brought our consoles and tethered to our phones to play video games to pass the time. Even in the mountains, our connections were all pretty good and it was weird to think that we were playing games online against people all over the world while we drove along the Blue Ridge Parkway.
A big highlight of our trip was actually a Pizza Hut experience. We had been hiking all day (this was one of our longest days and we did at least three hikes that day) and got off the mountain so late that we had to race the sun to get off a three-mile trail before it got too dark to see.
We were famished, so we started looking for open-late dinner options only to be supremely disappointed pretty much everywhere we went. We tried a few different places and they had all closed for the night. Finally, we found a Pizza Hut that seemed to be open late enough for us to race over before they closed.
Unfortunately, they had closed early, so we sat in the parking lot trying to figure out what to do. One of the guys suggested we just go through the drive through to see if they were open, and most of us laughed and joked about how Pizza Huts don't have drive throughs. Finally, another guy decided to just walk up and knock on the door. Someone came out, they talked for a while, and he came back to the van and said, "They'll take us. Just go around to the drive through."
Apparently Pizza Huts do have drive throughs, and this particular Pizza Hut with a drive through was run by manager who said, "I'm not gonna turn down money. Come on around."
We ordered over $120 worth of stuff from Pizza Hut, raced back to the RV (we were in a van for the day) and ate like kings.
Another food highlight was a quick stop for Taco Bell as we raced between RV parks. We were super tight on time, so we drove the RV unreasonably fast down winding roads to hit Taco Bell and get to the camp in time to check in. I ended up spending $20 on Taco Bell and I ate every bite. That may not sound like much, but take a look at the Taco Bell menu next time you're there and ask yourself how much food you can get for $20. Hiking burns a lot of calories.
Weird football season
This is one of the strangest football seasons I can remember. For the first time in over a decade, the Gators had a dynamic offense with one of the best college quarterbacks to ever play the game (this may seem a bit like hyperbole now, but I think it's really likely Kyle Trask will be very good in the NFL and would've been one of a kind in college if he got to play more than a couple seasons). Unfortunately, we also had one of the worst defenses Florida has ever put on the field, so we totally wasted a generational offense.
Meanwhile, we were in the middle of a global pandemic, which made the schedule weird, and the in-stadium experience even weirder. And yet I went to more games this year than I have in a very long time. (I'm pretty sure I went to five games, but I honestly can't remember.)
The stadium atmosphere was very strange. Quarter-full stadiums feel empty and there's no energy, so most of the games felt more like a scrimmage than a real game. Texas A&M had lots of fans and it actually got pretty rowdy, and the Florida vs. Georgia game in Jacksonville ended up being pretty crazy (although that might just be how I remember it since we won). But in general, it was really eerie watching a football game when my nearest neighbors were six feet away and masked up.
My main takeaway from the season was that it was really fun to watch Kyle Trask, Kyle Pitts, and a bunch of other dynamic Gator players run beautiful offense, and I'm glad I got to see them do their thing in several games this year. This team will have some guys playing in the NFL for many years.
Five years since I quit my day job
September 18 2020 marked five years since I quit my day job. I'll eventually add that story to my blog, but for now here's a link to the twitter thread for posterity: 5 years since I quit my day job
The cool thing is that I've also been tracking each year in these yearly reviews, so I've got a much more detailed version here on the blog. It's so strange to look back, especially at the early summaries, because I had no idea what I was getting into. But I managed to find my way to a growing, successful business doing something unique and valuable that also affords me the chance to set my own priorities and totally control my schedule.
My first disc golf tournament
Although I've been playing disc golf for most of my life, I had never played a tourney until this year. There's a pretty active disc golf community called the Chain Hawks here in Gainesville, and they have an annual tournament called the Chain Hawks Open where they play the two best courses in Gainesville (which also happen to be the two courses I've played the most).
This year, a friend and I decided to play and see how we did. We both signed up for the "Advanced" division, which was one level below the open division where all the pros played. I actually played pretty well, shooting even par on Day 1, +4 on Day 2, and +4 on Day 3 for a total of +8 to finish middle of the pack.
Overall, I was really happy with my play, especially on Day 1. It was really windy and I made most of my putts. Days 2 and 3 were both much tougher because of pin placements, and I was frustrated to leave several strokes on the course by missing putts on Day 3 (I literally missed five very makable putts off the metal, including three consecutive birdie misses on the final three holes). But the overall result was pretty good considering it was my first tourney, and I was really fortunate to play with good guys in every group.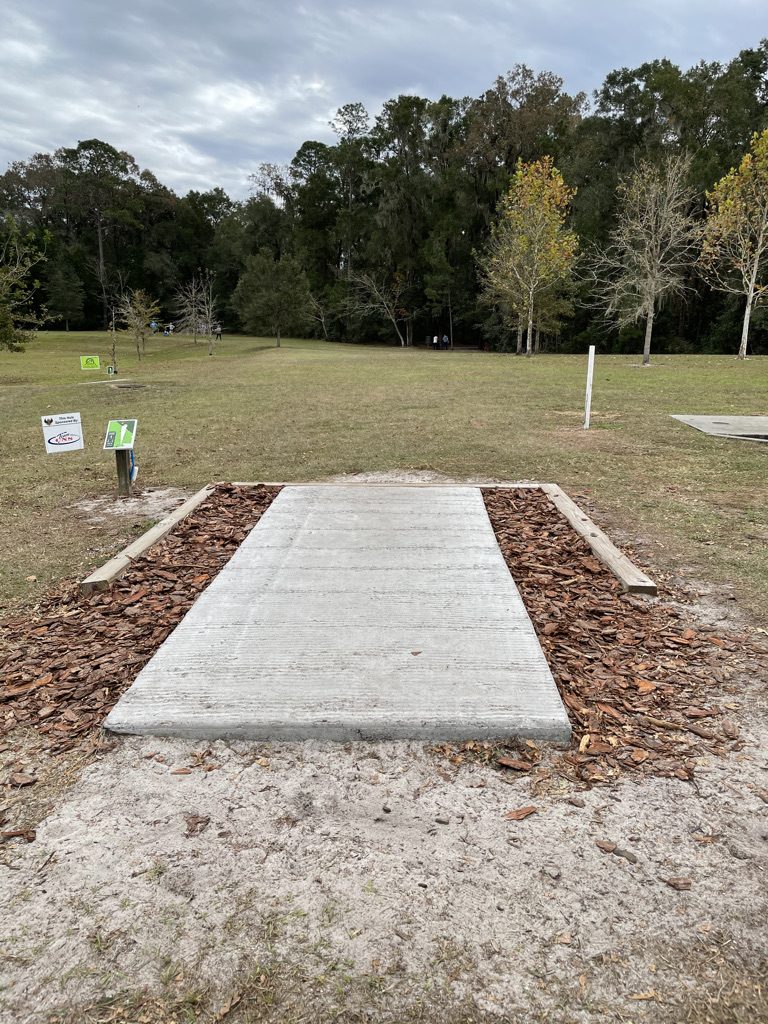 2021 Goals
This year's goals are simple. I'm not making any new running goals because I've changed my workouts to facilitate recovery from leg workouts over progress in running times. I would like to hit some of those goals from years past, but that's not a priority.
Increase business revenue by 50%
I almost balked on this one, but this is what I had in mind before the year started. I say "almost balked" because I'm still writing this in February and January was my worst month in about two and a half years. So this goal seems kind of crazy.
But! I'm making some substantial investments in the business, and if those investments pay off then this goal is achievable. Namely, I'm doing the first rebrand and site redesign since I started the business over five years ago. I'm also updating my product offerings to be more streamlined and more valuable (and hence, more expensive).
I think all of these things stacked together could have a multiplicative effect, but it will still be at least a few months before those changes are in place. So I would say best case scenario for the year is a slow Q1, the new changes start to take effect in Q2, and both Q3 and Q4 are off the charts. As always, it's basically impossible to predict what will actually happen, but this scenario isn't totally implausible. We shall see.
Be more generous
Same goal as last year. My business is still doing well overall, and my life is pretty simple. There's a lot of room for me to be generous, and I enjoy it. So I will do more of it this year.
Here's to a better 2021!