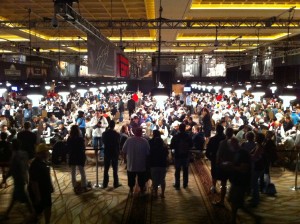 You may know that I've gone to Vegas once a year for the past several years. I think I've been every year since 2006, but I'm not positive about that. In 2009, I spent six weeks there. The other day, I realized that Vegas is the city I visit most frequently (aside from Jacksonville, which is 90 miles away and is where my family lives). This really doesn't make sense at all - Vegas is essentially the opposite of all things Josh. Of course, it helps that there is some incredible food to be had (if one doesn't mind visiting some super sketchy neighborhoods).
But here I go again, drawn to Vegas to play poker and visit friends. Before I go, I'm posting about what I'll be doing (so my friends and family know what's up). I'm also soliciting suggestions on how I can share the experience with all three of you that read this blog. (Haha, just kidding! There are at least 10 of you.)
What I'll be doing
I'll mostly be playing poker and writing "the book". The WSOP is going on right now, so I'll play some of the smaller No Limit tournaments and try to win a satellite for a seat into the $10,000 Main Event (the one they show on TV every year). The smaller WSOP tournaments I'll play will range from a $1,000 to $2,500 buy-in. I'll also play some other tournaments around Vegas, ranging from $200 to $1,000 buy-ins. I'll start with the smaller ones to tune up since it's been a while since I played live poker (or poker at all, really). I'd really like to play the $10k this year - that tournament is almost customized for my style, and I could make a deep run with a little luck.
"The book" is a poker book I've been co-writing for about 18 months. It's about how to use game theory to build a dynamic tournament strategy that can be adjusted as the game changes over time. It's a lot about the underlying principles and the "whys" of winning tournament poker. A friend of mine is a professional poker player, and she asked me to co-author the book with her because I know her strategy and style very well, and because I'm comfortable writing. I'm hoping we can do some serious work on the book while we're both in Vegas this summer. It's a very big project that simply requires time and coordination to keep it moving.
Give me some feedback - what can I do to share the WSOP experience with those who aren't there?
I get a lot of questions about the WSOP: what it is, what it's like, and all that. I think it would be fun to use the blog (and Facebook and Twitter) to share a little of the WSOP experience (and maybe my Vegas experience), but I'm not exactly sure how to do that. [Wow, that sentence is terrible.] I could blog, take pics and maybe shoot some video. I'm sure there are other ways I could share the experience as well.
If you want to see what it's like to at the WSOP, leave me some comments with suggestions on ways I can share. I'll see what I can put together!