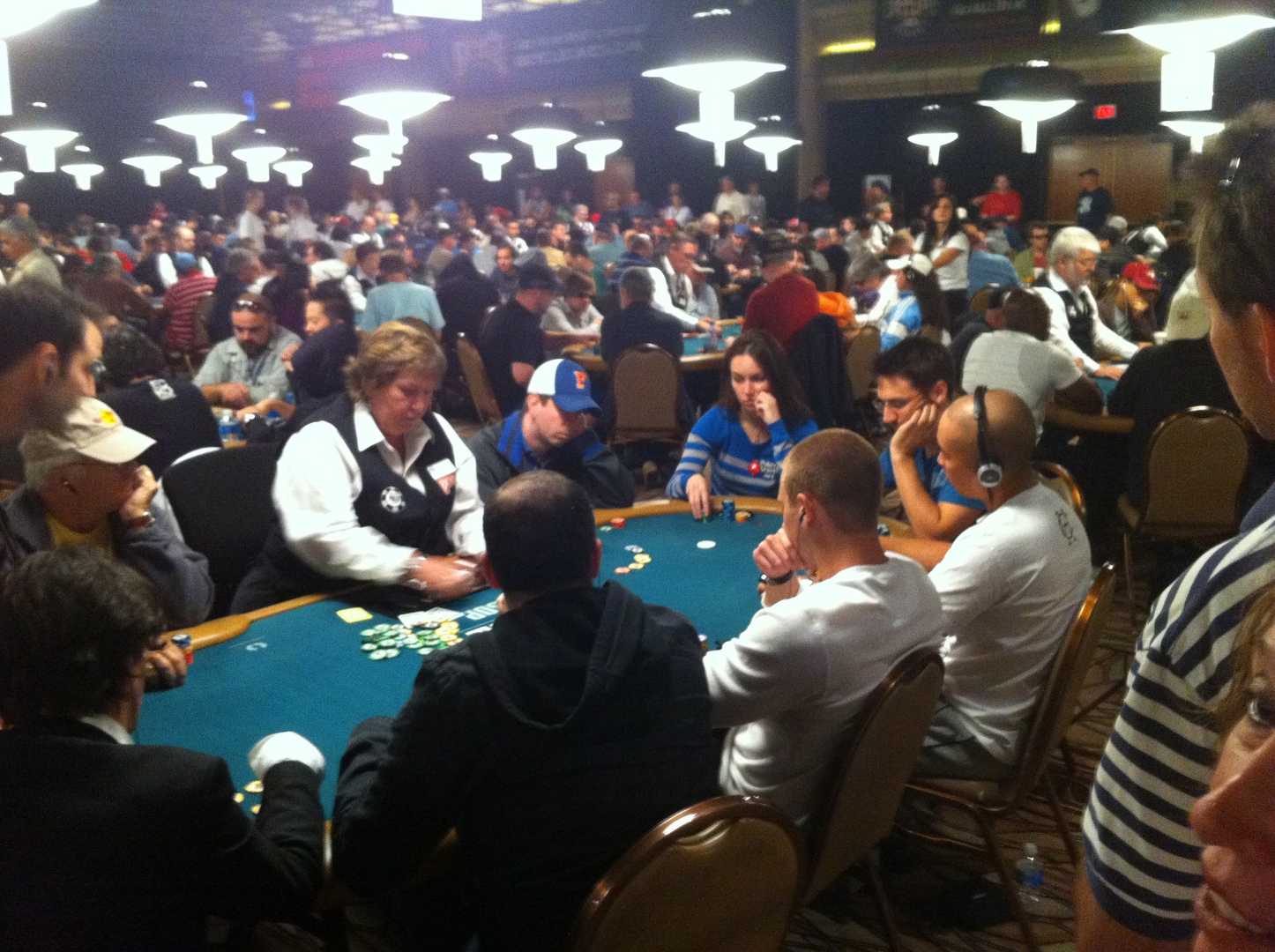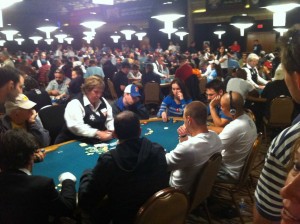 I'm finally back from my month-long stint in Vegas. I think I've written something like 15,000 words about the trip (maybe more), so I thought it might be helpful to recap and summarize everything in one place with links to all the other stuff.
Here are links to all my posts about the trip:
This piece was written while I was out there, but isn't really about my trip per se:
Here's a quick week-by-week summary of the trip and then I'll do a final overall recap...
Week 1 (June 23): I arrived to Vegas at 1:00 AM local time (so 4:00 AM Florida time), stayed up too late and then crashed on a couch in Luckboxy Larry's Rio room. Next day, we made the move over to the luxurious Gold Coast as we chased cheaper room rates. I tuned up at the Rio daily deep stack, a $235 tournament in which I min-cashed and would set the tone for my trip. I also played the Wynn re-buy once (in for $625 - the most I'd invest in that tournament in several tries), and played the $1k WSOP event, cashing in neither. So I dug myself a little hole early. Meanwhile Luckbox Larry Final-Tabled the Wynn re-buy and won $10k. I didn't know it at the time, but the tone for the summer was almost entirely defined in this week. I was to have several min-cashes and close calls with a real payday while Luckbox Larry crushed the Wynn tournament.
Week 2 (June 27): I played the Wynn and decided I wasn't taking the add-on anymore because it was bad value. I min-cashed once. I worked on the book with Vanessa and min-cashed at the Wynn again. I played the Wynn again and didn't min-cash this time. This non-min-cash put me slightly up for the trip so far. I started feeling a little sick for the first time and got my first In-N-Out fix. I bubbled the Wynn tournament after taking my first nasty beat of the summer: Queens against Tens and Sixes all-in pre-flop - I lost to the Sixes and chopped with the Tens in a huge pot with 45 left. I wrote the book some more.
Week 3 (July 4): I started with a quick recap of the tournaments I played so far. I had played 8 and cashed in 5. I didn't realize this would be my last cash for the series and that my bad luck was just getting started. I finally got to Mesa Grill at Caesars, and it was delicious. I had a really fun meeting with Vanessa and Annie Duke, where we talked about publishing and I learned a lot about poker just discussing hands with them. I played the Wynn again and got close to cashing, but no dice. I also started feeling nasty again. I jumped into a $550 mega satellite at 10:00 AM at the Rio on short notice and busted after playing two hands: I tried a flat-float-bluff with JTs in the first level, then busted with Queens against Ace-King. By this time, I'd lost a few coinflips, a couple 60/40s and had taken that nasty beat with QQ < (TT + 66). Things weren't going my way. I went to a kick-off party for the Rally to End Cancer, hosted by my friends Vanessa and Chad at the MGM. I played the Wynn again and had my earliest exit yet when I ran AJ into a very aggressive player's Aces. I watched Luckbox Larry eat a $60 hamburger. Truth be told, it kind of grossed me out because it had truffle shavings on it, and I hate all things mushrooms... and the thing smelled like mushrooms. I started preparing for the possibility of playing the Main Event, although I didn't know if I would actually play. I also wen to In-N-Out again. I recapped my typical day in Vegas. I continued trying to prepare to play the Main Event even though I still didn't know if I'd be playing. I relaxed and worked out a bit. I confirmed I was playing the Main Event about two hours before the final Day 1 got started. I freaked out a little bit, then went on to finish Day 1 with 50k chips after starting the day at a really, really tough table with 30k chips. Later I found out that the chip leader going into Day 7 was at my table for most of Day 1, meaning the table was even tougher than I thought.
Week 4 (July 11): I rested up for Day 2 and found out my Day 2 draw wasn't too much better than my Day 1 draw. I made it through Day 2, but with fewer chips than I had at the beginning of the day. I recapped my good and bad luck so far in the Main Event. I relaxed and did laundry to prep for Day 3. I did my typical table research and it seemed like I finally got a pretty soft table draw. That turned out to be wrong as my table was pretty tough again (though not as tough as Day 1 and Day 2). I busted from the Main Event near the end of Day 3 with Aces against Kings, all-in pre-flop. My stellar luck continued. I spend like 2,500 words discussing some hands I played on Day 3 because I can. Luckbox Larry also busted a little earlier in Day 3 with AKs < KQs (another bad beat for our group). And then Vanessa busted on Day 4 after she has a set cracked by a straight draw (another bad beat where she was almost 3-to-1 to win when the money went in). Bad beats all around for our crew this year. I started winding down and decide to take one more shot at the Rio daily deep stack. I ended up bubbling, finishing 32 when 27 paid (in a 289 person field). I should've seen that coming.
Week 5 (July 18): I did some more work on the book and just sort of relaxed as I prepare to head home. I made my annual trip to the outlet mall in Vegas to try to get some cheap shirts and shorts, getting one of each. Then I headed home and watched a lot of TV while I worked to overcome jetlag.
Overall summary of my summer in Vegas
"So, how'd it go this summer?" I've been asked that several times since I got back. The answer is… ok, I guess. Poker-wise, things were pretty rough. I started off cashing in almost everything I played, but almost all of my cashes were min-cashes. I ended up by going 0-for-5 in my final five tourneys, including the Main Event. I had tough table draws in the Main Event, but still managed to hang around to get Aces against Kings to bust as an 80% favorite. So that wasn't too great. I also learned a lot about poker from discussing hands with people and just putting in a lot of hours. Socially, things were great. I spent a lot of time with friends, ate great food and generally had a good time. Business-wise, things were very good. I am working on a new project (I'm this close to announcing it, but we're not quite there yet) and I lined up a potential consulting gig for a startup.
It's really good to be home, but that means I'm forced to focus on the fact that I quit my job a few months ago and I still don't have any kind of income. That's ok - it was part of the plan - but it's still very stressful. Even with that, it's good to be home in Gainesville. I've already visited Chick-Fil-A, and i'm working on plans to go to The Top and Satchel's very soon. It's also good to be back near my family - hopefully I'll see them soon as well.
All in all, it was a good summer and I had a good time. I played a lot of poker, ran bad and managed to find potential business opportunities to work on. And now it's good to be home.