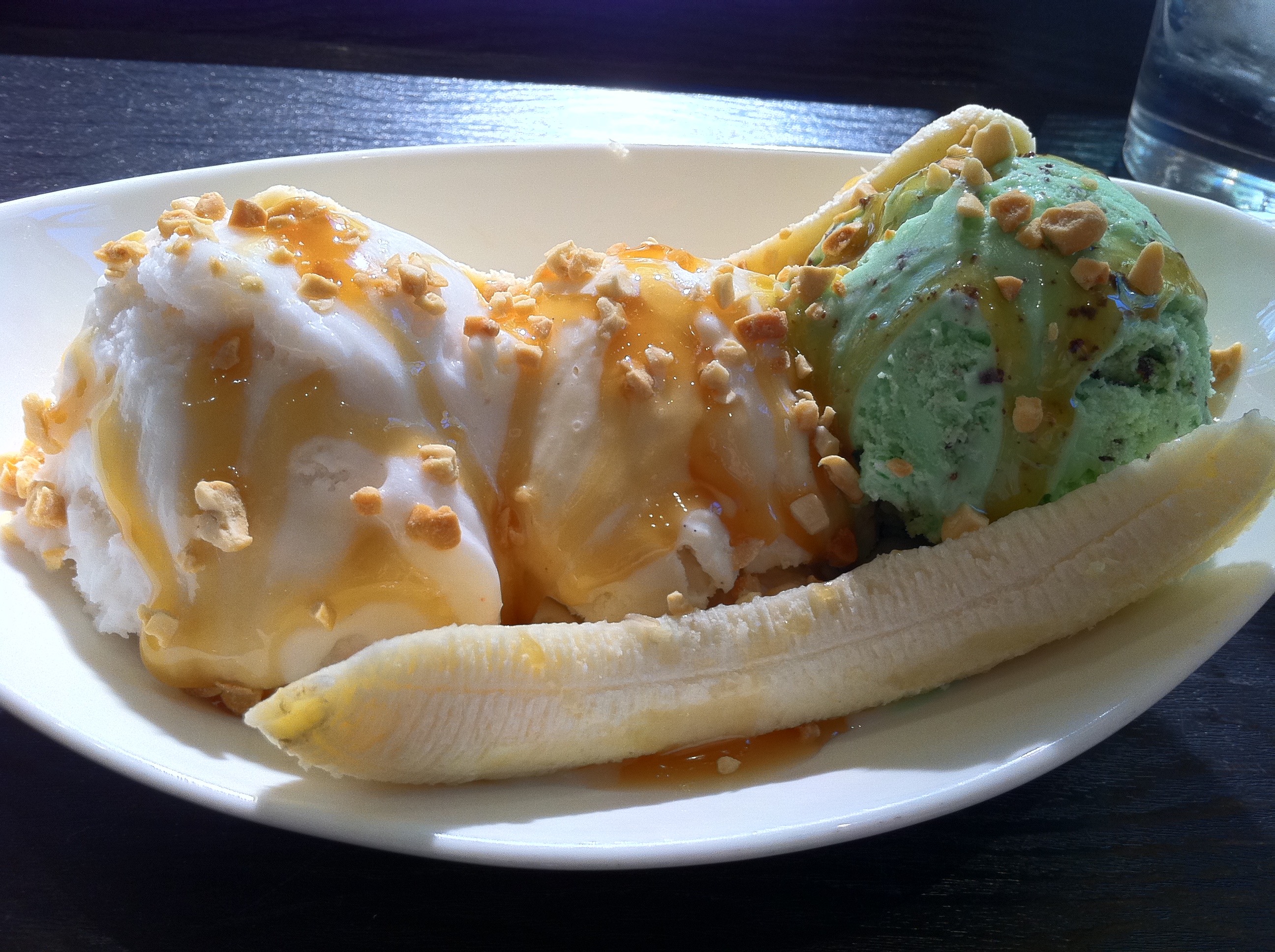 [I've decided to put these up once a week or so to save publishing effort and avoid annoying people on Facebook and Twitter. Give me feedback in the comments as to whether it would be better to do daily or if weekly is good. Anyway, the result is these will be long posts.]
Day 1 (June 23): The trip from Gainesville, FL to Las Vegas is pretty rough. There are no direct flights, so I have to connect in either Atlanta or Charlotte, which means layovers and delays. This time, I was scheduled for a 2.5-hour layover in Atlanta, but ended up taking half of it in Gainesville because of weather delays. I ended up getting to Las Vegas at about 12:20 AM local time (3:20 AM back in Florida), and then had to find a shuttle to the hotel because my ride fell through. (Tip for visitors to Vegas - if you're going to the strip, go find a shuttle instead of a cab. The shuttle is $7-10 and a cab will be at least $20.)
Any time I'm heading to Vegas, I try to get in late at night and sleep very little on the plane. I figure this is the best way to beat jet-lag and adjust to the new timezone. It usually works, but I was up till 3:00 AM Vegas time chatting with a friend, and ended up waking up at 7:15 this morning. So the bad news is I'll be tired all day. The good news is that if I can get through the day without sleeping, I'll definitely be adjusted to Vegas time by tomorrow.
My strategy when I'm here is to maximize convenience and minimize cost. In English, this means I end up schlepping my stuff back and forth from hotel to hotel as I chase the lowest room rates. This time, I've managed to book rooms at the Rio and Gold Coast, so I'm only bouncing back and forth between two decent hotels. I'm sharing rooms with a friend of mine, and he's particularly good at finding cheap hotel deals for us. I'll end up paying about $700 for a month of staying in decent hotels within walking distance of the WSOP. Not too bad.
Today, we're moving from the Rio to Gold Coast, then we'll grab lunch and decide which tournaments are the best to play today. My guess is I'll end up playing a $235 tournament at the Rio to tune up since I haven't played live poker in about 10 months. The Rio field will be big (700 or so), which means lots of bad players and a decent prize pool for a $200 tourney.
There is a lot of stuff to consider when I start playing tournaments again after a layoff. I have to be comfortable both physically and psychologically. Basically, I have to psych myself up so I feel like a good poker player, and I have to have some sort of game plan going in. My game plan today is basically, "Be super hyper aggressive and pull the trigger every time I sense I should be making a move." This sounds simple, but it can be tricky after a layoff. I obviously want to win the tournament, but I don't want to bust after only a couple hours since I need to get back in the swing of things. This will often cause me to play more passively than I should, passing up opportunities to last longer in the tournament while not really giving myself a chance to win.
So the plan today is to get settled into the Gold Coast, get a good lunch and hopefully crush the $235 tune-up at the Rio.
Day 2: Yesterday was a long day, but not much happened. My friend and I moved from the Rio to the Gold Coast and then played the 2:00 PM $235 "deep stack" at the Rio. I use the quotes because it's not REALLY a deep stack unless you compare it to the normal, super-turbo structures most casinos use for the daily tournaments they run. There were 964 entrants and I finished 79th, for a couple hundred bucks profit. I was happy with my play because I didn't catch many cards for the final four hours of the tournament. My best hand of the day was a nut flush, and I made two straights (both on three-flush boards) and didn't make a set or two pair. So, all in all, I'm pretty happy with cashing.
After I busted from the Rio deep stack, I joined some friends who were sweating the $10k HORSE Championship Final Table. My friends are friends of Daniel Ospina, who eventually took 4th (outlasting Tom "Durrr" Dwan by one spot). Here's a terrible picture of the "Featured Table" where ESPN films final tables and will film the main featured table of the Main Event for TV. It's terrible because they have bright blue lights focused on the crowd, and those lights apparently wreak havoc on my iPhone's camera. C'iest la vie. (On a related note, I can't wait for iOS 5 to let me snap photos with the volume up button instead of the stupid soft button on the screen. It's really difficult to take a good picture when I'm holding the phone and trying to tap the edge of the screen to snap a photo.)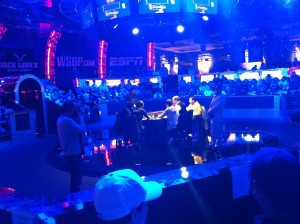 Today I'll just take it easy, do some reading and writing and probably hang out watching TV in the hotel room.
Day 3: Actually, instead of taking it easy and hanging in the hotel room, I ended up playing a $200 re-buy tournament at the Wynn. I was in for $600 (initial buy-in, initial re-buy and the add-on), but didn't cash. It was very frustrating because that tournament is very soft, and it's very winnable for me. But what was more frustrating was that I made two mistakes (one medium and one big) that cost me the tournament. But this is why I'm playing tune-ups before I jump into $1k+ tourneys: I expect to make mistakes. So, hopefully I'll think more clearly and be more focused the next time I play.
The tournament director (and possibly the guy who runs the Wynn poker room) stopped Luckbox Larry (@hugepoker on Twitter) and me on one of our breaks and asked for input on the tournament. Overall, we both think the tournament is setup very well, but we made a couple of suggestions to make it better and to encourage people to stick around and build the prize pool. We recommended adding a level after the add-on break and giving more chips for the add-on. He gave us each a $10 comp, which I used to buy a giant gelato banana split to console myself for making mistakes in the tourney.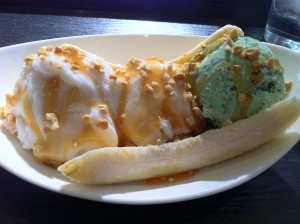 While I bombed out of the Wynn tournament, Luckbox Larry actually went pretty deep and bubbled the final table. It wasn't a huge score, but he did what he could do to win the thing. I got some pictures of him (below), but they're a little blurry because I was having to like run around trying to snap a clean shot when I could get it because there were a bunch of Europeans crowding all around the table and jumping in front of me (despite repeated requests by the tourney director that they keep out of the tournament area). For some reason, Europeans really love the Wynn daily tournament.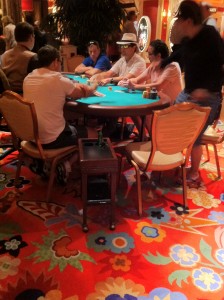 I think I'll go back to the Rio $235 today and give that another shot. I've played about 11 hours of poker so far, and I've basically run bad. I think I'm something like 0-for-7 on coinflips and 60/40s, I've flopped one set, I've flopped two pair once (it was top two, and lost the minimum against a flopped flush when we were both in the blinds), I've flopped three straights (all on two- or three-flush boards), I've turned one flush, and I've had AA, KK, QQ, TT once each (JJ twice). I think I've had AK once and AQ a few times. So, if I start catching some cards I think I could make a deep run if I avoid mistakes like I made yesterday.
My co-author has been playing WSOP events since I got to Vegas, but I think she's taking it easy next week so I'm hoping to get some writing done. Until then, I'll keep tuning up in small tournaments, trying to avoid making mistakes like the plague.
Day 4: I didn't end up playing yesterday. They moved the 2:00 PM rio tourney back to 4:00 PM because there was a $1,500 WSOP event that typically draws a lot of people. So they try to stagger the tournaments to avoid confusion. I basically ended up bumming around and reading all day, and it was kind of nice. I went to see Super 8 last night and really enjoyed it. It was a fun movie, well done.
Today, I played the $1k WSOP No Limit Hold 'em event. I managed to last about 3 2/3 levels before I finally busted out. I've been running really, really cold so far this world series. Yesterday, I tallied all the hands I've had so far. To that tally, I can add another AK, a couple of 99 hands, 88 and that's about it. So, I've been on the bad side of the card distribution so far this series. I actually played well today and made some difficult, but good decisions. The problem was I just never got any cards to work with and all the short-stack strategy in the world isn't any good unless I eventually get something to play and double-up. I ended up busting on a Stop-N-Go, which was the right idea pre-flop, but it may have been correct to abort it on the flop. I'm still mulling it over.
[The following is a little poker rambling where I describe what a "Stop-N-Go" is. If you're not into poker, skip to the next paragraph.] I guess I should explain that. A Stop-N-Go is a short-stack move where I'm in the big blind (blinds were 75/150) and I have a short stack (I had 1,500 left after posting the blind). The point of the move is to basically re-steal the pot from a late-position raiser by taking control of the pot and moving in on the flop, forcing my opponent to make a tricky decision. The player four seats to my right (in the hijack seat) opened to 375 and before I looked at my cards I knew I had a good stack for a Stop-N-Go. I decided I would Stop-N-Go any pair 66 or lower, and any Ace A9 or lower and possibly a hand like KQ or KJs. (The rest of my range was something like this: re-raise all-in with pairs 77-QQ and AT+; flat-call with AA/KK and check-raiase all-in on the flop regardless of what it was; possibly flat call with KQ or KJs and check-raise all-in on the flop if I made a pair or better; fold everything else.) Anyway, I looked down at A6o, which meant it was time to Stop-N-Go. Here's how the move works: I call his raise and then move all-in on any flop (because I'm in the Big Blind, I'm first to act after the flop). I know this player is a reasonable player, so he's opening a normal hijack range: Big cards, most pairs and probably like JTs and maybe T9s. The flop came down KK8, I moved in and he called with 99. This was probably a mistake on my part. The problem is that my goal is ultimately to get my opponent to fold all those hands in the range I described above. On flops like T84, J85, KT2 most of this range either misses the flop completely or doesn't really like it (66 and 77 don't like either of those flops, AK, AQ, AJ don't like most of those flops for instance). But on a flop like KK8, most of his range is still pretty safe. Small and medium pairs don't mind it because it's unlikely I have an 8 or King. Big cards don't mind it because they're still pretty strong hands (AQ, AJ, AT all feel ok about still having a pretty good hand post-flop, and they can draw out to a pair against smaller pairs). Hands like QJ, JT, QTs don't care for it and will fold. So, this particular flop isn't scary enough for the Stop-N-Go to work and I probably should've just aborted and check-folded, aborting the move.
Now I'm heading off to the Wynn to meet Luckbox Larry on his dinner break in the Wynn $200 re-buy. He has a pretty good chip stack, so hopefully he'll make a run. Hopefully I'll start running better pretty soon. I've played something like 16 hours of poker and basically gotten no cards yet. It'd be nice if that trend ends soon.
I'm back (just got over to the Wynn - it takes about 45 min door to door, and about 20 of that is fast-paced walking in the Vegas heat). On my way over to the Wynn, I had a couple thoughts. First, I realized that Vegas is packed full of people doing really, really crummy jobs. I won't list those jobs because I don't want to offend anyone, but there are a lot of people doing jobs that I just can't imagine doing every day. It's profoundly depressing. At the same time, I realized how fortunate I am. I voluntarily quit my own job almost two months ago, and now I'm hanging out in Vegas for a month, playing poker, writing a book, relaxing and hanging with some friends. There's some stress involved (today my bank account reduced by another $50 or so, and it won't be replenished until I start working again), but I'm ultimately living Peter Gibbins' dream of doing nothing for now. At the same time, I miss my friends and family back home, but I'll be seeing them plenty in about 25 days.
And Luckbox Larry ended up taking second (after losing an all-in with AK < AJ) for right about $10,000. Unfortunately, he was in for $1,200, so the "steak dinner for five-figure score" clause wasn't activated this time.