I visited Charleston, SC for my first 10k race last weekend and it was a lot of fun. If I'm being honest, my main motivation was to eat lots of delicious Charleston food, and my penance for all that delicious food was running a 10k.
"Josh, we're going to run a 10k in a few weeks, and you should come!"
"Meh. I'm not really into running."
"It's in Charleston, and we're going to like five good restaurants while we're there."
"I'm in!"
My decision was handsomely rewarded with absurdly delicious stuff like this...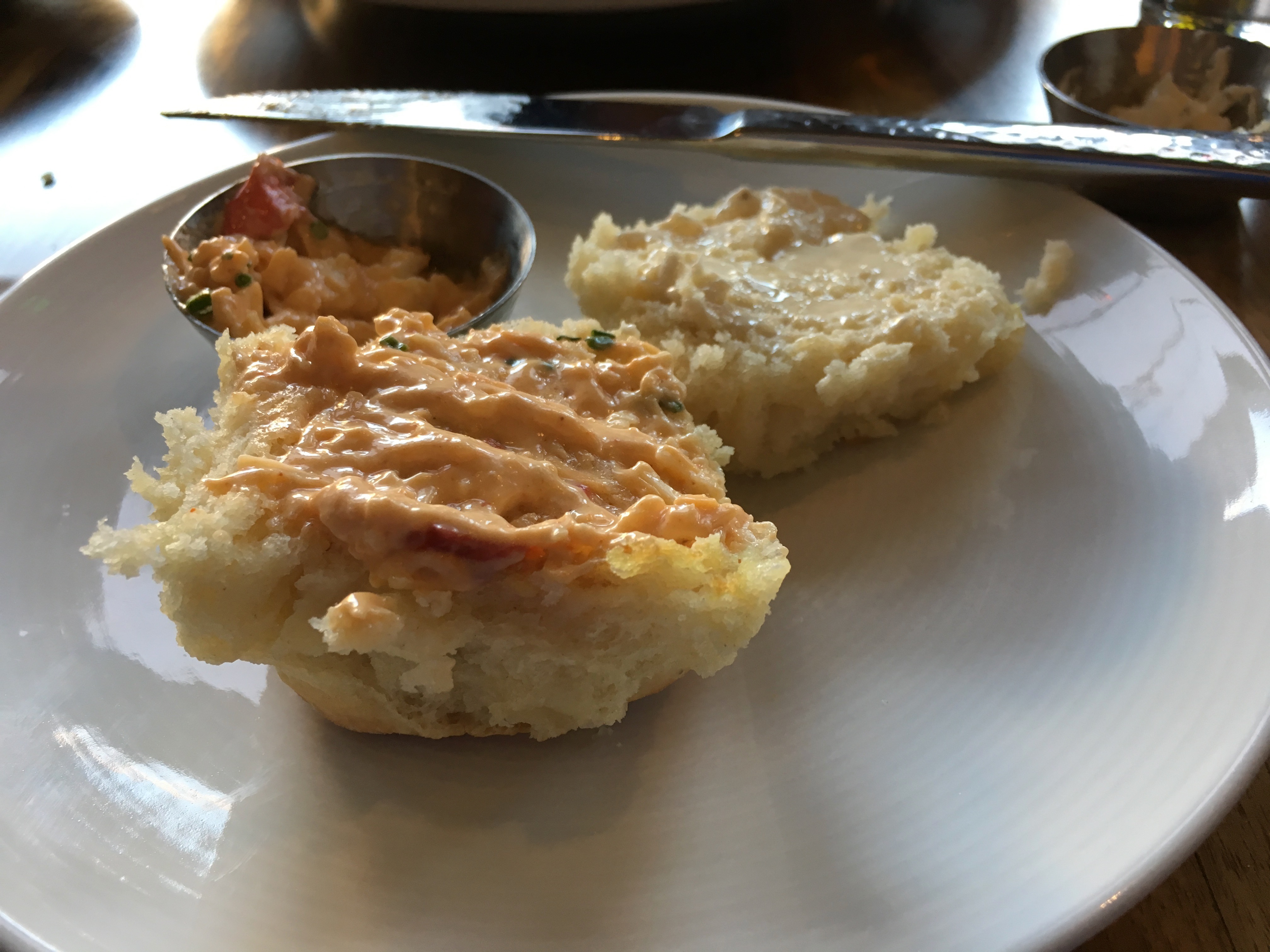 Pawpaw biscuits with pimento spread and honey butter
And this...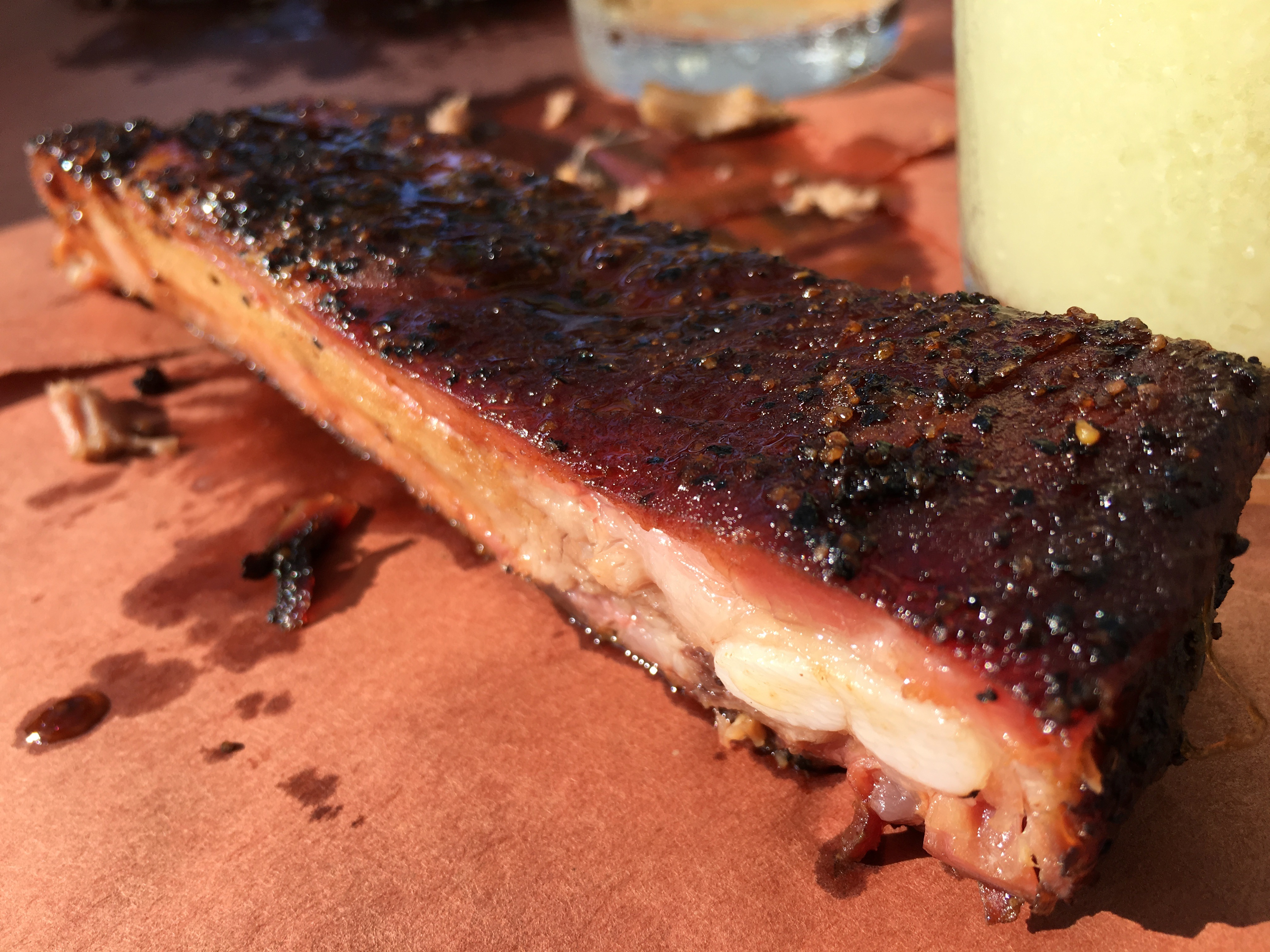 A rib from Lewis Barbeque
Since I was in town, I figured I might a well run the race right? I finished in a mediocre 56:02. Still, that was a full 6 minutes faster than my only practice run so that's something. I started training about eight weeks ago after not running at all for...well, I honestly can't remember the last time I ran a mile before that.
It was a great experience and I'm glad I did it. But I also made some rookie mistakes.
I started too slow
I was worried that my adrenaline might make me jump out to a too-fast start and burn out early, so I took it easy for the first two miles. What I didn't realize was that the sheer size of the crowd was enough of a damper to keep me from burning out early.
Here's my view from the starting line: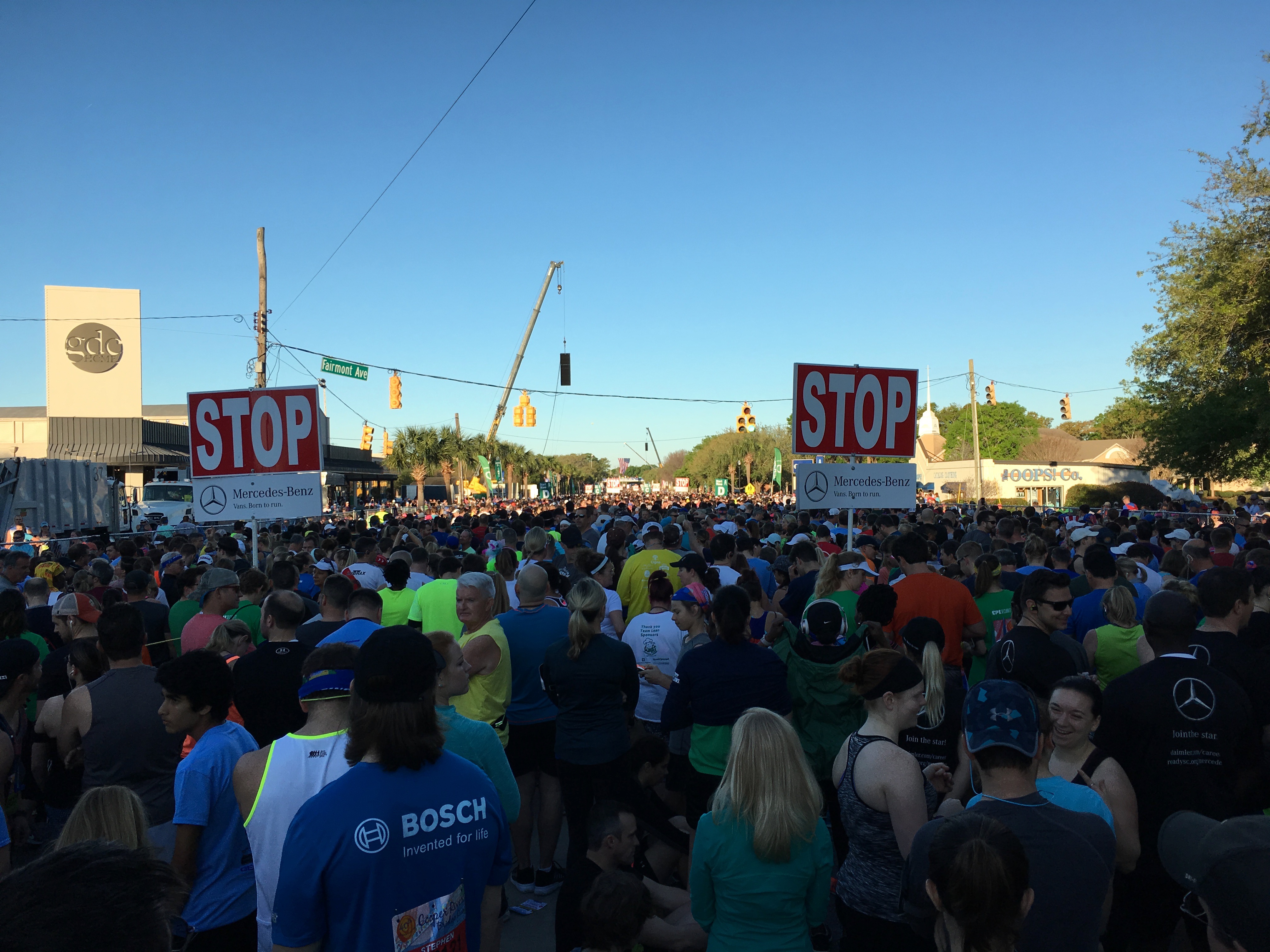 The starting line at the Cooper River Bridge Run
It wasn't that crowded the entire time, but it was still pretty crowded.
This mistake cost me a few minutes.
I over-estimated how hard the bridge would be
The race featured the Cooper River bridge in Charleston, SC. I heard it was a pretty rough ascent and I didn't want to wear myself out before I got there, so I took it easy until the bridge.
I kept waiting for it to get harder as we climbed, but it never did. When I finally got to the top of the bridge, I realized it just wasn't that bad. Oops.
This mistake cost me a minute or so.
I wasn't aggressive enough
40,000 people ran this race. I assumed it would be crowded at first, then thin out as the race went along. But it never thinned out, and there were even a few serious bottlenecks along the route so we nearly came to a stand-still a couple times.
Here's one of the bottlenecks - this is the off-ramp from the bridge, about 3.5 miles in: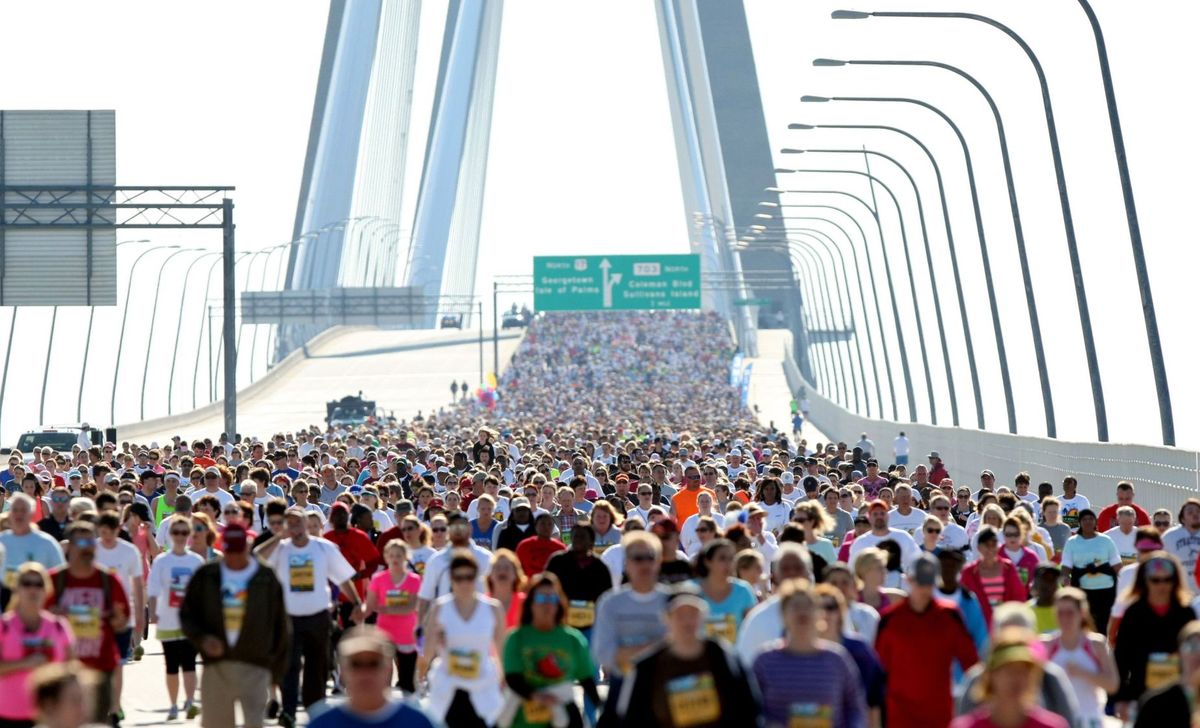 Cooper River Bridge off-ramp (Image source)
The better strategy was to start fast and aggressively pass people as often as possible.
I didn't realize this until the half-way point at the top of the bridge, where I started slipping through slower groups instead of waiting for an opening to go around them. I employed a pretty sweet sideways-hop-jog, and I even used a swim move a couple of times (thankfully, there is no video evidence that I'm aware of).
This mistake cost me a minute or so.
BONUS mistake: We didn't get an amazing post-race lunch
This wasn't so much a rookie mistake as a lack of planning. We got to stroll around downtown Charleston for a while after the race, but we took so long that we missed our chance to hit a really solid post-race lunch spot.
Our post-race lunch was ok, but it wasn't quite world-class-Charleston-food good.
We kind of made up for this by getting Jeni's ice cream twice while we were in town, but this isn't technically "Charleston food" so we don't get full credit here.
This mistake cost (saved?) me a thousand calories or so.
Experience is the best teacher
My training partners, who had all run races before, gave me some helpful pre-race tips. I trained pretty hard. I had a plan going in.
I still made rookie mistakes.
I can't beat myself up too much because I don't think there was any other way to learn these lessons. Part of being a rookie is making rookie mistakes.
Next time I'll start faster, temper my fear of the unknown, and aggressively pass people. It should be easy to improve for my next race.
The part where I tie this into your career
You saw this coming, right? All three of the mistakes I made in the 10k are mistakes you could be making right now. Here's how this story can help you take control of your career.
1. Don't start slow.
I coach a lot of folks who are interviewing for their first job. Once they get a job offer, most of them say something like, "This is my first job, so I don't really have leverage to negotiate."
That's just not true. If you have skills that are valuable enough to command a paycheck, you have leverage to negotiate your starting salary. If you've been working for a while, learning new skills and proactively taking on new responsibilities, you have leverage to negotiate a raise.
You will have more leverage later in your career, and you'll make more money later in your career. But you can also make more money early on with the right tactics.
2. It's not as hard as you think.
Just like I psyched myself out before I even got to the bridge, you could psych yourself out before you negotiate your starting salary or ask for a raise.
Keep accumulating responsibilities, make sure others notice the work you're doing, and ask to be compensated for those new responsibilities. It's not necessarily easy to do this, but it's not as hard as you might think!
3. Stay aggressive.
If you hang back and wait for great opportunities to present themselves, you could be waiting a long time and you will probably miss out on lots of opportunities throughout your career.
You should be pushing past your peers, working to proactively move to the next stage. If you keep your foot on the gas, continuously taking on new responsibilities, you'll get many more opportunities for advancement and earn more money throughout your career.
The good news is that even if you're making these mistakes right now, you can correct them. The sooner you correct them, the more opportunities you'll find to take on more responsibility and get paid what you're worth.
Want to avoid making rookie career mistakes? My book Fearless Salary Negotiation is jam-packed with strategy and tactics you can use to take control of your career and get paid what you're worth.
>> Click here to learn more about Fearless Salary Negotiation