My Mom recently started a baking business. I'm pretty excited about that because every time I visit, she has lots of new treats for me to try.
I've been the beneficiary of her great baking ability all my life (she still makes me a hummingbird cake for my birthday almost every year), and I'm glad others can now experience it as well.
Here's something from her Christmas menu: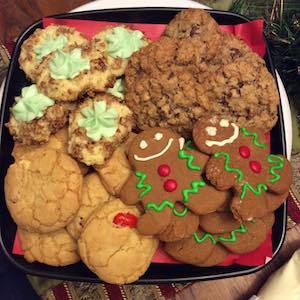 Clockwise from the top-left: Party butter, Cowboy, Gingerbread, White chocolate cherry chunk. They're all amazing.
What's your point? I'm trying to get through my last week of Whole 30 over here!
Sorry about that, but I do have a point!
That picture above is from her Christmas menu, but that's old news now. When I saw her this past weekend, she was already working on her Valentine's Day menu. Next she'll make her Mother's Day menu. Then Father's Day and on and on.
Most people don't think about those holidays until they're a day or so away and they suddenly need a last-minute gift. But since Mom is planning her menu ahead of time, she'll have just the thing for each of those last-minute shoppers.
You should do the same thing with your career.
Want a raise? Find the next time when there will be budget available and start planning about 90 days out so you have time to get everything in order before it's time to ask.
Want a promotion? You can start planning right now. Find the next job in your career path, and start thinking about how you can demonstrate that you're ready for the role. It typically takes about 6 months to make your plan and do the work to show you're ready for a promotion, so the sooner you start, the better!
My Mom says you should plan ahead to avoid making mistakes. My book Fearless Salary Negotiation has everything you need to plan ahead and be prepared to get paid what you're worth. Check it out!